The 'Vacation Virus'
Chikungunya, a new mosquito-borne illness, is coursing through the Caribbean. I caught it and it's terrible.
Earlier this year, I woke up like most people do on Monday mornings: in total agony. However, this time at least, the agony had less to do with ennui than it did with the fact that I could barely move my arms and legs.
The week before I had been doing some reporting in Haiti, but it had been nearly three days since I'd come back, so I figured I had managed to avoid all of the myriad ailments I'd been warned about and for which I'd been vaccinated. But lying frozen in the dark, I felt like my clavicle had been snapped and as if my knee had been waylaid by an ice skater's henchman.
For a moment, I thought that maybe my body was finally rebelling in the aftermath of a trek that had involved long car trips on heavily damaged streets, jerking rides on small motorcycles, and at least one night of clumsy, Barbancourt-fueled cabbage-patching. I had a slight fever, but otherwise didn't feel like I had the flu—there were no coughs, gastrointestinal fireworks, or calls from my mother, who communicates telepathically with my immune system.
What I didn't know was that I was one of the nearly 900,000 people in the Americas to come down with chikungunya (chik-en-gun-ye), a virus transmitted by mosquitos that is currently coursing its way through the Caribbean.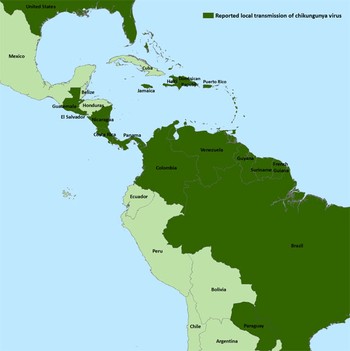 Part of why I hadn't been prepared for chikungunya is because the virus is relatively new to this side of the world.
According to the Centers for Disease Control and Prevention, the virus was first spotted on St. Martin less than a year ago. Since then, chikungunya has spread quickly, reaching South America, Central America, and the United States.
Since it was still very early in the morning, I texted a college friend who'd gone from triple-majoring in the humanities to getting a master's in history before he decided to get a post-bac and then go to medical school. He is now a doctor and still one of the most intelligent and thoroughly neurotic people I know. If anyone would know what was wrong, it would be him.
Two minutes later we were on the phone and after a series of questions, he gave me his (caveated) armchair diagnosis: dengue fever.
As it turns out, dengue and chikungunya have a lot in common. Both come on quickly, are mosquito-borne, not contagious, and are very rarely fatal. The painful symptoms line up as well: Dengue is ominously known as "breakbone fever" while chikungunya means "that which bends up" in Kimakonde, which is only slightly less terrifying. Chikungunya, as I've since been told, is often considered to be something of a dengue-lite.
His advice was to take a pain reliever and get myself to a hospital. Unfortunately, I only took half of his advice. I crawled to my kitchen, took some aspirin, and then started to feel a lot less sore. I got up and stretched and found I could walk around, albeit a little gingerly. This is when I made the decision to go to work. (Here I should mention that it was my first day at a new job, the start date of which I had pushed back because of the trip. I didn't want to be "that guy" who calls in sick on his first day with dengue fever.)
Before I got to my new office, the throbbing started again. I limped into a CVS, grabbed some ibuprofen, downed a few, and hobbled to my orientation. Halfway through, I began to feel listless even though the physical pain was no longer overwhelming. As soon as the meeting was over, I left and went to a nearby walk-in clinic.
It might be parochial to call chikungunya a "vacation virus"; however, as Americans prepare to hit the Caribbean beaches in the coming winter months, awareness campaigns are ramping up. Last week, the travel section of the New York Times ran a feature on chikungunya highlighting how tourism agencies and organizations are both downplaying the scope of the outbreak and advising simple measures to deal with the virus. (Avoid mosquitos.)
Late last month, the CDC issued a very measured (Level One) "watch" alert for travelers heading to the two dozen or so Caribbean destinations where cases have been reported. (If you don't have a tony island vacation planned for this winter, consider this your "watch" alert for the much more prevalent schadenfreude virus.)
There's really no way to do adequate justice for the look that the nurse at the CityMD gave me when I, pale, bespectacled, and be-khakied, walked into her Manhattan clinic and told her that I thought I had a case of dengue fever. As I listed my symptoms, she skeptically nodded before finally asking me if I had a rash. Dengue tends to have an oozy component to it. I pulled up my sleeve and saw that I had developed a dry rash. That was enough for the nurse to eject me in record time. Within minutes, I was in an emergency room.
The most frightening part of having an exotic virus is not knowing exactly what's wrong. While the pain came in and out in waves, it didn't explain why I had been on the verge of passing out nearly all day. (I later discovered that, in my manic haste, I had grabbed a bottle of Ibuprofen PM.)
While the various doctors who saw me that day knew that I didn't have dengue fever, they really didn't have any clue what I did have. They took some tests, which were inconclusive, gave me some fluids, and sent me home.
A week later, my ever-diligent friend forwarded me the first of many stories I would read about the budding chikungunya outbreak. By then, I knew what I'd come down with. I was still a little fatigued, but almost completely better. And my new co-workers were charitable enough to lay off me when I showed up for my real first day.
While the cold weather has already brought about relief from mosquitos in many parts of the United States, last week, the CDC warned that the virus "continues to spread with no sign of slowing down" in the Caribbean and South America. For vacationers, that means "the painful mosquito-borne disease will likely continue to infect travelers to the region during the rest of this year and beyond."
Fortunately, health officials say you can only catch chikungunya once. But don't tell anyone that or else you'll ruin a good excuse to call in sick.