The Quiet End to the U.S. Ebola Panic
With Craig Spencer's release from a New York hospital on Tuesday, the number of domestic cases is back down to zero.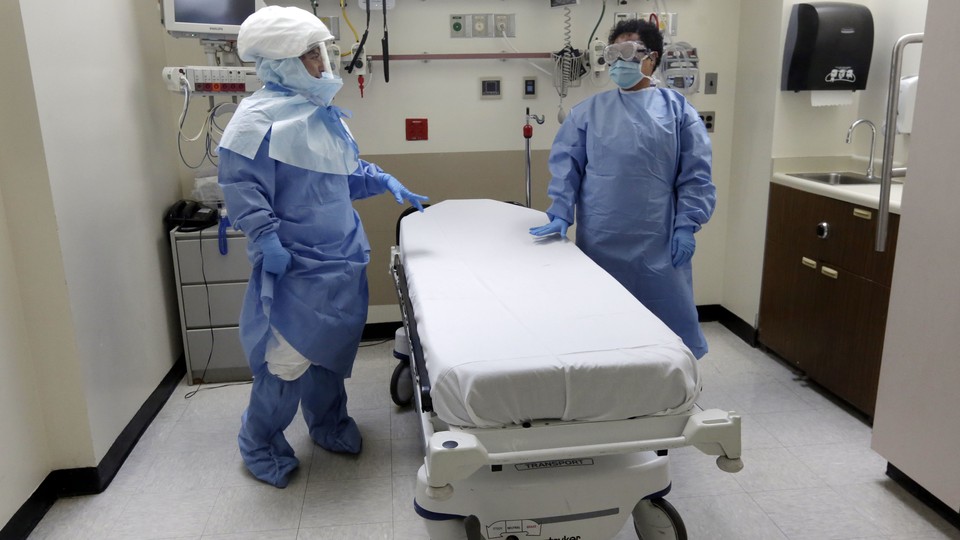 Dr. Craig Spencer, the health worker who brought Ebola from West Africa into the nation's biggest metropolis, is going home on Tuesday, healthy and virus-free. You wouldn't know it from glancing at the cover of either of the two major New York City tabloids, which blared his diagnosis two weeks ago but buried (at least initially) the news of his recovery. And chances are, you may not have heard that Dallas—the epicenter of the Ebola "outbreak" in the U.S.—was cleared of the disease last week, or that Kaci Hickox, the healthy nurse who rose to fame by fighting her state-mandated quarantine, crossed the 21-day monitoring threshold on Monday night without further incident.
The news out of New York brings the grand total of Ebola cases currently in the U.S. back down to zero. For now, the borderline hysteria that began with the arrival, diagnosis, and subsequent death, of Thomas Eric Duncan in Dallas is resembling so many other crises of the moment, in with a bang and out with a whimper. While the U.S. response faltered at the outset, with the misdiagnosis of Duncan and then with inconsistent public-health protocols from federal and state officials, the nation's superior medical care ultimately prevailed: All three Ebola patients whose infections were quickly and properly diagnosed have been cured, and no one with whom they came into contact has reported symptoms.
Democrats were rueful on Tuesday, having seen their electoral prospects take a hit at the most inopportune time over fears that seemed, both now and at the time, irrational.
Three weeks ago, it was a media and political frenzy. Today, not one person in U.S. is being treated for Ebola. #panicpeddling

— David Axelrod (@davidaxelrod) November 11, 2014
New York officials, however, were understandably triumphant. "Dr. Spencer is Ebola-free, and New York City is Ebola-free," Mayor Bill de Blasio said during a press conference at Manhattan's Bellevue Hospital, where he called Spencer "a true American hero" and ushered him along for a parade of hugs. Yet with the outbreak still raging in West Africa, public-health officials struck appropriate notes of caution. Reported cases are down in Liberia but up in Guinea and Sierra Leone, and Sophie Delaunay, the executive director of Doctors Without Borders, said efforts to combat Ebola at its source have "yet to fully break the virus's chain of transmission."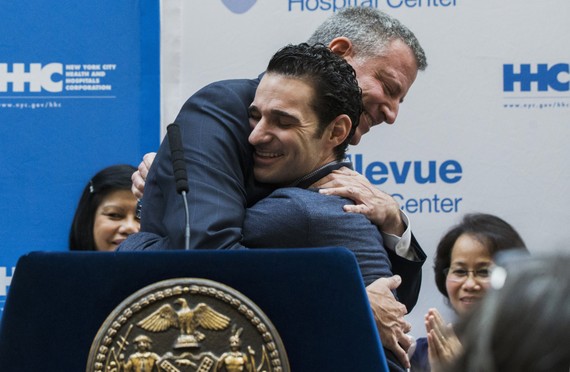 "We must not let our guard down," Delaunay said. That will be tested in the coming weeks as Congress considers a request from President Obama for an additional $6.2 billion to fight the disease both domestically and abroad. Lawmakers are at their most compliant in a crisis, and Ebola's fast fade from the headlines could work against the administration's push for more resources. As officials have consistently warned, the risk for new Ebola cases in the U.S. will only be eliminated when the outbreak is halted in West Africa. If nothing else, the success in pinching out the disease the first time should help calm the reaction upon its possible return.