Service Dogs for Sexual-Assault Survivors
Around 30 percent of rape victims suffer from PTSD. Now, some are adapting the four-legged treatment used by military veterans to ease their trauma.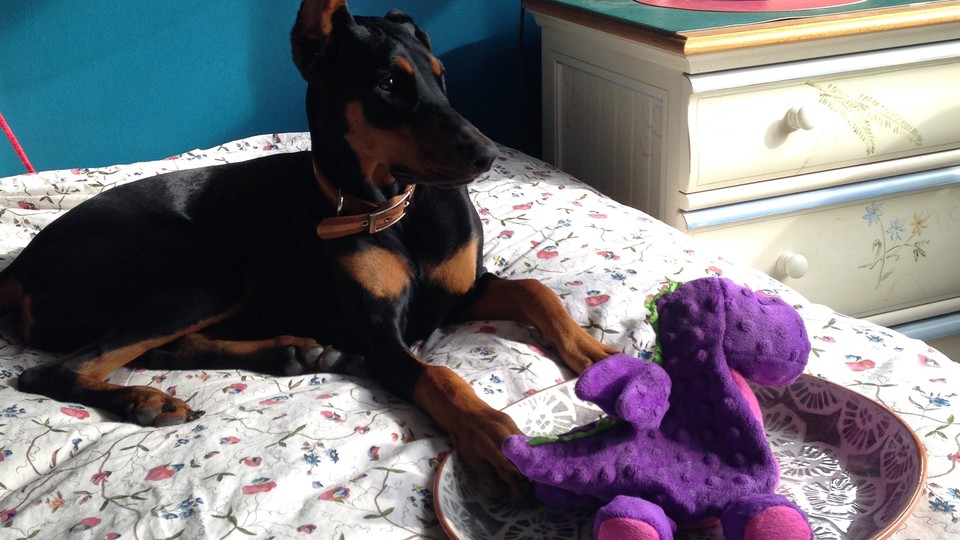 After running away from home at 13, Alicia was pulled into a small-time child-prostitution ring and repeatedly abused until she escaped three years later. The experience left scars, but it wasn't until she was sexually assaulted again during her junior year of college that she developed post-traumatic stress disorder, causing her to constantly relive her trauma in nightmares and flashbacks.
"I thought I had escaped and it was over," Alicia says. But the assault "proved me wrong, that this isn't a fresh new happy life from here on out."
Now 26, Alicia rarely leaves her apartment. After taking a leave of absence from grad school, she lost her student insurance—and with it, the therapy that had been helping her cope. She has been searching wildly for something to fill in, and says she may have finally found it in the form of a Doberman puppy named Hera, who she is training to be her service dog.
"What there really desperately needs to be is a good study that looks at the effects of service dogs," says Colonel Elspeth Cameron Ritchie, chief clinical officer for Washington, D.C.'s Department of Mental Health and a retired U.S. Army psychiatrist. "If the dog considerably improves quality of life, which is what I've seen, it's almost indescribable how much its worth for that person."
In the meantime, we still don't know exactly how service dogs can most effectively help PTSD sufferers. Without further study there is little guidance available for people like Alicia, and clinicians worry about training animals incorrectly.
"Clearly there are a lot of people benefiting psychiatrically from dogs. We just need to understand why," says Captain Robert Koffman, a Navy psychiatrist at the National Intrepid Center of Excellence, a medical-research institution in the Department of Defense.
Getting a dog to obey you requires a confident yet soothing demeanor, says Rick Yount, the clinical social worker who developed Paws for Purple Hearts. He hypothesizes that training the dogs helps veterans practice modulating their stress level and tone of voice—skills they can extend to conquer PTSD symptoms. Participants saw other benefits from the program as well, including better medication adherence and sleep quality. "With the dogs they are getting substantially more sleep—sometimes five or six hours instead of two," Yount says.
Service dogs may also offer support in less tangible ways. People with PTSD, who otherwise tend to isolate themselves from others, seem to open up in the company of the dogs, Koffman says. Koffman has a psychiatric service dog, Ron, who he often brings to work with him. "A lot of patients who would otherwise not want to see a therapist will come into my office just to see the animal," he says.
This aspect of service dog assistance may be especially beneficial for sexual-sassault victims, who often have been abused by people close to them and tend to have more issues with trust and relationships. "Trauma from an explosion or natural disaster typically won't cause the same level of emotional withdrawal or fear of other people," says Christopher P. Lucas, an associate professor of psychiatry at New York University School of Medicine.
Koffman has reservations about this tactic: He worries that training service dogs to perform assistive tasks could help people with PTSD avoid addressing their issues, inadvertently reinforcing distorted fears they may have about the world. More research is needed to determine what works and what doesn't, he says.
Although Alicia is training Hera like a traditional service dog, she seems to be benefitting from her presence in other ways as well. When Alicia talks about a difficult subject, she strokes Hera, who stops wriggling around and settles against Alicia's side, seeming to know that she needs to be more than a playful puppy at this moment.
"I am at minimum now leaving my apartment," Alicia says. "Anyone who has ever had a dog and had a rough week knows that having to walk your dog and get your shoes on and go outside makes a huge difference."