Why Outbreaks Breed Hysteria
What a 2009 psychology study on the swine flu pandemic can teach us about today's Ebola-induced panic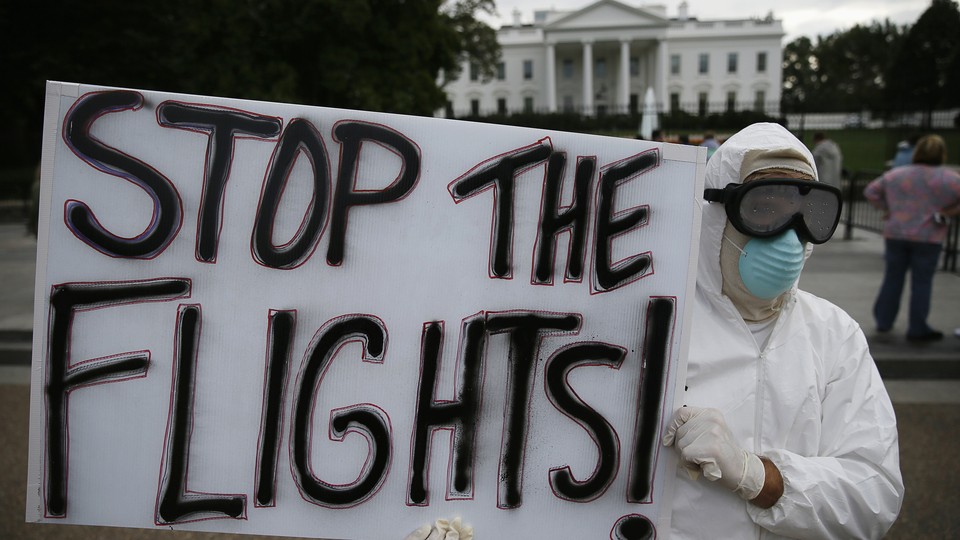 It was 2009, and the United States was in the midst of a full H1N1 pandemic. Public concern about the disease, commonly referred to as swine flu, was rightfully swelling. Though nowhere near as deadly as the current Ebola outbreak in Africa, H1N1 infected 60.8 million people in the United States, resulting in 12,469 fatalities. By August 2009, the Pew Research Center found that 45 percent of Americans were worried that they or a family member would contract the disease.
University of Michigan researchers wanted to see if they could stoke that fear. Their experiment, conducted in May 2009, was both mischievous and simple. Undercover researchers stationed around Michigan's campus approached people and asked them to complete a questionnaire on public health. Half of the time, the experimenter sneezed in front of the unsuspecting participants.
Remember, this was during a time when college campuses were ground zero for H1N1 infections. Sneezing close to others was not cool. The experiment was also repeated at an off-campus shopping mall, another potential petri dish of flu transmittal.
That sneeze proved to be a powerful manipulation, provoking fear about all things health-related. "Those who had just passed a sneezing confederate [i.e., undercover researcher]," the authors write, "perceived the average American as more likely to contract a serious disease, to have a heart attack before 50, and to die from a crime or accident." People who saw the sneeze were also more negative about the country's health care system, and more in favor of spending federal dollars on flu prevention. When the unsuspecting study participants were debriefed, they reported that they weren't aware they had been manipulated.
The experiment's takeaway was this: When the perception of risk increases, the feeling of risk increases. This lesson is instructive in thinking about why some pockets of America are overreacting to the threat of Ebola.
The chances that Ebola will infect any given American is incredibly, incredibly small. There have been four infections in the United States since the first case was diagnosed here last month. On the Net, bad jokes abound about how low the chance of contracting Ebola is—jokes like "Americans are more likely to marry Rush Limbaugh than die of Ebola."
To our collective credit, the American people are thinking pretty calmly about the disease's threat. Just 24 percent of respondents to a recent Gallup Poll said they were worried about contracting Ebola. But for some communities who see themselves as being just a few degrees of separation away from Ebola, the threat has provoked panic. To extend the metaphor from the Michigan experiment, these communities are being sneezed on or are acting out of fear of being sneezed on.
Parents in Mississippi (a state that has not seen a case of Ebola) have pulled their children out of a middle school because the principal was recently in Africa. A school in Ohio closed for disinfection after Amber Vinson, a nurse who contracted the disease in Dallas, flew through Cleveland and made contact with a parent of a student. A Texas college has denied admission to students who come from Ebola-infected countries fearing they might bring the epidemic with them. Some conservative politicians are petitioning to close the southern border lest an Ebola-infected migrant stroll across it.
For these people, Ebola hits a psychological nerve, a base evolutionary reaction to recoil from the things that can cause us or our communities harm. And that reaction becomes stronger when the disease creeps closer. These psychological reactions happen on a gut level, and we aren't always aware they occur. It's important to recognize that even when the threat of Ebola seems to be growing closer to a community, it's probably further away than it appears.