Invincible Bacteria in the Middle East
Doctors in Jordan, the region's leading destination for medical tourism, say antibiotic-resistant infections are at an all-time high.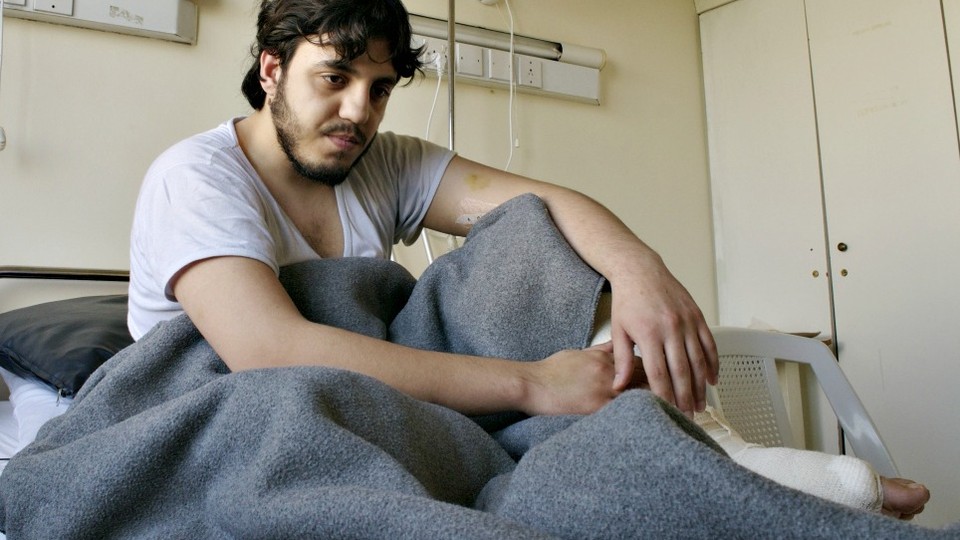 In a windowless room occupying 200 square feet of Jordan University Hospital's ground floor, Dr. Faris Bakri and four colleagues gather data, scanning for trends among patients. Amid cascades of papers and folders spread over three desks, Bakri and his team are uncovering disturbing developments.
"We've been noticing an organism, E. coli," Bakri said. "Many patients come with urinary-tract infections with this organism," but it doesn't respond to treatment as it once did. In 2000, E. coli could be treated by the drug ceftriaxone 70 or 80 percent of the time, he estimated. Now its susceptibility is 37 percent, according to Bakri's data, which also show increasing antibiotic resistance among other bacteria. His findings, based on the hospital's patients, parallel national trends. "It's all over the country. Everyone's complaining of this phenomenon," he said.
In this new nightmarish world, patients with moderate infections are admitted to hospitals "for very expensive IV antibiotics," Bakri said, because "they just won't respond to oral antibiotics." For virulent infections, even fewer antibiotics are effective, and treatment is more complex. And as health systems deteriorate in surrounding countries, war-injured patients with complicated wounds are flocking to Jordan, the Middle East's top destination for medical tourism, for treatment, bringing fierce infections with them.
"We think that the Middle East is one of the hotspots globally for antibiotic resistance," said Richard Murphy, an infectious-disease specialist with Doctors Without Borders. We spoke in September during a two-day conference in Amman organized by DWB to jumpstart regional discussion and action on antibiotic resistance. The global medical NGO works all over the world, but it encounters notably high rates of resistance in the Middle East.
In Amman, DWB runs a reconstructive surgical project, which tackles complex cases like severe burns or bone infections. Since 2006, the project has treated 3,000 patients from places like Gaza, Yemen, Libya, Syria, and Iraq. DWB's analysis found that drug-resistant bacteria caused 69 percent of all infections in Syrian patients and were present in 55 percent of Iraqi patients with bone infections. The project's surgical coordinator, Dr. Rashid Fakhri, estimated that overall, 60 to 65 percent of bacteria among the project's patients carry some form of resistance.
To kill these infections, "the antibiotic we use is the last one used in Europe," said Marc Schakal, DWB's head of mission for Jordan and Iraq. That antibiotic is imipenem, a broad-spectrum intravenous medication. Although it's usually a last resort, it's the drug DWB uses most frequently in Amman because first-line antibiotics aren't as effective. A full six-week course of imipenem costs $2,600 to $3,000.
In March 2013, Abdulrahman, a 24-year-old Syrian and one of DWB's patients, was driving to visit friends in Dara'a, the area of southern Syria known for the protests that sparked the civil war in 2011. A missile struck nearby, flipping the car and sprinkling Abdulrahman's body with shrapnel, mostly in his lower left leg. He lay bleeding for 30 minutes before he was brought to a local hospital, he recalled. After five hours, he was transferred to another in Ramtha, a Jordanian city on the Syrian border, and then to the French field hospital in Za'atari refugee camp. He claimed he had undergone multiple surgeries to repair his leg, which now has screws in the ankle, before arriving at DWB's hospital.
Today, Abdulrahman is one of several patients isolated from others because of a drug-resistant infection in his leg. His lifeline is his Samsung S3 Mini—it connects to Facebook—and he hopes to obtain asylum in Sweden once he heals. He doesn't know his leg is infected with the resistant strain of E.coli, for which he's two weeks into a six-week course of imipenem. His left calf and foot are enveloped in a cast with the circumference of a small tree.
Still, Abdulrahman seems relaxed. His tousled mop of dark hair is several inches long, and his cheeks, slightly chubby, are unshaven. I took his photograph and showed him the image. "Shit!" he exclaimed. "My hair!"
* * *
Globally, antibiotic resistance is a "known unknown." We know it's bad, but we don't know just how bad. In April, the World Health Organization published an ominous report calling current levels of antimicrobial resistance severe enough to cast humankind back into an era "in which common infections and minor injuries can kill."
The report was the first of its kind, and it warned that the data it presented was patchy enough that the numbers ought to be "regarded as indicators, rather than measures, of the proportion of ABR [antibiotic resistance]." Still, data on three common bacteria—E. coli, K. pneumonia, and S. aureus—showed that each was resistant to standard antibiotics more than half the time "in many settings." But without adequate surveillance and data, the report emphasized, we have no way to accurately gauge the size of the problem.
Resistance is not limited to developing or war-torn countries. Every year at least 23,000 people in the United States die as a result of resistant bacteria. But rates appear particularly high in the Middle East, at least from DWB's perspective. No one knows exactly why, but experts generally agree on several region-specific factors.
From 1970 to 1995, Arab countries went through "an impressive construction program of public hospitals and health centers," according to a 2012 review of the area's health services. Healthcare became more readily available in many of these countries, except ones in conflict, and several, including Jordan, "developed world-class factories for the manufacture of generic medications" for export and domestic use. The report highlighted "the inappropriate usage of antibiotics," which, The Lancet has written, "has contributed to the development of microbial resistance in the region." As health systems and access to medical drugs flourished, however, awareness about their proper use among both health professionals and patients lagged.
"People here take antibiotics for knee pain, for runny noses," Bakri said. "Doctors are under a lot of pressure from the patient to prescribe antibiotics, because if the patient doesn't receive antibiotics, he will not go back to the doctor." Dr. Najwa Jarour, head of the infection-control department at Jordan's Ministry of Health, added, "Even doctors write prescriptions for antibiotics without knowing if [an infection] is viral or bacterial," and patients often don't complete prescribed courses of antibiotics, stopping as soon as they feel better.
Even without a prescription, a person can walk into a pharmacy in Jordan, present symptoms or a self-diagnosis—"Good afternoon, I believe I have a urinary-tract infection"—and the pharmacist will most likely hand over some affordable blister packs of antibiotics. In this perfect storm of relaxed policy, lack of awareness, and doctors and pharmacists worried about making money, the lax dispensation of antibiotics and their consequent abuse is almost a baseline in healthcare.
The other major factor is war. Recent years have witnessed substantial violence in the Middle East—2014 alone includes the ongoing war in Syria, renewed fighting (again) in Iraq, and Israel's war with Hamas, plus continuing conflicts in Yemen, Libya, and elsewhere.
"When health systems are fragile and patients don't get good initial treatment for their injuries, they frequently end up living with a chronic injury," DWB's Murphy explained. These injuries are susceptible to infection, which could be avoided if better initial treatment were available, he said. DWB's Iraqi patients in Amman have undergone an average of four previous operations, with 19 months on average between injury and DWB admission.
But better initial treatment is not always feasible in conflict zones. In Syria, 60 percent of hospitals have been damaged or destroyed since the start of the war. Before 1991, Iraq had a high-performing healthcare system, but a decade of sanctions topped off with the U.S.-led invasion in 2003 left that in shambles, too.
* * *
The shades were drawn, the flatscreen TV black and silent in Talal's room. Under hospital protocol, the door remained shut. Talal was gaunt, his cheeks hollow, as if someone had vacuumed out the flesh from within. His right knee was bulky with bandages and framed with a transarticular external fixator—a cube-like brace of thin metal bars—while the skin on his swollen right calf and foot alternated purple and yellow. He couldn't wiggle his toes.
According to medical records, the 38-year-old Libyan was shot in his right leg at the end of August. He entered the Arab Medical Center on September 3 with a fractured right femur and an open infection, which was found to be resistant to 17 different antibiotics from several different drug classes, and responded to just two. Talal is now on one of them, tigecycline, which costs $143.80 a day (102 Jordanian dinars for two vials daily). Mayes al-Ahmad, an infection-control nurse, expected Talal to stay on tigecycline for three weeks—that's more than $3,000 for the medicine alone—after which the hospital will conduct more tests.
"If the infection is multi-drug-resistant, the cost is of course higher," al-Ahmad noted, because of the necessities of isolation, increased testing, longer hospital stays, and more expensive drugs. And it's not just about the money. Caring for patients with resistant infections also requires more human resources, like highly skilled staff. A nurse who has worked in infection control at three hospitals in Jordan in the past six years, al-Ahmad said resistance "has grown worse with the arrival of foreigners," especially from countries at war.
Talal, meanwhile, was tired and in pain. "Zift," he stated, conveying how he felt. Terrible. His shrunken torso disappeared within his brown and black striped tunic, and he lay down every few minutes, as if sitting upright was too exhausting.
Even with al-Ahmad's anecdotal evidence, Bakri's internal data, and DWB's analysis of patients bearing extraordinarily complex wounds, it's hard to glean precisely the impact on Jordan from antibiotic resistance. "You've got no idea of the levels of resistance coming in," said Tim Walsh, a medical microbiology and antimicrobial resistance professor at Cardiff University in Wales, while in Jordan, data on resistance are "almost nonexistent." Indeed, Ministry of Health surveillance of resistance is limited to select units in four public hospitals, though it has revealed high levels of bacterial resistance to both first-line and last-resort antibiotics.
Bakri said the university hospital had not conducted cost-impact studies, while Jarour, the health ministry official, couldn't say what antibiotic resistance might cost Jordan in the long run. But both were certain they'd see higher healthcare costs, worsening morbidity rates, and above all, more deaths. As Bakri stated frankly, "It's going to be a disaster."