Going Back to Liberia
While many Liberians are attempting to flee their Ebola-stricken home country, one—a doctor currently training in the U.S.—is preparing to head straight back into the outbreak's Ground Zero.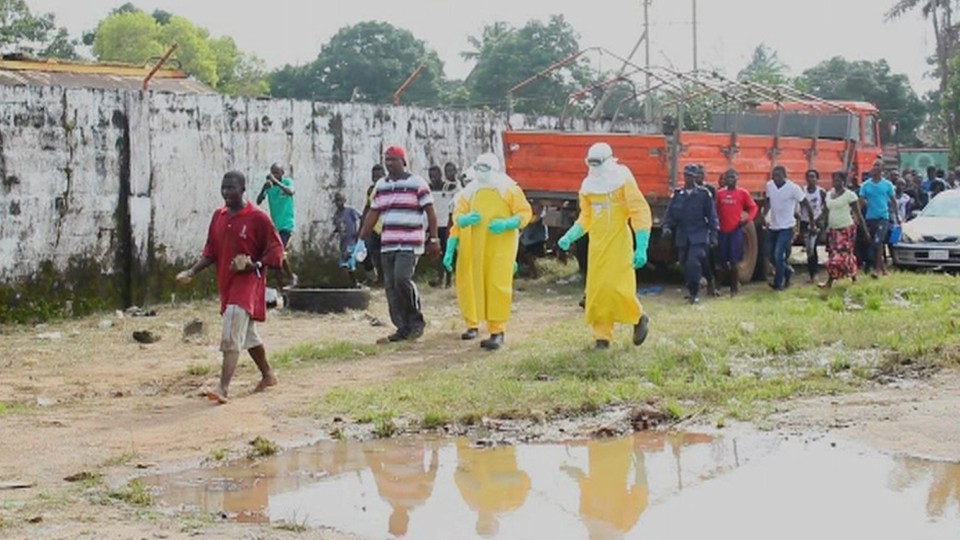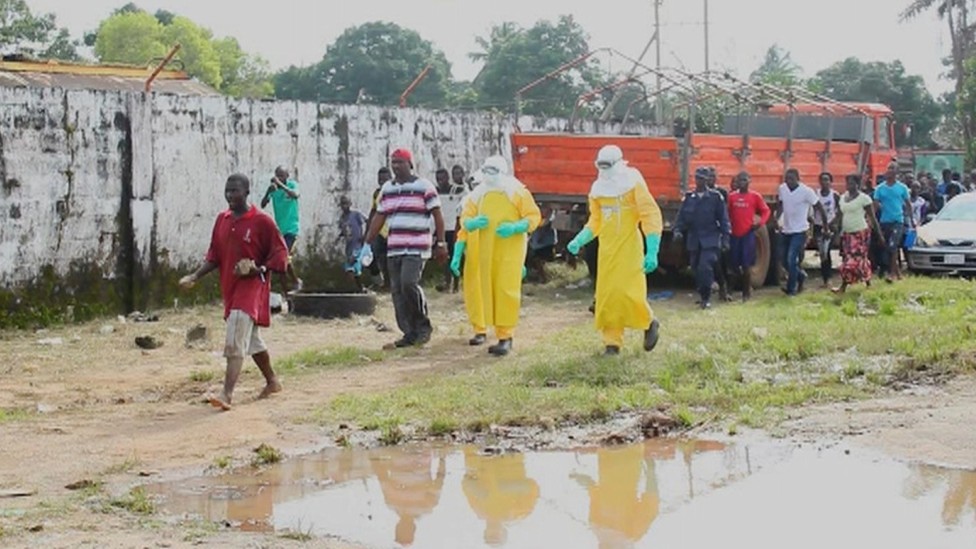 For most U.S. doctors, Ebola is more of an abstract threat than something they are likely to encounter in practice. But for Nicole Cooper, a resident physician training in internal medicine and pediatrics at Miami's Jackson Memorial Hospital, West Africa's Ebola epidemic is tangible. Cooper, a Liberian-American, plans to return to Monrovia, Liberia's capital, after finishing her training next year. Between studying and caring for patients, she spends much of her time reading situation reports from the Liberian Ministry of Health and obtaining supplies for Monrovia's John F. Kennedy Hospital, the country's main academic teaching hospital, where she worked last year, before the outbreak.
Even then, the hospital lacked resources and staff. It took 24 hours to get the results of routine labs. The intensive-care units lacked ventilators, and specialized blood products such as fresh frozen plasma (used to improve clotting) were non-existent. Doctors also lacked the simple non-invasive monitors that detect patients' blood oxygen levels—basic equipment that health workers in the U.S. take for granted.
"We were woefully unprepared," Cooper said. "You can give IV fluids, but you can't respond appropriately" to changes in a patient's blood chemistry. Liberia's civil war devastated JFK Hospital. In recent years, its physicians and nurses had worked hard to rebuild the hospital and improve its training programs. Cooper had planned to return there after passing her U.S. board exams. "I've had several messages from people in Liberia asking, 'Why aren't you here? We have fewer than 100 doctors, why aren't you here?'" she said. This summer, she tried to arrange a month in Liberia to help, but logistics made it impossible, as her vacation time is limited and she would have to spend 21 days after her return away from patient care.
"I'm more useful to my country done and certified than if I go there in the short term," she said.
Making matters more difficult, three of her mentors–the chief medical officer of the hospital, the hospital's chief of internal medicine, and an attending internist–have all died of Ebola. "These people are true heroes," she said. "If you're the CMO of a hospital, you don't have to be out there treating patients. You can be an administrator and have others do it. It's a devastating blow."
Non-Liberians ask her why she wants to go back, and her mother is worried about her returning. "People keep asking me [why], but somebody has to do it," she said. "At a time like this, my spirit couldn't be calm living in America serving a population that really wouldn't miss my presence."
Cooper said she stopped watching television news two months ago because it was too upsetting. "I can't engage in conversations [about Ebola] because it's not objective for me, it's not just an interesting story," she said.  So she decided to focus her tiny bit of spare time working with Africans in Medicine, a small non-profit, to help the health workers at JFK Hospital.
Cooper's late father was Liberian, and she traces her ancestry to free blacks who emigrated to Africa from Virginia and Georgia in the 19th century. Her paternal grandfather served as Liberia's Ambassador to England, France, and the United Nations, where he introduced a successful (and, according to the Associated Press, "unprecedented") measure censuring South Africa in 1961. Like many Liberians, she consistently wears a gold pendant with the country's insignia. "I don't remember ever seeing my father without it," she said.
While in the middle of hospital rounds one morning last week, she received an urgent message that a truck was coming in a few hours to pick up supplies donated by Project Medishare, a nonprofit that provides medical aid to Haiti. After rounds finished, she raced up I-95 to a warehouse to take inventory.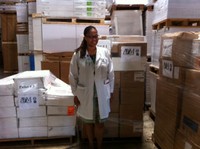 "People had been sending stuff to the Ministry of Health and getting no feedback," she said, as she taped labels to pallets of supplies and took photos of boxes. The shipment, which included non-perishable personal protective equipment such as gloves and surgical gowns, as well as bed sheets and body bags, was expected to arrive in Monrovia by air four days later. Her mother, a St. Louis native who has lived in Africa since 1979 and is president of Liberia's Rotary Club of Monrovia, was going to receive the shipment and make sure it got to the Ministry of Health for distribution.
Project Medishare had donated the goods—surplus items that their workers didn't need—a few weeks earlier, but figuring out logistics had been difficult. Finally a Georgia-based nonprofit called LIFT agreed to transport the goods to John F. Kennedy Airport in New York; from there another shipping company would fly the materials to Monrovia.
"It has taken several players to get this together," she said, before heading back to the hospital to resume taking care of her patients. Through Africans in Medicine, Cooper is now trying to raise money to cover shipping fees for a 20-foot container of medical supplies that a Houston-based non-profit, Medical Bridges, has agreed to send.
Cooper has tried to find a silver lining in the disaster, hoping that it will send a "wake-up call" to the Liberian diaspora to return and help their homeland. "After this passes it will leave us in a better place in terms of having activated a group that will continue to build and develop the region," she said. "Our [goal] is long-term investment."