Ebola Reaches Mali
The West African country is now the sixth in the region to be affected by the outbreak.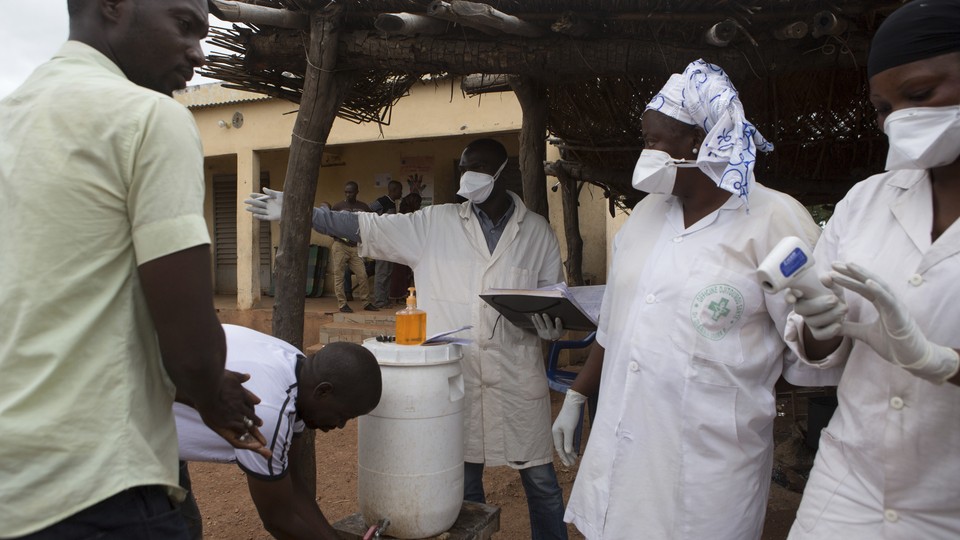 Less than a week after two West African countries successfully rid themselves of Ebola, another has announced its first case of the disease. In a television address on Thursday, Mali's health minister, Ousmane Kone, revealed that a two-year-old girl has tested positive for the virus.
The girl was hospitalized yesterday in Kayes, a town in western Mali. A health official told Reuters that relatives brought her into the country from neighboring Guinea, where the outbreak began, after her mother died of the disease a few weeks ago.
Kone said that the girl is improving, Reuters reported, and that those who had direct contact with her are currently being monitored for signs of the disease.
Mali is the sixth country in the region to confirm a case of Ebola. Last Friday, the World Health Organization declared Senegal to be Ebola-free; on Monday, it did the same for Nigeria, after six weeks without any new infections. Meanwhile, the disease rages on in Guinea, Liberia, and Sierra Leone, where the majority of cases have occurred.
Recent estimates place the total death toll for this outbreak, the deadliest in history, at more than 4,500.
The U.S. government has ramped up its response to the outbreak over the past week, with the Department of Homeland Security announcing on Tuesday that travelers entering the country from any of the three hardest-hit West African nations would have to fly through one of five airports conducting Ebola screenings. On Wednesday, the Centers for Disease Control announced that passengers from the three West African nations will be monitored for 21 days after arriving in the United States.