Delaying Puberty With the Help of the State
Earlier this month, Oregon became the first in the country to offer puberty-suppressing drugs to transgender teens on its Medicaid plan.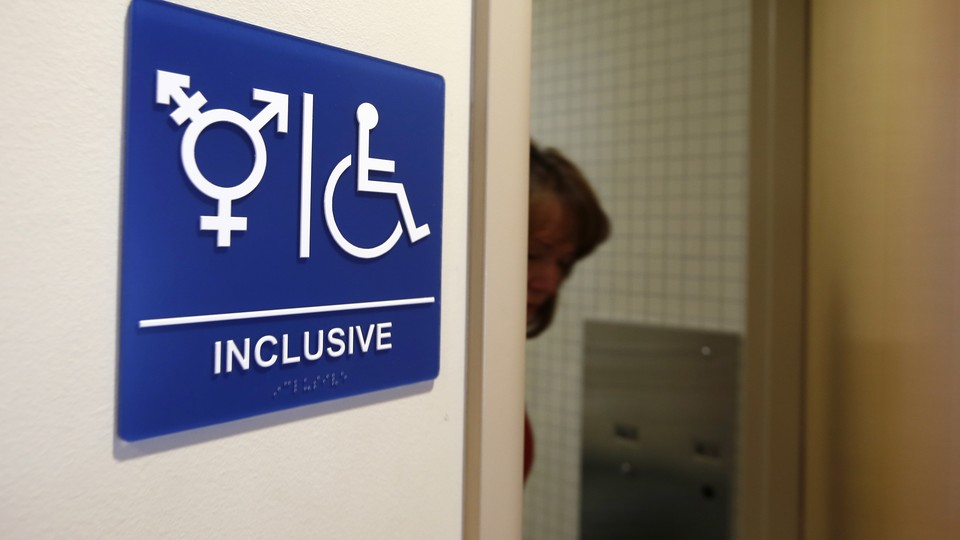 Up until a few weeks ago, Cody, a 16-year-old living in a small community outside of Boise, Idaho, wore almost nothing but black. While the look may be a relatively common one, Cody had a deeper reason driving his wardrobe choice: The black concealed the contours of his changing form, which was becoming a growing source of distress. As a transgender teen, Cody was going through puberty, and he didn't identify with the gender that matched his body.
"It almost feels like your mind and your body are betraying you," says Cody, who was born biologically female and came out last year to his family as a boy. "You just want to curl up in a hole and not look up at the light or people." When he grew breasts, he began wrapping them in Ace Bandages; he became suicidal every time he had his period. Over time, it became more difficult to relate to the girls in his class, and he withdrew from people as he became increasingly alienated from his own body.
Adolescence, with its accompanying bodily changes, can be an awkward time for anyone—but puberty can be even more difficult for transgender teens as voices change, Adam's apples and breasts emerge, and the androgyny of childhood is lost. Often, the experience is accompanied by deep depression and thoughts of suicide.
The country's attitude toward the transgender community is shifting, with the once rarely-discussed topic moving further into mainstream conversation. The nascent acceptance of transgender people has important consequences for their medical care, and earlier this month, Oregon became the first state in the country to offer drugs that delay the onset of puberty for transgender adolescents enrolled in its Medicaid plan.
For 15 years, clinics in the U.S. and Europe that treat transgender children have prescribed these drugs to stop their bodies from maturing. The idea behind the treatment is twofold: First, it buys patients time to make an informed decision on how and if they want to physically transition to the gender with which they identify. And second, if they do decide to go through with the transition, puberty-suppressing drugs make the process smoother. By staving off breast development, for instance, an adolescent undergoing a female-to-male transition wouldn't have to undergo chest reconstruction surgery. But the medication offers mental benefits as well: Teens who are already living as the gender they identify with won't be "outed" by their bodies, and they won't have to go through puberty for the wrong gender, which research has shown can cause depression and suicidal thoughts.
"We feel that this is a medical necessity when the parents and the child agree that this is what they want," says Jamison Green, the president of the World Professional Association for Transgender Health, which publishes widely-used protocols for the medical care of transgender patients. "Not providing this treatment is actually quite damaging."
He points to a handful of clinicians that have been using it for years, such as Dr. Norman Spack, an endocrinologist at the Boston Children's Hospital who specializes in transgender care.
Even so, there remains some reluctance among physicians to treat gender-dysphoric adolescents, partially out of the concern that it's just a phase that they'll outgrow. A 2008 study in the Journal of the American Academy of Child & Adolescent Psychiatry concluded that "most children with gender dysphoria will not remain gender dysphoric after puberty." In June, the Wall Street Journal published a controversial opinion piece by Dr. Paul McHugh, the former chief psychiatrist at Johns Hopkins Hospital, who argued that most gender-dysphoric children were just going through a phase and stopped short of equating puberty-suppressing treatment to child abuse.
"As far as I know, I have not heard of anyone reversing their decision," Green says of young people who undergo puberty-suppressing treatment, which he also says is completely reversible.
Despite being relatively new, the treatment is becoming a standard in care for transgender adolescents. In 2009, the Endocrine Society published a best-practices guide for treating transgender teens that included the use of puberty suppressants. Last year, the American Academy of Pediatrics released a technical report on care for LGBTQ youth that gave its blessing to the Endocrine Society's best practices. And in September, the journal Pediatrics published a long-term study that found that gender-dysphoric teens who underwent puberty suppression, followed by hormone treatment and gender-reassignment surgery, could become well-functioning adults.
But policymakers have been slower to catch on. Currently, only Massachusetts, Oregon, California, Vermont, and the District of Columbia cover any sort of transgender care through their Medicaid plans, while only Colorado, Oregon, Connecticut, California, Vermont, Washington, Illinois, Maryland and the District of Columbia prohibit private insurers from refusing to cover them. Oregon remains the only state to offer puberty-suppressing medications for adolescents on its Medicaid plan.
"Oregon is leaps and bounds ahead of other states in making these steps," says Kara Connelly, a pediatric endocrinologist at Oregon Health & Science University's Doernbecher Children's Hospital.
The treatment involves taking gonadotropin-releasing hormone analogs, which were originally used to treat precocious puberty in children, she says. It can be taken as a monthly injection or as implant. But either way, it's not cheap: The drugs can cost up to a $1,000 a month. Oregon's decision to offer them through its Medicaid program, Connelly says, will improve access for low-income kids who couldn't otherwise afford them.
The move came as a surprise to many within the transgender-activism community, says Jenn Burleton, the executive director of TransActive Gender Center, a small Portland-based nonprofit that provides advocacy and referral services for gender-dysphoric youth.
Burleton says that when her organization first heard that the state was looking at adding transgender care to its Medicaid program, she and a group of doctors that work with TransActive contacted the Oregon Health Authority and asked to testify before a committee that evaluates proposed additions.
"We honestly weren't very optimistic it would be covered because we weren't sure that the conversation about transgender adolescents had entered the zeitgeist enough," she says.
But in December 2012, the Oregon Health Evidence Review Commission, which prioritizes Medicaid spending, approved the subcommittee's recommendation that puberty-suppressing drugs be covered by Healthy Kids Oregon, the state's Medicaid program for minors.
According to Karynn Fish, spokesperson for the Oregon Health Authority, children 18 and younger make up about 45 percent of the 935,026 Oregonians receiving coverage through Medicaid. The agency does not have numbers on how many transgender youths are covered, but according to Fish, the number is likely very small.
To get the treatment, young people will meet with a counselor for mental-health evaluation, which is now also covered by Healthy Kids Oregon. Once they've been diagnosed with gender dysphoria, they will meet with an endocrinologist to find out where they are in their hormonal development and when they can begin taking the drugs. The added coverage also includes follow-up treatment and related care.
However, Burleton says that despite this milestone, she's concerned that many kids who would benefit from puberty suppressors still won't get them simply because they are unaware the treatment exists or because their parents won't consent to it.
"We deal with youth everyday with parents or guardians who are recalcitrant to wanting to sign off on these care options," she says.
Cody's parents were like this at first, he says; they didn't understand when he came out as a boy. Already well into puberty, he's too late for the suppressants. But while he wishes he had the opportunity, he still says life is getting better: His family is more accepting of him, and he's currently undergoing hormone therapy. As a result, he's become more comfortable in his own body, and in the past few weeks has begun ditching the black clothes in favor of a uniform of jeans, sweaters, beat-up sneakers, and a knit cap.
"The world is becoming more real to me," he says. "I want to be with people. I want to live now."