Big Tex, Dallas' Larger-Than-Life Mascot, Tries to Stop Ebola
The State Fair icon adds a note on sanitation to his standard folksy greeting.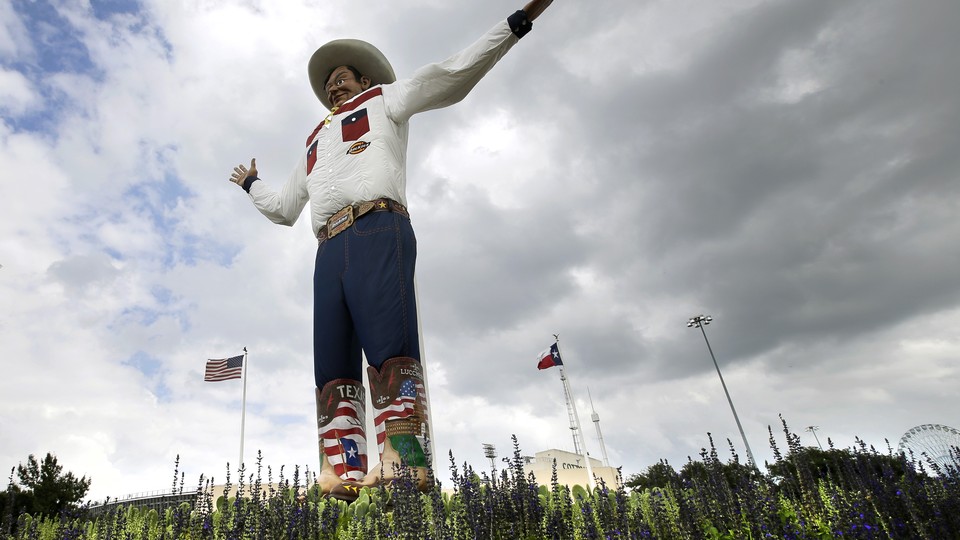 Big Tex is the 55-foot-tall, beloved mascot of the State Fair of Texas—a, well, Texas-sized carnival held in Dallas every fall. True to his roots, Tex wears size-70 cowboy boots, a 75-gallon hat, and jeans with a 22-foot inseam.
From the time he debuted at the 1952 Fair—and interrupted only briefly when he was tragically destroyed in a 2012 fire—Tex has presided by the Fair entrance, greeting all who mosey by with a deep, drawling "Howdy folks!"
He assures patrons he is "mighty proud to see 'em." He makes occasional, Fair-related announcements. He has not, generally, been viewed as a public-health authority.
Not until this year, at least. This month, the following was added to Tex's daily repertoire:
That's right, "Remember, always wash your hands before eating!" says the statue that resembles John Wayne after a growth-inducing nuclear accident.
The reason, of course, is that this is the year Ebola came to Dallas. Citizens of the Metroplex are, understandably, nervous. School hallways are being slicked with bleach. Some parents are keeping their kids home entirely. At the Fair, gallons of hand sanitizer have been installed near the fried lemonade stands. (Yes.) A photoshopped image of Big Tex wearing a face mask has made its rounds on Texas Twitter, which is like regular Twitter, only with more whoopass.
Even though the risk of transmission beyond the infected patient, Thomas Duncan, is infinitesimally small, and even though all 50 people he had contact with are now being closely monitored by the CDC, it can't really hurt to implore the Fair's 3 million visitors to scrub their hands. And who better to let people know that than the Colossus of funnel cakes himself.
Watch the full clip from the Dallas CBS station: