A Second Ebola Patient in Texas
Another Dallas healthcare worker has contracted the disease.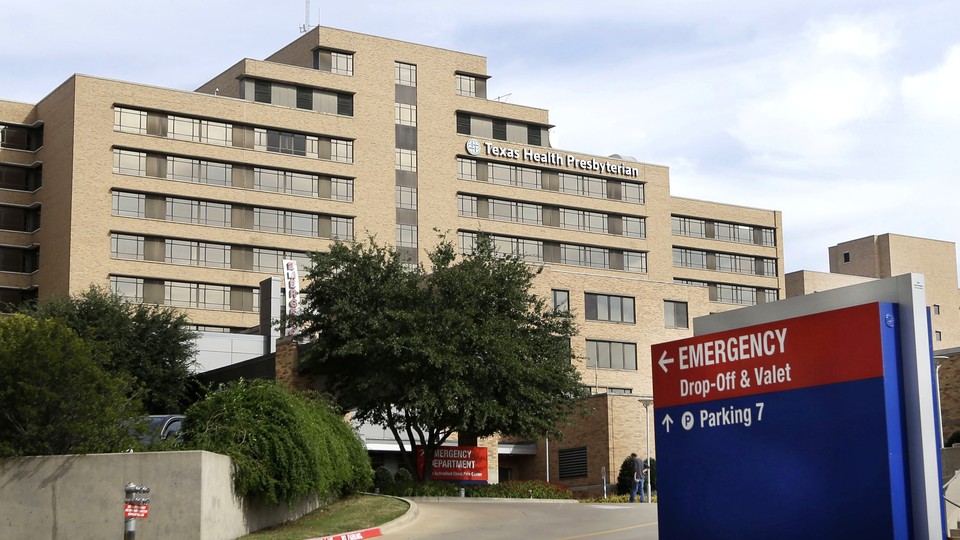 State health officials in Texas announced on Wednesday morning that a second healthcare worker who treated the U.S.'s first Ebola victim has now been diagnosed with the disease. On Monday, a 26-year-old nurse from Texas Health Presbyterian Hospital Dallas was identified as the first person to actually contract Ebola on American soil. Thomas Eric Duncan, the patient they were treating who contracted the disease in Liberia, died on October 8.
The second worker was immediately isolated and tests conducted after they reported coming down with a fever on Tuesday. Test results came back overnight confirming the diagnosis, and interviews immediately began to identify anyone the person may have come in contact with, so they could also be monitored for symptoms. More than 100 people are currently being watched after having come in contact with Duncan before he entered the hospital.
Decontamination crews (along with police, fire departments, elected officials, and the media) have descended on the apartment complex where the second patient lives.
As news of the new infection broke, more information has been revealed about the care that Duncan received when first trying to gain treatment, and not all of it is good. National Nurses United, a California-based union, has made a number of claims about poor preparation and infection control on behalf of the nursing staff at Texas Health Presbyterian Hospital. Among the charges are claims that Duncan was left in an open room with other patients "for hours," employees were given substandard protective gear, and hazardous waste piled up to the ceiling.
The Dallas nurses are not members of the union, but asked union officials to give a statement on their behalf, so that they could reveal the information anonymously.
As is typical with the spread of Ebola, healthcare workers are particularly vulnerable to infection from the disease that kills nearly 70 percent of its victims. Jon Williams of ABC News reports that 10 percent of the Ebola deaths in Africa have been healthcare workers, and the organization Doctors With Borders has seen nine of its staffers die, out of 16 who have become infected.