A Second Nurse and Second Guesses on Ebola
The CDC is playing catchup after a healthcare worker flew a commercial flight after being in contact with a patient.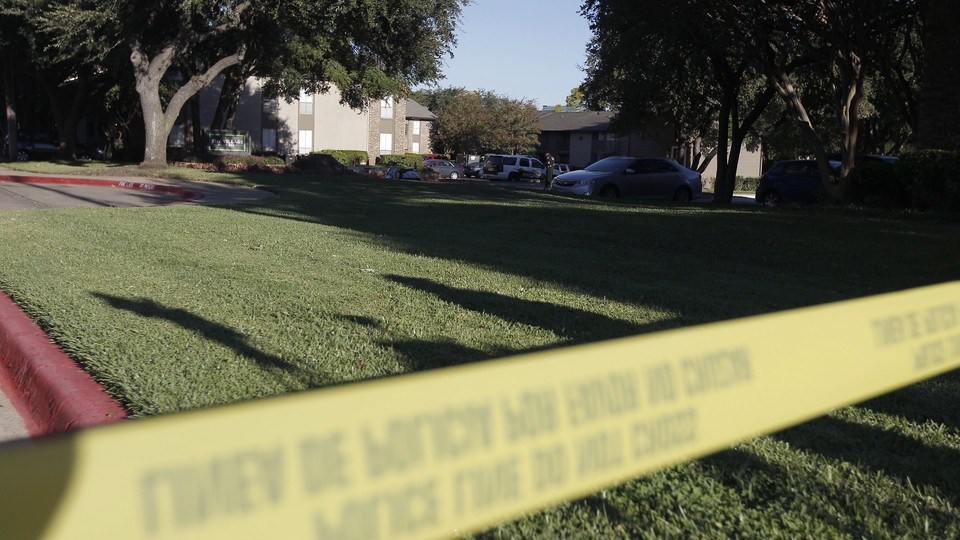 Updated 6:40 p.m. 10/15/14
Senior U.S. officials are growing more worried about an Ebola outbreak that has now infected two health workers in Dallas, including one who traveled on a commercial airliner with a fever a day before being diagnosed with the disease.
The CDC is contacting all 132 passengers who were onboard the Frontier Airlines flight from Cleveland to Dallas on Monday along with a nurse who treated Thomas Eric Duncan before he became the first person to die of Ebola in the U.S. CDC director Dr. Thomas Frieden bluntly told reporters on Wednesday that the nurse "should not have traveled" on the plane because she was one of dozens who were being monitored for exposure to the deadly disease.
That nurse has now been flown from Dallas to Emory University Hospital in Atlanta for treatment. She reported a fever of 99.5 on the day of the flight, Frieden said. The first infected health worker, Nina Pham, is staying at a hospital in Dallas, where officials say her condition has improved.
In an indication of the seriousness of the Ebola situation, President Obama cancelled a campaign trip planned for Wednesday afternoon to convene his Cabinet at the White House. The president told reporters after the two-hour meeting that the government would be monitoring the response in Dallas "in a much more aggressive way" and that he had instructed the CDC to dispatch "a SWAT team" of rapid responders to any hospital reporting a diagnosis of Ebola.
"I am absolutely confident that we can prevent a serious outbreak of the disease here in the United States," Obama said.
Governor Rick Perry of Texas also cut short a European trip and planned to return to his state on Thursday.
Frieden said the diagnosis of the second nurse was "very concerning" and that the CDC was "planning for the possibility of additional cases in the coming days."
"Ebola is hard to fight, but we know how to fight it, and we know how to beat it," the director said.
Health workers were using different safety protocols, and Frieden said Wednesday that many of them were actually putting on too many complicated layers of protection, which led to increased chances of exposure.
"It became much harder to put them on and much harder to take them off" without exposure to infected bodily fluids, he said.
Frieden said all health workers who came in contact with Duncan, who died October 8, would now be restricted from traveling commercially. Still, he said that because the second nurse did not exhibit symptoms on the flight from Cleveland, the risk to other passengers remains "extremely low."
The passengers are being contacted, he said, as "an extra margin of safety."
Any passengers on Flight 1143, which landed at Dallas-Fort Worth at 8:16 p.m. Central, should call 1-800-CDC-INFO. Frontier Airlines released a statement saying the plane had been cleaned twice before resuming its service.
When Duncan became the first person diagnosed with Ebola in the U.S. earlier this month, Frieden confidently said public health officials would "stop it in its tracks." That line has notably disappeared from his talking points, and he has acknowledged the CDC did not react quickly or strongly enough to dispatch its own team to Texas Health Presbyterian Hospital in Dallas.
White House press secretary Josh Earnest said at his daily briefing that Obama retained confidence in Frieden, although he said there had been "shortcomings" in the CDC's response. He defended the government's overall handling of Ebola, saying it was "the kind of tenacious response that reflects evolving circumstances."
Sixty-two percent of Americans still feel confident in the government's ability to respond to the outbreak, according to an ABC News/Washington Post poll released Wednesday. With today's news and the possibilities of more Ebola cases soon, that number may quickly begin to dip.