The Worst Halloween Costume: Ebola Edition
An interview with the man behind this year's controversial outfit.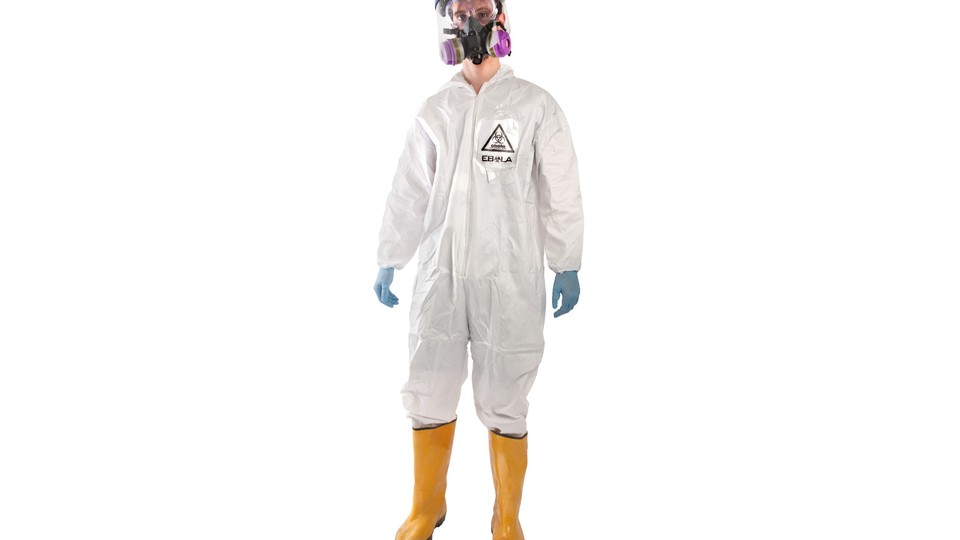 Most people pick out their costumes when the leaves finally turn orange, but for the companies behind the disguises, Halloween is a year-long ordeal. It really ramps up in August, when businesses cull pop culture to create what are often their most popular costumes. For Johnathon Weeks, the CEO of mega-costume company BrandsOnSale, headlines inspired one of his company's most popular costumes: Ebola.
The Ebola costume, which retails for $79.99, is "actually a great deal," explained Weeks in a phone interview. "The costume comes with a white hazmat suit, with the plastic goggles, blue gloves, a breathing mask and face shield." It hit the site on October 8 and has since sold "over a dozen" units.
The description reads as follows: "The deadly Ebola virus has landed in the United States and the crisis has reached new levels of domestic escalation. You are sure to be prepared if any outbreak happens at your Halloween party. This will literally be the most 'viral' costume of the year." However, Weeks is careful to clarify that the outfit is actually not preventative, "This is not to be used as a real Ebola suit."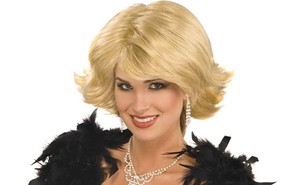 As for the tastefulness of the ensemble, Weeks insisted that the attire is in the spirit of the holiday. "You can go on any website for a zombie mask for an eight-year-old with cuts and scars all over their face," he said. "It's Halloween, it's one day, if people are that serious about it, they don't know what Halloween is about."
Weeks works with the company's designers to create different costumes based on current events. "We are selling tons of Joan Rivers wigs," he said. "We don't stray away from anything controversial." During the Chilean mining incident, Weeks said BrandsOnSale sold "hundreds" of yellow mining helmets while this year, their "Ice Bucket Challenge" and Mork & Mindy costumes are selling extremely well.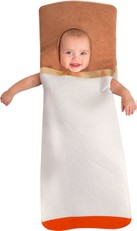 Some of the company's most popular costumes are for children, including two baby costumes: A cigarette and a pot leaf. They also have a child-sized killer whale costume dubbed the "Black Fish Killer Whale." Even Weeks was surprised by the successful sales of the baby cigarette costume.
As long as customers are buying, Weeks says he will keep on creating off-color costumes. After a decade in the business, the CEO is no longer shocked by any costume and believes many people will try to make their own Ebola outfit. "You would be so surprised what people will go through to shock their friends," he said.
As of Tuesday, BrandsOnSale is the primary retailer for Ebola costumes. An employee at New York Costumes told me that while they don't carry an Ebola costume, he recommends that anyone wanting to dress up as the virus go as the symptoms, as they sell a number of make up and gag products that would fit the graphic symptoms of the deadly disease. Thus far, no one had come into the store asking for help creating an Ebola costume. A worker at Abracadabra, another New York City shop, offered help in picking out a hazmat suit and facemask, but said they didn't stock anything prepackaged. No one has requested the costume there either.
Ricky's, a popular costume store in New York City, considered stocking an Ebola costume, but decided against it as it "probably crosses a line that we don't want to cross." A call to several area Ricky's stores proved this was the right decision, as a saleswoman told me the idea of an Ebola costume made her "really disappointed in Halloween."