Why Don't We Treat Teeth Like the Rest of Our Bodies?
Dental care is excluded from most insurance plans for a bizarre and antiquated reason, and millions of people suffer as a result.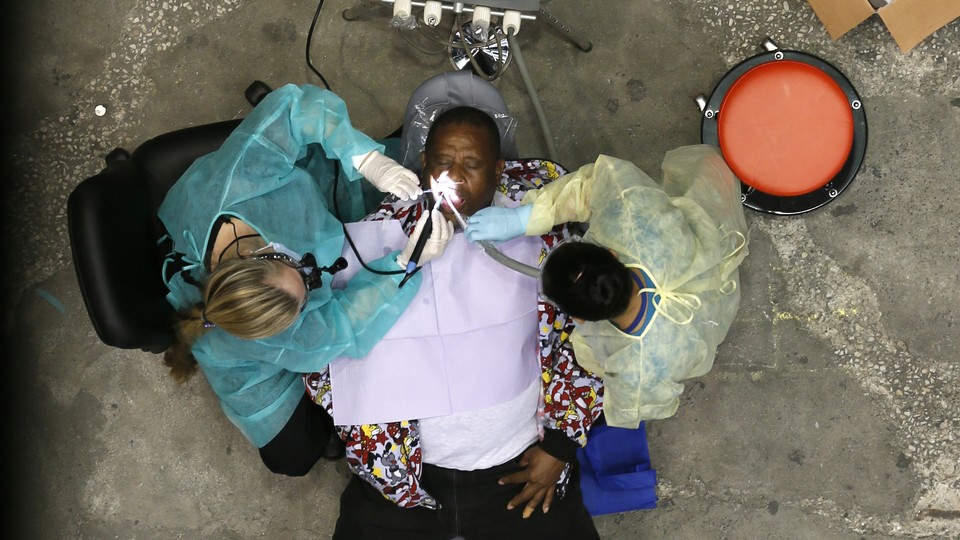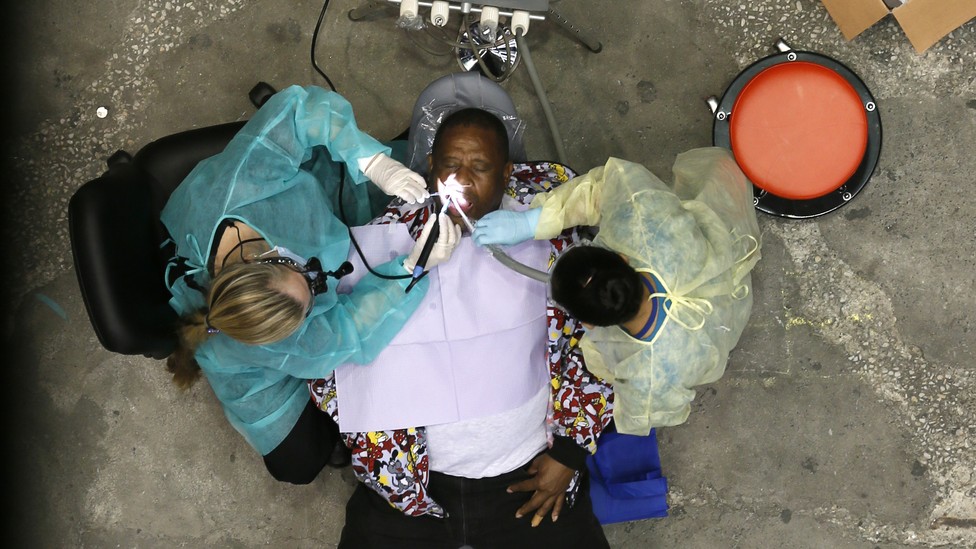 COLLEGE PARK, Maryland—Kira Adam was tired of waiting. When she first noticed the cavity about six months ago, she tried to book a dentist's appointment, but she had trouble finding a practice that would take her Medicaid insurance.
"Every time I tried to schedule it, it was a two to three month wait" for an appointment, she told me.
The cavity got worse. When she finally did get seen, the dentist told her she would need a root canal. It would cost $1,000, and her insurance would pay nothing.
"He told me to come back when I had the money," she said. As a baker at Panera Bread, she knew it would be a while before she did. She applied for and received a loan through CareCredit, a medical financing company, but it was a few hundred dollars short. So she waited some more—and tried to ignore the pain that was now shooting through her jaw.
One recent Friday, the wait was over. Or at least, most of it was. She was sitting in the stands of the Xfinity Center at the University of Maryland and looking down on the basketball court, where rows and rows of people were tipped back in dental chairs, getting their teeth fixed as part of a large dental charity event. Adam works at night, so her husband stood in line outside the building from 11:00 p.m. to 7:00 a.m. to secure her spot. Adam drove over straight from work, taking the orange bracelet from her husband's wrist. The bracelet meant she was in.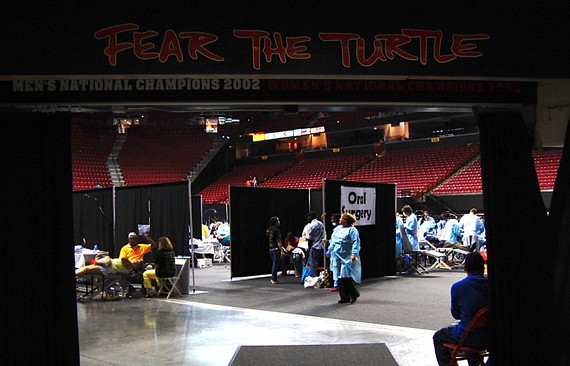 It was sad how necessary the Mission of Mercy Dental Clinic turned out to be. A sign outside at 11:00 that morning announced that the day-long event was full and could not accept more patients.
Inside, just beyond the double-doors graced with a "Fear the Turtle" banner, a reference to the university's mascot, what unfolded was the opposite of a typical American dental visit, with its gentle small-talk and freebie toothbrushes. Here, tired-looking patients sat clustered in groups behind black cloth dividers, their dentists racing by with barely enough time to look up. A seemingly disoriented woman ambled toward me, her mouth stuffed with bloody gauze.
Under the bright gym lights, the patients were nearly elbow to elbow as their doctors worked. The event saw 1,200 patients this year, up from 700 last year. Not everyone could be seen on Friday; about 1,000 were turned away and told to try again the next day.
A tiny 3D printer stamped out new, fake teeth as their future owners waited nearby. In the middle of it all, a choir sang hymns on an elevated stage, lending the whole thing the air of a Greek tragedy.
In the stands, hundreds of people sat waiting their turn. Like Adam, most had been there since the wee hours. The longest line of all was for endodontic services, such as root canals, which can cost thousands and are not covered by Maryland's Medicaid program.
James Hart drove up from Waldorf, 35 miles away, for a root canal that he has needed for three months. A clinic referred him here after quoting him $1,300.
Rochelle Hernandez, from Laurel, also needed a root canal. She had tried to sign up for dental insurance, but after paying a few other bills, she couldn't afford the premium. Two weeks ago, she was able to get a dentist to take X-rays of the offending molar by using a discount coupon. But when that office told her it would be $2,000 to fix the problem, she knew she'd be headed to the UMD clinic instead.
Several other people waved me away when I approached them, saying they didn't feel like talking. I probably wouldn't have, either, if my teeth were hurting and my only hope of stopping the pain was a day-long wait and a very public drilling.
About a third of people in the U.S. don't visit the dentist every year, and more than 800,000 annual ER visits arise from preventable dental problems. A fifth of Maryland residents have not visited a dentist in the past five years. Despite the fact that dental procedures are some of the most expensive office visits, dental coverage is treated like a garnish—the parsley of the insurance world.
"Medicaid doesn't acknowledge that you have teeth unless you're a child," said Thomas Ritter, a dentist who was volunteering at the event.
One reason for this is that since the beginning of time, dentistry and medicine have been considered inherently distinct practices. The two have never been treated the same way by either the medical system or public insurance programs. But as we learn more about how diseases that start in our mouths can ravage the rest of our bodies, it's a separation that's increasingly hard to rationalize.
* * *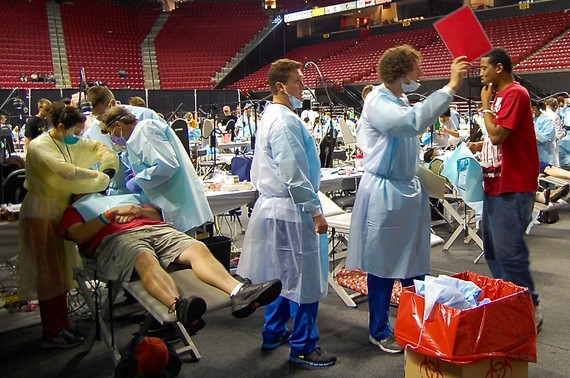 The Affordable Care Act, or Obamacare, greatly expanded access to medical care. About 15 million fewer adults are now uninsured. Some gained coverage through the law's tax cuts for middle-income workers, and others signed up for Medicaid, the insurance program for the poor, which was expanded in about half of states to include people making up to 138 percent of poverty-level income. But dental coverage is not a required benefit under either Obamacare or most Medicaid plans.
The partition between dentistry and the rest of medicine dates back to the dental profession's roots as an offshoot of hairdressing. Until the 1800s, barbers served as rudimentary dentists, pulling painful teeth and lancing abscesses after they finished trimming whiskers. In earlier centuries, people would see barbers for occasional bloodletting (thought to be therapeutic at the time)—hence the red-and-white striped pole. If there was a flesh wound, the barber could also play surgeon in a pinch. He, after all, was the one with the sharp knives.
"In the early days of medicine, surgery and medicine were two distinctly different professions," says Burton Edelstein, a professor of dental medicine and health policy at Columbia University and founder of the Children's Dental Health Project. "This is before anaesthesia, so surgery was rough. It was not regarded as sophisticated."
For years, Edelstein says, dental students had trouble gaining admission to medical schools, so the first college specifically for dentistry was founded—in Maryland, no less—in 1840.
This minimization of dentistry persisted when Congress was crafting the public health insurance programs in the 1960s. During the original 1965 formulation of Medicaid, the dental market wasn't very robust and policymakers didn't value it as highly as other forms of medical care, Edelstein says. In 1960, only 2.3 percent of Americans had some kind of dental insurance.
Under Medicaid today, dental care is usually covered only for children and sometimes pregnant women. Just 12 states include the full suite of dental services, including common procedures like crowns and root canals, for Medicaid patients. Three offer nothing at all. The rest provide something in between—usually a list of preventative procedures, like cleanings and X-rays, and sometimes extractions and fillings. Maryland is in this dental middle ground, covering cleanings, fillings, and diagnostics. When it comes to crowns, root canals, bridges, or implants, though, low-income Maryland residents have few options other than paying out of pocket.
"Maryland is on the more generous side," said Todd Cruse, vice president of government relations for DentaQuest, the company that manages Maryland's Medicaid dental services.
In other states, dental coverage bobs in and out of the roster of Medicaid benefits as the economy dips and dives. During recessions, Medicaid rolls swell and state budgets contract, so states axe dental benefits in order to save money. After California eliminated most dental benefits in 2009, one woman said she became a vegetarian because meat "gets in these holes in my teeth and it hurts so bad. It's like migraine pain." (The state has since restored dental benefits.)
A survey of Medicaid patients in Chicago, Denver, and Portland conducted by the PerryUndem research firm last year found that better dental care was at the top of most beneficiaries' wish lists.
Better teeth help us socially and financially—one study found that losing one tooth results in a loss of $720 in earnings.
"It is harder to find a job and housing if you have a missing tooth. People judge you if you have missing teeth," PerryUndem head Mike Perry told me. "I have had participants in other studies say they smile less, and one man grew a beard to hide his missing teeth."
In extreme cases, the difference between a healthy smile and a diseased one can also mean the difference between life and death.
In January of 2007, a 12-year-old Maryland boy named Deamonte Driver came home complaining of a headache. He grew sicker until he was eventually taken to Children's Hospital in Washington, D.C. Over the course of several weeks, he endured emergency surgery, a series of seizures, and physical therapy. But just as he began to show signs of recovery, he died during the night. The bacteria from an infected tooth had invaded his brain.
"There are states that will not even provide relief of pain or treatment of active infection just because it's between the nose and the chin," Edelstein says.
According to him, health plans should regard incisors like they do kidneys—or any other part of the body. The gap between dentistry and medicine, he says, "has been a lasting, physiologically, medically, morally, and ethically inappropriate separation."
* * *
To make matters worse, dental insurance is uniquely confusing. When I emailed Maryland's Medicaid program to find out why so many of its beneficiaries were getting their teeth pulled on a basketball court, they send me this chart.
It outlines the eight MCOs, or managed care organizations, that Medicaid recipients must choose from, each of which offers a slightly different suite of benefits. "Dental" sits in part of the chart titled, "Additional Benefits," right under a heading that warns: "MCOs ARE NOT REQUIRED TO OFFER THE SERVICES LISTED BELOW. THE SERVICES LISTED BELOW ARE OPTIONAL AND CAN BE CHANGED OR DISCONTINUED AT ANY TIME." All of the MCOs are currently "voluntarily providing a limited benefit," for dental care—but they can stop whenever they want. Their benefit descriptions are similarly vague, claiming to provide "limited extractions" or "limited fillings."
Maryland's health agency eventually answered all of my questions. But many low-income people, who already endure the stresses of living on a fixed income, who may not have much experience with health insurance, and who may not be free to place phone calls between the MCO operating hours of 8:00 and 5:00, would likely have a harder time navigating this labyrinth.
"Dental care is particularly confusing and few seem to know what, if any, dental services beyond extractions are covered by Medicaid," the PerryUndem report found. One woman told the researchers that it seemed odd that she was covered for having a rotten tooth yanked out, but not for a dental cleaning.
Indeed, several people I met at the dental clinic seemed fundamentally perplexed about how dental insurance would work, if they had it. A woman named Crystal, also from Waldorf, needed three fillings and hasn't gone to the dentist in years. She qualifies for insurance through her job at Macy's, and she at first attributed her lack of insurance to "procrastination." Later, though, she admitted that it seemed expensive, and that people had told her it would cost more to have dental insurance than to simply pay out of pocket, but she wasn't sure.
An older woman named Cheryl, who had been in line since 2:00 a.m., had broken a tooth three weeks ago and was now living with "a raw, open nerve." She said she just qualified for Medicare, the health insurance program for seniors, and she hopes to enroll soon. Then she paused a minute.
Under Medicare, "I don't know if dental is included," she said. (It's not.) By comparison, she said, the UMD clinic seemed like a good option. "For free? I'm prepared to wait. I would stand on one leg."
Even in states that do offer dental benefits for poor adults, Medicaid patients often have trouble getting appointments because most dentists either do not accept Medicaid patients or limit the number of Medicaid appointments they will schedule.
In general, a good dentist is hard to find: There are about 4,000 designated dentist shortage areas all over the U.S. In some of the worst-affected states, between a quarter and a third of the population lacks access to dental care entirely. In sparsely populated states like Vermont, Maine, and Wyoming, nearly half of dentists are nearing retirement.
---
Dental Health Shortage Areas by County
---
Deamonte Driver's death was partly attributed to periodic lapses in his coverage under Medicaid, but also to the difficulty his mother faced in finding a dentist who would accept Medicaid patients. The program's reimbursement rates to providers are much lower than those of private insurance plans.
In a report on the national shortage of dentists, the Pew Charitable Trusts argued that not even boosting Medicaid rates or easing the Medicaid paperwork burden for dentists would resolve the crisis entirely.
The situation is most dire in states that don't offer any dental care at all to poor people. In Tennessee and Alabama, which don't provide any dental services for low-income adults, seniors are more likely to have lost all of their natural teeth.
The states' perspective is understandable, of course. Dentistry is bespoke: It's not like antibiotics or insulin. Every mouth is unique, and teeth are hard to replace. You could see how a cash-strapped state might be reluctant to throw money at a problem that's both expensive and, unless it involves the front few teeth, largely invisible.
Invisible, that is, until it materializes as a line of people waiting to get their cavities filled in a college athletic center.