Wait, You Can Have Ebola and Still Board a Plane?
The pitfalls of relying on temperature screenings to keep infected individuals from flying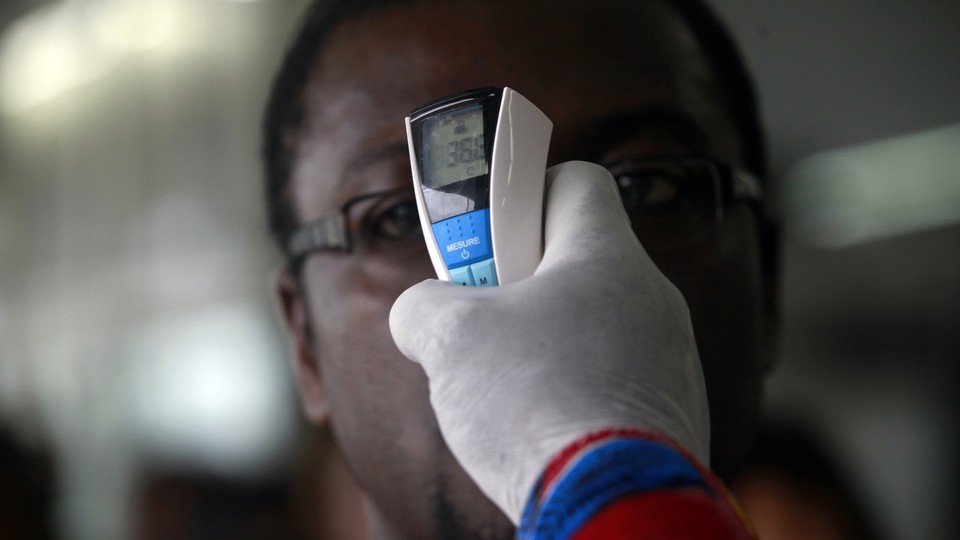 A man who flew from Liberia to Dallas has become the first Ebola case to be diagnosed within the U.S., the CDC reported Tuesday, and he is currently in isolation at Dallas's Texas Health Presbyterian Hospital.
Americans have been warned not to travel to Liberia, Guinea, or Sierra Leone, but they obviously can—and do.
So how are countries keeping suspected Ebola patients (well, most of them, anyway) contained within their borders?
Thermometers, mostly.
People are screened for elevated temperatures before they're allowed to board planes departing from the countries where Ebola is raging. Fever is one of the earliest symptoms of Ebola, but people can be infected for between two and 21 days without showing signs of illness.
The Washington Post's Todd Frankel described having an infrared thermometer gun pointed at his head in the Freetown, Sierra Leone airport, along with hundreds of other passengers. In some countries, individuals whose temperatures seem high later undergo a blood test for the virus.
But these temperature checks aren't always effective. In the Dallas case, the man left Liberia on September 19, had his temperature checked at the airport, and arrived in America on September 20. He only developed symptoms on the 24th, however, and he was isolated four days later. Patients are only contagious when they're symptomatic, so there's no risk the people on the flight with the man caught Ebola. There is, however, a four-day window in which he might have infected others in the U.S.
In July, an Ebola-infected man flew from Liberia to Nigeria, even though airport screenings were already in place, and he infected healthcare workers in Lagos. And of course, fevers are usually caused by flu and other illnesses that aren't Ebola.
Twenty different ports of entry in the U.S. have been equipped with quarantine centers that are on the lookout for passengers with Ebola-like symptoms. "If you're a passenger on a plane and you say you're sick, you will be met when you land by the CDC," agency spokesman David Daigle told The New York Post.
At arrival gates, border protection officers keep their eyes peeled for passengers who show signs of fever, sweating, or vomiting. They also try to confiscate any monkey meat or other bushmeat that passengers might have in their luggage.
In some ways, our approach to keeping scary diseases outside of our borders hasn't changed much since the Middle Ages. As Defense One's Patrick Tucker explained, when the Black Death was mowing down Europeans, the Doge of Venice instructed so-called "Guardians of Health" to board arriving ships and check the crew for inflamed lymph nodes. Those considered suspect weren't permitted to dock for 40 days—quaranta giorni. Ever since, "quarantine" has been the way to keep newer plagues from spreading once they reach our shores.