Building a Better Breast Pump
The noisy, sometimes ill-fitting devices are often necessary for mothers who want to continue breastfeeding. A hackathon this weekend strove for better designs.
At the close of a hackathon held at the Massachusetts institute of Technology this weekend, tables were littered with the standard fare: empty coffee cups, LEDs, joysticks, and transistor parts. There were also scraps of fabric decorated with elephants, foam models of women's breasts and flanges. Lots of flanges.
For the uninitiated, the flange is a crucial part of a breast pump, a device that help nursing moms extract milk from their breasts. Shaped like a broad funnel, the flange (or "shield") forms a seal around the breast during pumping, helping maintain a vacuum. The flange is also the subject of numerous complaints by pumping women, which were printed and taped to a wall at the event: "Too rigid;" "Hard to adjust;" "Doesn't work with gravity;" "Weird-shaped cones which don't look anything like a baby's mouth."  Improving the flange was just one part of the hackathon's broader goal of making the breast pump suck a little less.
The World Health Organization recommends breastfeeding for the first two years of a child's life; the American Academy of Family Physicians recommends it for at least the first year. While breastfeeding rates are on the rise—79 percent of newborns start on breast milk, according to the Centers for Disease Control and Prevention's 2014 Breastfeeding Report Card—less than half of those babies are still breastfeeding at six months.
Sticking with breastfeeding is difficult for a lot of reasons. The shape of the baby's palate can make latching on difficult if it doesn't match up well with the shape of the mother's breast, notes Boston-based nurse and lactation consultant Nancy Holtzman. Relatively minor issues, like jaundice, can disrupt breastfeeding and jump-start a formula-focused diet. But babies are born with several breast-feeding friendly reflexes, Holtzman says, such as suckling, which develops while still in the womb, and the unfortunately-named "rooting reflex," which helps the baby seek out the nipple. Given the innate qualities in babies that are pro breast-feeding, and the innate physiological trait of female mammals to lactate after pregnancy, designing a smarter breast pump should be a tractable problem.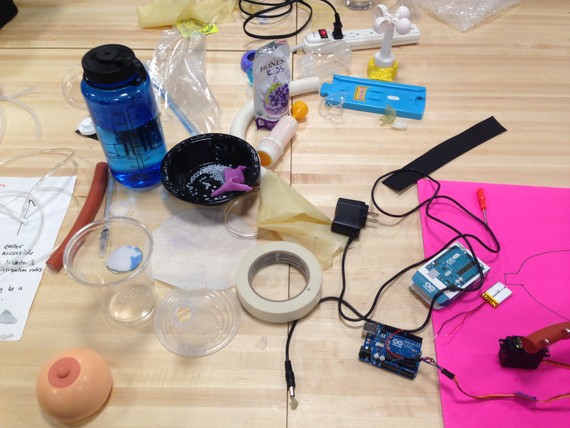 "The breast pump is a key technology in extending the nursing relationship and providing babies with breast milk for longer. But most women will tell you that the experience of using the breast pump sucks, literally and figuratively," notes Catherine D'Ignazio, a researcher at the MIT Media Lab with a background in data visualization, arts, and software development.
Granted, consumer breast pumps are relatively new; the first pump that wasn't intended for hospital use was introduced in 1991. But plenty of technologies that were born later than the breast pump have had much speedier evolutionary trajectories. In May, after reading a post on the New York Times parenting blog that called out this lag in innovation, D'Ignazio helped organize a small group of engineers, public health professionals, designers, lactation consultants, entrepreneurs, and parents to hack the pump. It quickly became clear that there was room for improvement. The working group then organized a second hackathon and upped the ante: A first place prize of $3000 and a trip for two to Silicon Valley to pitch the winning idea to venture capitalists.
In an online repository created before this weekend's event, cumbersome flanges were one of many complaints lodged by breast pump users. Frustration with pumps' numerous parts came up repeatedly, as did the fact that pumped milk is collected in bottles situated close to the breast, making it impossible to throw on a shirt and go about one's business while pumping. There were calls for basic self-diagnostics, such as the pump equivalent of a "check engine" light so the pumper doesn't mistakenly assume she's no longer making milk when the pump isn't working. References to feeling like a cow were ubiquitous. And many posts pointed to the "wheezy pumping noise" (also described as embarrassing, indiscrete, mechanical, not soothing, and like "an industrial dairy pump").
These complaints were echoed by hackathon participants during the introductory stage of the event. "The noise, the noise, the noise, I still have dreams about that sound," says Mar Hershenson, cofounder of the venture capitalist firm Pejman Mar Ventures, and sponsor of the Silicon Valley pitch trip prize. Pumps should be more like the Fitbit and other wearable devices by tracking personal data, such as milk volume and pump settings and offering encouragement to the user, said one participant. For many, convenience loomed large. "I want to be able to take the whole kit and throw it in the dishwasher" said mom Liz Slavkovsky. Another asked, why not a basket that holds breast-pump parts in the dishwasher so they don't come out filled with bits of food and rinse water?
The 150-odd participants, which included breast-pump users, fluid dynamic engineers, software developers, health care providers, and experts in "wearable tech," then dispersed to form teams. According to the firm Transparency Market Research, the global breast-pump market is expected to reach an estimated value of more than $1 billion in 2018. Why isn't there a user-friendly breast pump and a clever basket for the dishwasher?
"I think a lot of it is because the people who do provide investment are men and they get very uncomfortable with discussions of [breast shape] and liquid coming out of breasts," says Joy Kosak, who cofounded the pumping bra company SimpleWishes, a sponsor of the hackathon (along with several breast pump companies that supplied the event with parts and foam breasts). "As a society we are uncomfortable. People have issues, it's something we are still trying to overcome."
Those issues, which include America's sexualization of breasts, have led to the sterile, goal-focused breast pumps on the market today, says San Francisco-based lactation consultant Charity Pitcher-Cooper.
"A lot of what we see with pump companies is, 'Oh, this doesn't have to do with sex.' So it's going to be very clinical, and we are going to end up with a medical device that looks like something that is used in a hospital," Pitcher-Cooper says.
Nursing can be pleasurable, but it's not sexual, she notes. And pumping appears to be neither. When Sunday afternoon rolled around and hackathon teams had to pitch to the judges, it became clear that while pleasure might be a pie-in-the-sky goal, convenience, dignity, and a good breast pump app are not.
The $1000 third prize went to PumpIO, an app to reduce the stress of pumping by measuring the volume of milk pumped in real time, alerting the pumper to pressure changes, time-stamping milk, and connecting the user with a lactation consultant with the press of a button. Compress Express won the popular vote with an entry inspired by blood-pressure cuffs that focuses on massaging the breast, which can improve milk delivery and keep painful blocked ducts at bay. The first place award went to "Team Batman," for a prototype that combined real-time data collection with a discreet utility belt to hold the collection apparatus, enabling mobile pumping. Several of the team members were not on hand at the award ceremony; they'd gone home to be with their kids. All of the winners can be seen here.
Team Batman addressed a prominent concern, says Holtzman, one of the hackathon's judges—"Women not having to walk around with giant bottles attached to their breasts would really improve the user experience." But there's still a larger hack on the horizon. "In no way is a better pump going to solve the social and cultural stigma associated with breast-feeding and breast pumping," she says. Until women have better support for breast-feeding, whether that manifests as paid maternity leave, safe and convenient places for pumping, or  better access to lactation specialists, breast pumps aren't likely to go the way of the Fitbit.
Ironically, the Affordable Care Act, which requires coverage of breast pumps, might push the technology into an even worse space, Holtzman notes. The client is no longer the mom that uses the technology, but the insurance company that's paying for it, and the insurance companies' main concern is cost, not functionality.
"What happened this weekend was fantastic," she says. "But it was just the tip of the iceberg."