The Danger in Losing Sight of Ebola Victims' Humanity
Treating patients like disease carriers—rather than like people with emotions, families, and cultural beliefs—is a harmful public- health strategy.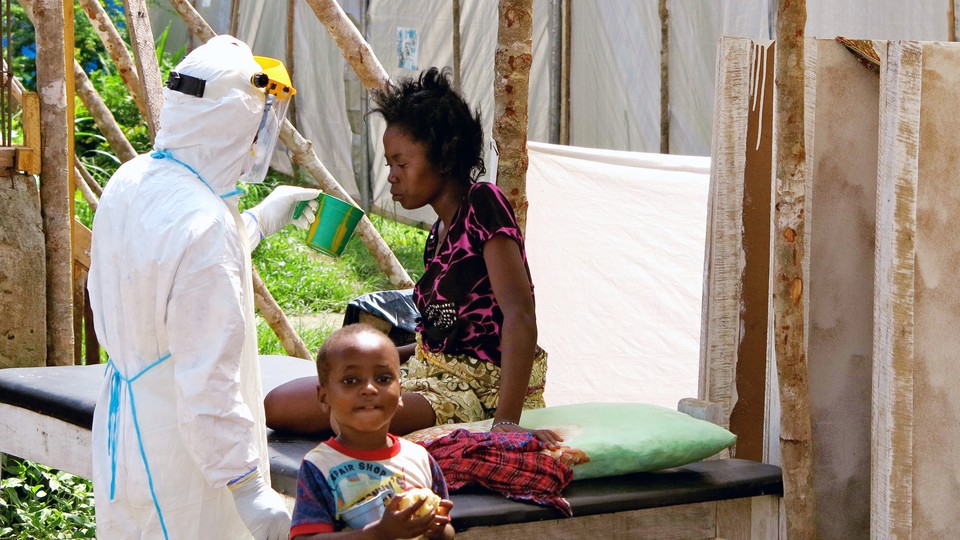 In early April, as the first reports of Ebola began to emerge from Western Guinea, I was invited to attend the first meeting of the Kono District Ebola Response Task Force. Kono is a remote and impoverished diamond-mining district in Sierra Leone, bordering the then-epicenter of the outbreak, Gueckedou. We had just received bad news. One week earlier, the Guinean Ministry of Health had contacted the Sierra Leonean Ministry of Health, explaining that a potential Ebola victim had been carried across the border for burial. In interviewing family members in Guinea, they learned that a 15-year-old boy had died, and his family had brought his body to Boidu Village, Sierra Leone for burial.
The authorities in Freetown, Sierra Leone's capital, guessed that the village was in Kailahun District, a region south of Kono that also bordered Guinea's highly-affected areas. But on their list of village and town names, Kailahun's health authorities saw nothing that resembled the word "Boidu." Confused, they called Kono's health officials who looked on their own list of villages—and found a "Buedu" village close to the border with Guinea. They sent a Land Cruiser to the distant community and officials sat down with the chiefs and elders. Indeed, they had buried a boy from the village who had been living with family in Guinea. Before he died, he had been bleeding out of his eyes. Everyone in the household in which he had been staying had since died too.
We sat listening to the story of the boy buried in Boidu village in the dusty office of Kono's District Medical Officer—one of only three physicians in the public healthcare system for 500,000 people (and he himself does not practice). In the room were local staff from the major nongovernmental organizations working in Kono, as well as representatives from the media and three Paramount Chiefs, the highest of Sierra Leone's traditional authorities. I was there as the executive director of Wellbody Alliance, a healthcare NGO that operates a medical center in Kono. Each of us had been provided with a print-out of the Wikipedia article on Ebola and a mandate to come up with possibilities for the district's response.
"I want to see hundreds of volunteers going door to door to get the word out," suggested one person.
"We should make every Guinean in the district register with local government, and be ready to expel them if the disease spreads," said another.
The mood was tense in the room. The messages filtering in from Guinea were extreme: "a killer disease," "bleeding out of every orifice," "ravaging border villages in Guinea." Radio broadcasts implored people not to eat bat meat, or touch people who exhibited symptoms.
We needed to develop a preventative response. With nothing to cling to but past experience, the group fell back on procedures that had become familiar in Sierra Leone through interventions that targeted HIV, maternal health, malaria, and tuberculosis. The majority of these programs emphasized education and "behavior change" as primary methods to improve health outcomes—people must be taught by health workers, volunteers, and community members to take better care of their own health. Women should be directed to deliver in clinics; mothers should be told to make their children sleep under mosquito nets; locals must learn rudimentary hygienic practices, stop eating bushmeat, and cooperate with local health regulations to slow the spread of Ebola. Few would deny that education plays a role in global public health, but the task force that day was reiterating an unquestioned assumption: that somehow, communities and patients' choices would be to blame if Ebola came to Sierra Leone.
At the meeting we also learned the national protocol for isolating and referring patients to the treatment center. Lassa fever, a disease similar to Ebola, albeit less deadly and more treatable, has long been endemic in the south of Sierra Leone. In Kenema District, around 80 miles from Kono, the public hospital had an equipped isolation ward supported by international partners such as Tulane University in New Orleans. With this basic infrastructure for handling hemorrhagic fever patients in place, as soon as a patient met the criteria—fever, vomiting, and a history of travel to an affected area—the patient was to be immediately isolated where he was while blood tests were rushed to Kenema for diagnosis. If positive, one of a small fleet of Ebola-specific ambulances located in strategic regions of the country would rush to the presenting clinic and whisk the patient immediately to Kenema Hospital. The Ministry of Health created a national hotline to request testing and ambulances, and had distributed the protocol to all facilities in the country. With such a system in place, many healthworkers—including myself—felt relieved that Sierra Leone was well-prepared to use existing healthcare infrastructure to contain the disease.
*  *  *
For two months Ebola swept through Guinean villages bordering Kono, but Sierra Leone remained almost unbelievably spared. On May 25, the first cases of Ebola were diagnosed in Sierra Leone in a remote village south of Kono called Koindu, in Kailahun District. All of the initial patients had attended the funeral of a local healer in Guinea who had been treating Ebola patients in her home; as is customary, they had likely washed her corpse before burial and contracted the disease. Cases were isolated at the public clinic in Koindu Village where they had presented, and preparations were underway for transferring them to Kenema's Lassa fever ward.
This is when the rumors started spreading to Kono. Outside of our clinic, a woman yelled "Ebola is a lie! They're sending people to Kenema to die!" I heard patients waiting at a food shack near our facility talking about how the government was trying to rapidly eliminate the Kissi Tribe—the inhabitants of the remote region where the outbreak began—in order to shift the census for the upcoming election. In Kailahun, a family barged into the Koindu clinic, demanding that they take patients waiting for transfer to Kenema back home.
Patients had presented at the Koindu clinic with diarrhea, fever, and vomiting, typical signs of tropical illnesses that are common in Sierra Leone, but were immediately separated and sent off to the Kenema hospital. Most of them did not return, and even their bodies were lost in the process—many were buried in mass graves in Kenema. Our nurse spoke to a friend in Kailahun who complained that she had absolutely no idea what had happened to her relative after he was taken away by the men in white plastic suits. The two fundamental components of the national response—rapid isolation and quick transfers to Kenema hospital—had unexpectedly induced a panic that ultimately contributed to the disease spiraling out of control.
The rumors proliferated. In Kono, in early July, I received a call from one of our staff in town that I shouldn't meet him for lunch as we had planned. A rumor had spread through town that two children had died after receiving routine vaccines during a national in-school vaccination campaign. The entire city descended into panic. In the waiting area of our women's center, a woman yelled into her cellphone. "Go pick up Kumba! They're injecting Ebola and killing patients!" In Kailahun, Ebola continued to spread as villagers reportedly stoned health workers. Ambulance drivers described youth building ditches to prevent them from entering into communities where the nurses had reported Ebola patients, and in another village a medical store was burned to the ground.
*  *  *
Sierra Leone's troubled history is written into its landscape. If you walk the roads around Kono, you'll see shelled structures that were once beautiful homes. A brutal 11-year civil war ended 12 years ago, displacing hundreds of thousands of Sierra Leoneans. The war's legacy is everywhere: in the bullet shells buried in dusty roads, in the thousands of ex-rebels who now drive motorbikes for the extra cash, and in the amputees populating cities and towns. Almost everyone carries a war story, and has lost loved ones in the conflict. The war and post-war period have left a legacy of lasting fear and suspicion of the government and of humanitarian aid organizations, which often leave communities to make do when funding runs out.
This distrust is amplified by a history of the government falling short on its promises. For example, in 2010 the Ministry of Health launched the Free Health Care Initiative to provide free health care for pregnant and lactating mothers and children under five. Four years later the reality, at least in Kono, is that these people are often still asked to pay for care at public hospitals. Drugs are in short supply, and health workers implement fees to maintain their inventory. Often, health workers cannot offer essential care because the necessary equipment, drugs, and trained professionals are not, or never were, available.
When a crisis like Ebola strikes in this context it is not surprising that aggressive, opaque public health measures are met with suspicion, resistance, and anger. The Ebola task force meetings I continued to attend increasingly focused on these community level challenges. The hour long task force meetings turned into four hours, circling around and around one issue: "the lack of understanding." Funding began pouring in from the large NGOs for door-to-door sensitization. Pickup trucks with large speakers drove slowly through the market each day, blasting: "It feels like malaria, but it's not! If you want to survive, go quickly to a facility!" One day, my motorbike taxi was halted as a several-thousand-person "Ebola protest" marched through town, families vehemently chanting as if to scare the disease away.
As public health authorities in Freetown and Kono—as well as the international media—increasingly complained of how people in Kailahun "did not understand," the situation was spiraling out of control. Several times, patients were forcibly removed by their relatives from isolation wards and disappeared into the rural provinces. This, too, was interpreted as a result of ignorance, and inspired a new round of educational initiatives arguing against the use of local healers and traditional medicine in Kono and elsewhere.
"Many people in Sierra Leone, where an Ebola epidemic has gripped the country for the first time, refuse to accept that the disease can be tackled by Western medicine," a writer for The Economist's Baobab Blog explained. As the outbreak continued to spread, so too did a shallow discourse of socio-cultural explanations. Health authorities, experts, and the media increasingly blamed communities for the continued spread of the disease.
In public health, the emphasis on "harmful behaviors" arising from ignorance fails to acknowledge the complex socioeconomic factors and structural conditions that can lead to poor health. In the wake of the first Ebola cases in Guinea, the Guinean government and later the Sierra Leonean government launched a massive campaign to persuade people not to hunt and consume bushmeat, which is thought to carry Ebola. Though well-intentioned, these campaigns did not adequately consider that malnutrition is widespread in rural West Africa, and villages in which the population heavily relies on bushmeat are often healthier—in our experience, they even have significantly lower rates of malnourishment. It wasn't just an issue of people "not knowing" not to eat fruit bats and gorillas—bushmeat was their only source of protein. Continuing to eat it can be understood as a rational decision based on a risk assessment—malnutrition will likely always lead to more deaths in West Africa than an Ebola outbreak.
But I've also observed through four years of fieldwork in Sierra Leone that public health interventions that rely on the passive reception of "medical facts" by target communities and that hinge on getting "them" to think like "us," are simply ineffective. To health workers, taking patients home to die in surrounded by their families, to be collectively buried and remembered in their villages might be considered "irrational" or "contributing to the spread of the disease." But these practices also allow for a kind of solidarity and resilience in the face of capricious, cruel disease.
Over the past several weeks, things took a definitive turn for the worse. Sheik Humarr Khan, the physician leading the country's Ebola response, contracted the disease and died along with several of his colleagues. This threw the healthcare system into panic; many doctors closed their clinics, nurses went on strike. Ebola has been identified in all but one district in the country, with up to 20 new confirmed patients per day.
On July 31, President Ernest Bai Koroma, recognizing the need for urgent action, declared a "state of emergency" which enabled the response to be further militarized. Houses in Kono that are connected to Ebola patients are now surrounded by soldiers and police 24 hours a day (with varying efficacy) and entire swaths of the country are now cordoned off. In neighboring Liberia, clashes broke out Wednesday in a slum that had been forcibly quarantined. While urgent action is warranted, such measures may only serve to further dissuade people from going to clinics and facing the shame and the loss of control that comes with being quarantined.
*  *  *
Responding to Ebola requires putting patients and families into inescapably horrific situations. Being diagnosed with the disease means confronting and accepting the absolute terror of a likely-terminal condition—I am probably going to die. It requires accepting the results of an opaque test done in a faraway lab even when it still just feels like the flu. It then requires accepting that you may never have human contact again for the rest of your life—and that the only communication you will have will be with a masked man tasked with isolating you, not saving you. In the United States, we expect that such a process would be accompanied by humane counseling and social support, by health workers guiding families through letting go and last goodbyes.
But in a public health emergency of this scale and danger, patient communication and counseling can be brushed aside under the pretext of urgency. Ebola patients can be considered mere disease-carriers rather than complicated, emotional human beings—and while at the highest levels reducing transmission is the top priority, neglecting the humane aspects of care can gravely undermine the public health response.
As tensions between health workers and patients have gotten more heated, discussions of the disease have begun to take into account social context. "You may not be able to walk in and just say, 'OK, who in this village has Ebola?' That may not be something that's culturally acceptable," a Johns Hopkins epidemiologist said on National Public Radio.  But while cultural differences could contribute to the tension, it may also be that more universally human processes are going unacknowledged. In what culture would it be acceptable or productive to walk into a village and so brusquely identify and inform people that they have only days to live?
When Kono identified its first Ebola case just miles from our clinic, Wellbody Alliance deployed community health workers to the homes of people who had been in contact with the patient. They sat in their homes, empathized with the frightening position they were in, but stressed the importance of getting tested immediately and agreeing to quarantine, because patients are only contagious when they're symptomatic, and early diagnosis and treatment tends to result in better health outcomes. All 36 contacts voluntarily agreed to visit the hospital for testing before they showed any symptoms.
Still, in the past few weeks, only 10 to 15 patients are coming to our clinic each day when we usually serve 75 or more. They're too afraid of catching the disease and too afraid of what might happen if they are suspected of having it.
As I prepared to board my flight out of Sierra Leone a few weeks ago, it occurred to me that if I happened, for whatever reason, to get a fever on the airplane, I would be met at the gate by a team of Belgian health authorities in space-suits who would whisk me off to a hospital I've never been to before, without my family nearby, and possibly isolate me for the next 21 days. If I were to get Ebola, I would likely die alone without ever seeing my friends and family again. I knew there was almost no way I could have Ebola—but the worry never left the back of my mind. Like the hundreds of patients sick right now in their homes in Kailahun, like the angry family members protesting outside of Kenema hospital's isolation unit, like the scores of Ebola victims alone in treatment centers and field hospitals in Sierra Leone, Liberia and Guinea, I understood how hard it would be to accept the truth—not because of ignorance, not because of culture, but because of pure, deeply human fear.