The WHO Wants All Gay Men to Take HIV Prevention Medication
Condoms aren't enough: For the first time, the agency is recommending that all men who have sex with men use prophylactic treatment.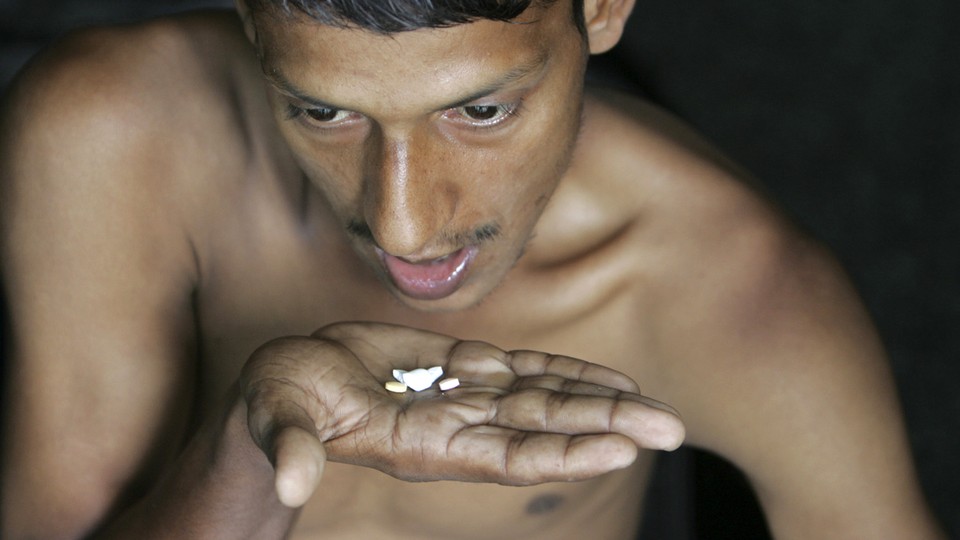 Condoms alone aren't cutting it, the World Health Organization declared today, urging all men who have sex with men—regardless of HIV status—to begin using antiretroviral drugs as a means of protection against the disease.
Worldwide, a man's risk of HIV infection is 19 times greater if he has sex with other men than if he doesn't. Taken regularly, the recommended pre-exposure prophylaxis, or PrEP—a single daily pill containing two separate medications—is up to 92 percent effective in protecting its users from HIV. In an update to its HIV prevention guidelines, the WHO estimated that the widespread use of PrEP among gay and bisexual men could prevent as many as one million new HIV infections over the next decade.
It's a number worth celebrating, in theory, but how attainable is it? In the same guidelines released earlier today, the agency also noted that its recommendation may be easier said than fulfilled:
"Implementation may prove challenging, however, where access to services and provision of alternative prevention tools are limited or lacking. Issues of criminalization, stigma and discrimination, and violence should be considered during implementation, especially where same-sex behavior is illegal."
And as the BBC reported in February, homosexuality is a capital crime in five countries and punishable with imprisonment in 70 more, leaving a sizeable chunk of the world's high-risk population unlikely or unable to follow the WHO's wishes.
In the U.S., PReP has already seen its fair share of controversy. The WHO's announcement comes on the heels of a similar policy from the Centers for Disease Control and Prevention, which recommended in May that health workers offer PrEP, marketed in the U.S. under the brand name Truvada, to people at high risk of infection, including gay and bisexual men, injection drug users, and women who sleep with men of unknown HIV status. Long used by HIV-positive patients to stave off AIDS, Truvada sparked a bitter debate after it was approved as a prophylaxis in 2012. While some hailed its preventive properties, others—including many in the LGBT community—argued that it would quickly become a risky replacement for condom use.
"If something comes along that's better than condoms, I'm all for it, but Truvada is not that," Michael Weinstein, president of the AIDS Healthcare Foundation told the Associated Press in April. "Let's be honest: It's a party drug."
Of course, the WHO isn't advocating PrEP as a replacement for condoms, only as a supplementary measure. But the treatment may be the key to leveling the prevention playing field, the WHO maintains, arguing that "preventive efforts are still lagging too far behind" for certain high-risk segments of the population. Overall, the number of HIV-related casualties is going down—thanks in large part to the antiretroviral medicines used by 13 million people worldwide—but they're going down much more slowly for some groups than for others, a gap this new policy aims to close.