The Size of a Healthy Baby
A new study shows that newborns who have affluent, well-nourished moms all start out life at a similar height, regardless of their ethnic background or the country they live in.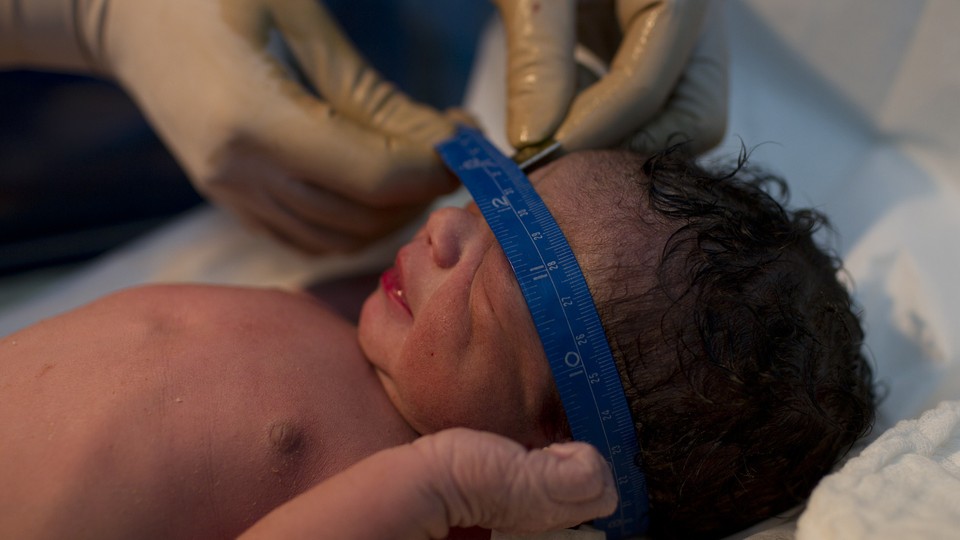 One foot, 7.5 inches. That's the average height of a newborn baby born to a healthy, well-nourished mother, worldwide, according to a new study published yesterday in The Lancet, Diabetes and Endocrinology.
Across the globe, there are great disparities in babies' average size at birth, and even within developed countries, babies born to some ethnic groups are more often small for their age. This has led some researchers to believe that there are genetic differences in infant growth among different populations. But this study, funded by The Bill and Melinda Gates Foundation, looked at nearly 60,000 pregnancies in the U.S., U.K., Brazil, Italy, China, India, Kenya, and Oman, and found very little difference in newborn size—if the babies were born in good conditions.
The mothers in the study were all "educated, affluent, healthy women with adequate nutritional status" between the ages of 18 and 35. They started prenatal care before 14 weeks of pregnancy, and lived and delivered their babies in areas where pollution, radiation, and other toxic substances were low or nonexistent. The researchers measured most of the babies after birth, but tracked a smaller subset's growth in the womb with ultrasound measurements.
While there were variations in parents' height—parents from the U.S. and U.K. were tallest, parents from India were shortest—the differences in size at birth were small. The average size was 49.5 centimeters (1 foot, 7.5 inches), and the sizes in different geographic regions differed by 1.7 to 2.3 centimeters. But the researchers could only attribute 1.9 percent to 3.5 percent of size variability to differences between the regions.
This means that newborn babies are actually very similarly sized around the world when they receive good prenatal care and are born to healthy moms with access to good nutrition who live in clean environments. The results are in line with a similar study done by the World Health Organization, together providing strong evidence that babies aren't born smaller because of genetic differences between ethnic groups. It's likelier, according to this study's results, that more extreme size differences are because of factors that disproportionately affect those groups, like poverty, malnutrition, or pollution.