New York City's 'Gay Health Warrior'
Demetre Daskalakis is an infectious disease physician who hung up his lab coat to bring HIV screening and counseling to Manhattan's gay nightlife.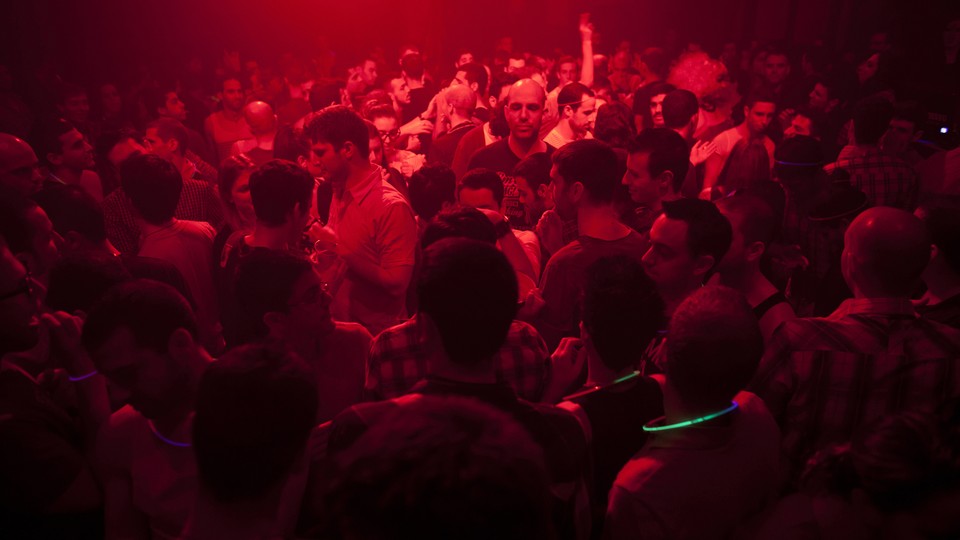 Dr. Demetre Daskalakis cannot fall asleep. Like they have for many physicians, years of late shifts and early rounds have battered his schedule and etched deep grooves beneath his tired, dark brown eyes. But while his colleagues toss and turn, Daskalakis spends his nights patrolling Paddles—a Manhattan S&M club where men check both coats and clothing at the door and pay $40 to wade through faux smoke and loud music in search of a tryst.
Behind the club's cavernous common room, lined with ornamental shackles and blush-worthy murals, Daskalakis operates a cramped clinic out of makeshift office space. As men queue up for free HIV and Hepatitis C screenings throughout the night, Daskalakis (whom the men fondly refer to as "Dr. Demetre") offers his humorous, down-to-earth counsel during their 30-minute wait for the results.
"Demetre's level of engagement is outstanding," Hunteur Vreeland, a promoter and host at Paddles, told me in the relative privacy of the nightclub's staff-only bathroom. "He is an amazing fit, a friendly face for people who have questions about their health. He is just what the community needs."
Dr. Demetre, the self-described "gay health warrior" who fought to bring the clinic to the club, caught some media attention last year when he took to the streets to administer vaccines during New York City's meningitis scare. In only a matter of days, with the help of the Gay Men's Health Crisis, a New York City-based non-profit, Daskalakis vaccinated hundreds of high-risk patients and helped stave off the meningitis outbreak.
Now a senior faculty member at Mount Sinai Hospital, and recently named New York City's assistant health commissioner in charge of HIV, Daskalakis, 40, has undeniable gravitas lurking beneath his boyish features. He recently began to collate lessons learned from those odd office hours at Paddles into a research paper published last month in LGBT Health, which shows that men at high risk for HIV may misjudge their vulnerability to the deadly disease.
"HIV risk has been swept under the carpet by medical providers," Daskalakis says. "This study informs providers that HIV risk assessment needs to be a priority."
But long before Paddles and published papers, the Harvard-educated infectious disease doctor was a public health advocate, searching for better ways to help the growing number of men who engage in high-risk sexual behaviors.
"Demetre works 24/7," says Michael Macneal, Daskalakis's husband of three years. "When I met him, he was already doing outreach in the gay community, passing out condoms and performing HIV tests."
Macneal, a wiry fitness instructor with no formal medical training, helps out by sorting through piles of paperwork and following Daskalakis into nightclubs, standing guard outside his husband's private medical consultations.
Daskalakis grew up in Arlington, Virginia, but felt drawn to the big city from a young age, so he enrolled in Columbia University immediately after high school. Daskalakis recalls the day that his parents drove him up to Columbia. "We crossed the George Washington Bridge, there was a car on fire and a dead dog in the gutter. My father said, 'Are you sure?' and I said 'Keep on going!'"
As a student, Daskalakis's maverick taste for the unknown brought him to Manhattan's East Village on many a weeknight, where his brushes with LGBT nightlife would ultimately shape his perspective in caring for a diverse patient population. "I learned my bedside manner from East Village drag queens," he jokes.
Although he followed a pre-medical curriculum while at Columbia, by his senior year Daskalakis was still unsure of what field of medicine he would pursue. But that changed once he became involved in a student-run campaign to bring AIDS awareness to the campus. The centerpiece of the event was the display of a patch from the NAMES Project's AIDS Memorial Quilt, and the task of flying to San Francisco to pick up the artwork fell to Daskalakis.
Daskalakis says he felt as though he was transporting the legacy of the millions who had succumbed to HIV and AIDS. "It was a surreal experience. Here this quilt was just a rug, but I was carrying it through the airport [as] a shroud," he says.
Only days later, still jet-lagged from his cross-country flight, Daskalakis attended the memorial ceremony at Columbia. "I remember being very tired, and just saying 'This shouldn't happen any more. I have to make sure this doesn't happen any more.'"
Daskalakis was accepted into New York University's medical school soon after, and went on to Harvard Medical School for his residency and fellowship in infectious disease. He quickly adapted to the culture of high-powered Harvard research, and began to see results from his laboratory work with acute HIV infections.
But at the same time, Daskalakis was unwittingly drifting away from his goal of helping individual patients. One day, while writing a chapter for a scholarly book, Daskalakis heard about a new strain of HIV on the loose. Although those reports turned out to be false, Daskalakis was jolted out of his research tunnel vision.
"Why am I sitting here in Boston with petri dishes and cell culture, when I got into this field to help people directly?" he asked himself. That very day, Daskalakis packed for New York City, and began making calls to local hospitals to ask if they were looking for an AIDS expert who was ready to get his hands dirty.
Now a familiar face in sex clubs across the city, Daskalakis fondly recalls a few of his early attempts to deliver care in less than ideal settings. "After drawing blood in a dark room lit only by tea lights that kept going out, I bet I could get blood out of a rock," he says. On another occasion, Daskalakis recalls reaching for a syringe, only to be restrained by fuzzy novelty handcuffs and a smiling naked man.
Daskalakis is generally unfazed by such displays of fetishistic sexuality. But just because he sets up shop in commercial sex venues does not mean that he condones those sexual habits. "Do I love high-risk sexual behavior? No," Daskalakis says. "But is it important to acknowledge it exists and not be scared of it? Yes."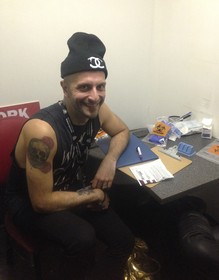 But those late nights at bathhouses and S&M clubs provided Daskalakis with far more than a handful of wild stories. Dr. Demetre has amassed a substantial database of anonymous questionnaires, filled out by patients while they waited for their screening results. In his research paper, Daskalakis analyzed these testimonials to show that 78 percent of his high-risk patients believed that their behavior did not warrant the use of pre-exposure prophylaxis drugs like Truvada.
The sobering lesson is that men who are at high risk for HIV continue to underestimate their chances of exposure. "People don't recognize that they are at risk," Daskalakis says.
It's a slow Wednesday night at Paddles and, between patients, Daskalakis leans back in his folding chair and rattles off facts about state licensure and the nuances of needle sticks. He sifts through biohazard bags, a Chanel beanie propped atop his shaved head, a Harvard lanyard slung around his neck. He fiddles with his clipboard and flattens the wrinkles out of his tight black shirt, which reads: "Witch, Don't Kill My Vibe".
It's hard to imagine Dr. Demetre anywhere else.