An Anatomy of Iceland's Penis Museum
A collection that started as a joke now has a higher purpose.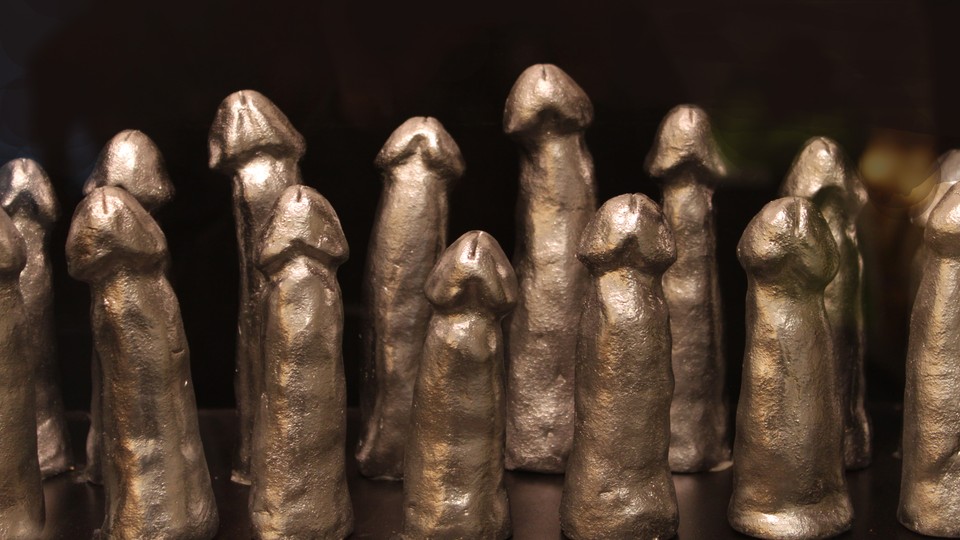 REYKJAVIK— "Can we stop by the Icelandic Phallological Museum?" one twenty-something guy semi-jokingly asks, leaning back in his seat on the bus back from a trip to Iceland's Blue Lagoon, a popular geothermal spa.
"Have you not been?" one of his buddies asks. "Dude, you have one day left—if you don't go, I will slap you in the face."
"What's in there? Some 400-year-old cocks? With signs like, 'This is how Iceland was made?'"
Having visited a few days prior, I tell them that's not the case. They don't care. They cackle and tell some more off-color jokes.
Aside from, you know, heartbreakingly spectacular nature, one of Iceland's most unique tourist attractions is what is colloquially known as the Penis Museum, located on Reykjavik's busiest shopping street. It consists of one large room boasting shelves and glass cases filled with the penises of animals ranging in size from whales to hamsters—sometimes just the bone, sometimes the whole thing, preserved in formaldehyde. (If you wonder, as I did, 'What about a Vagina Museum?' there is, it seems, an exhibition called "Museum of Vaginal Imagination" at a museum in Rotterdam.)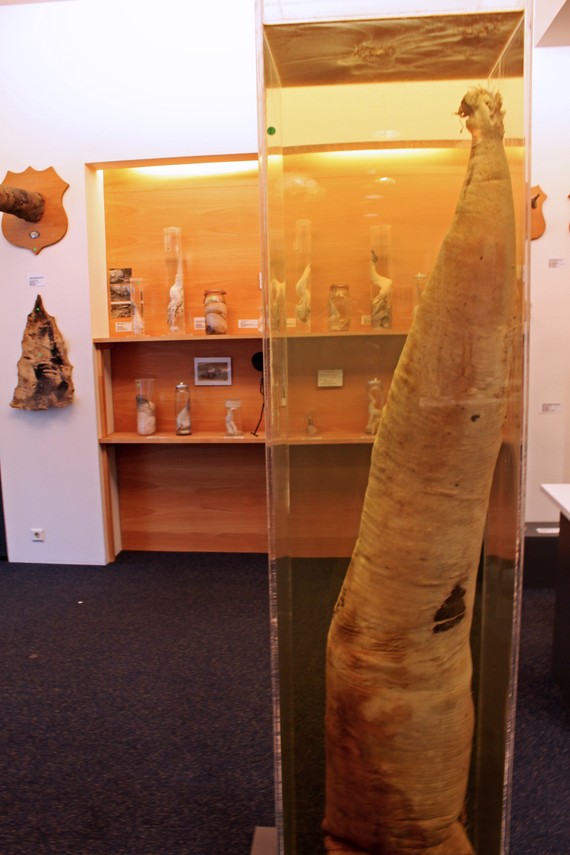 Plenty of penis-themed artwork fills in the space—weird whimsical touches like plastic flowers in a sperm whale penis vase and lamps made of scrotum skin. A small room off to the side has some tongue-in-cheek "specimens" from mythical creatures. (The troll's penis is just a rock.)
It originally started as a private collection, dating back to 1974, when Sigurdur Hjartarson, called Siggi, a headmaster in a secondary school in the port town of Akranes, received a pizzle—a bull's penis sometimes used as a whip—as a joke gift.
"Some of my teachers used to work in summer in a nearby whaling station and after the first specimen they started bringing me whale penises, supposedly to tease me," the museum's website reads. "Then the idea came up gradually that it might be interesting collecting specimens from more mammalian species."
Hjartarson's son, Hjortur Sigurdsson, was 10 years old at the genesis of the collection. While he says at first his friends teased him, eventually they thought it was awesome, and he bonded with his father on trips around the island to collect specimens.
"Yeah, [my] father is an eccentric, but that's okay," Sigurdsson told me. "He's eccentric in a good way, you know. When [I] got to be 14 or 15, it was just a boost, meeting new friends, girls, taking them home and showing them the collection."
By the time Siggi's private collection became a museum, in 1997, he had 62 specimens. The museum now boasts 283 biological specimens, including at least one from every species of mammal found in Iceland. And I mean every mammal.
The documentary The Final Member, which comes out on DVD June 17, profiles Siggi and his museum's quest to complete his collection by acquiring—you guessed it—a human penis. The film portrays an apparent race against time between a 95-year-old Icelandic adventurer (and, seemingly, notorious womanizer) named Pall Arason, who has promised his organ to the collection when he dies, and an American named Tom Mitchell, who so desperately wants his penis, which he calls Elmo, to be famous, that he considers cutting it off while he's still alive, so his can be the first on display.
"I've always thought it'd be really cool for my penis to be the first true penis celebrity," Mitchell says in the movie.
The museum has two other signed letters of donation that pre-date the film, so it's not as though these two men were the museum's only shot at having a complete collection. But Hjartarson, whose health is failing, apparently had two goals he wanted to achieve before he died—to translate a book by the Spanish monk Las Casas into Icelandic, which he did, and to see a human penis on display in his museum.
Spoiler: he gets one. After Arason passes away, he makes good on his promise, and Hjartarson receives a nicely-wrapped bucket containing the goods in an oddly touching moment.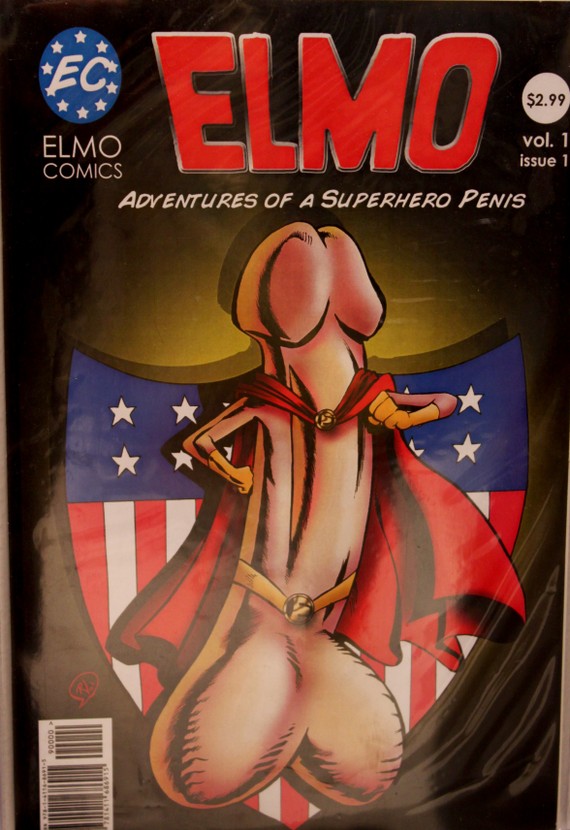 It is these sweet human interludes that keep the film, and the story of the museum, from being just "some weird guy with his house full of penises." Don't get me wrong—it's still pretty weird. But even Mitchell, whose strange personification of his penis extends to writing a comic book starring it as a superhero, defies being totally written off as a wacko.
"We each own our own bodies, and I think as long as we don't harm one another, we ought to be able to do what we please. As far as the exhibitionist needs that I have, I think I can satisfy [them] in a socially acceptable way by donating to the museum. I hope nobody thinks negatively about me… I like to think that I'm a pretty decent guy," he says, so sadly and so sincerely that I feel a little bad for laughing at him.
Sigurdsson calls Mitchell "attention-seeking," and says he doesn't think Mitchell will really go through with the operation. He hasn't yet. All the other human donors seem to be on better terms with the museum—they're friends, according to Sigurdsson.
With the acquisition of Arason's penis, Hjartarson retires, his dream fulfilled, and leaves the museum to his only son, Sigurdsson, who has been the curator since 2011.
"I have three sisters," Sigurdsson says. "So it's always been a joke, 'You're the next king of penises in Iceland.'"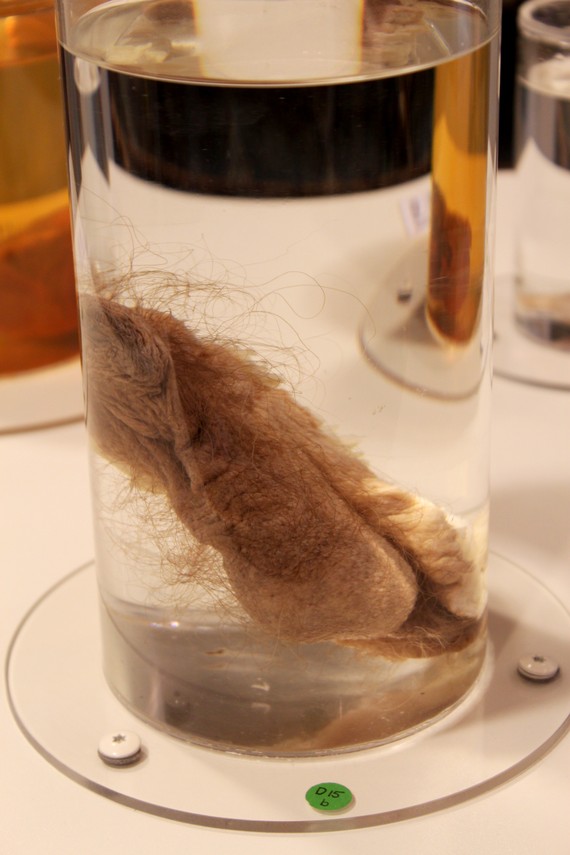 Though the collection is technically whole now, Sigurdsson says there will be some room for improvement with future homo sapien specimens. Something went wrong with the removal of Arason's donation—Hjartarson wasn't able to oversee it, and as a result, it doesn't look much like you'd expect. More like an indistinct mass of flesh in a jar than a recognizable human penis.
"If my father had been there he would've closed the wound in the back and maybe stretched it a little or something. To make it look more like it should be," Sigurdsson says. "When it's been [in formaldehyde] for two hours or more, you can't do much with it…We learned from this experience, you know. I won't let that happen again."
Walking through the museum, it's clear that it understands and capitalizes on the fact that its draw is largely the tee-hee factor of rooms full of penises, exemplified by those obnoxious dudes who rode the bus with me. For example, it displays and sells in its gift shop an animatronic flasher in a trench coat with a motion sensor who gets a boner and makes rude comments as you walk by. He's labeled "Inappropriate Man." I hate the Inappropriate Man, who I keep accidentally setting off when I try to read an informative placard on the wall.
But there is a strange tension between the spectacle and the scientific. The spectacle gets people in the door, but the museum's purpose seems to be more sincere. The "About" section of its website states: "Now, thanks to The Icelandic Phallological Museum, it is finally possible for individuals to undertake serious study into the field of phallology in an organized, scientific fashion."
It's certainly not pornographic. The only "erotic" section of the museum is in a small glass case covered with a black cloth. A sign asks you to please replace the cloth after you look inside. I was afraid it would be filled with hardcore porn, but it's actually just a few small sculptures of people having sex, many of them fairly abstract. You can see the museum's efforts to keep things tasteful warring with the desire to give the people what they came for. Much of the less-tasteful paraphernalia, shot glasses and t-shirts branded with penises, can be found in the gift shop. (Something's gotta pay the bills.) But for the most part, the museum seeks to fight the very taboo that makes it a novelty.
"It is very very important for me to inform people or educate people," Hjartarson says in the film. "I think this serves and helps decrease taboos about the human body. Especially about this organ, I'm presenting here… I was a professional teacher for 37 years. I like telling people, I like informing people."
"My father is a teacher, not only by learning, but by heart, in his soul," Sigurdsson agrees. "There's nothing lewd or pornographic about [what he's doing]. It's an educational and funny sort of way to display something that isn't seen every day. If you take something like the penis and just treat it like any other thing, it becomes more ordinary."
He's not wrong, though I can't help but think if he really achieved that goal, the museum wouldn't be so popular.
"It's not so much different than if I would collect hands or feet of animals," Sigurdsson says. "Just because [my father] chose this organ then he gets all this attention. Why is the penis different from the hand? He would never have gotten the attention, the discussion and everything, [with a hand museum]. But the penis, you know, big news."