How Face Wash Pollutes Water
Illinois recently passed a law banning plastic microbeads, often found in soap, which can slip through treatment plants and end up in waterways.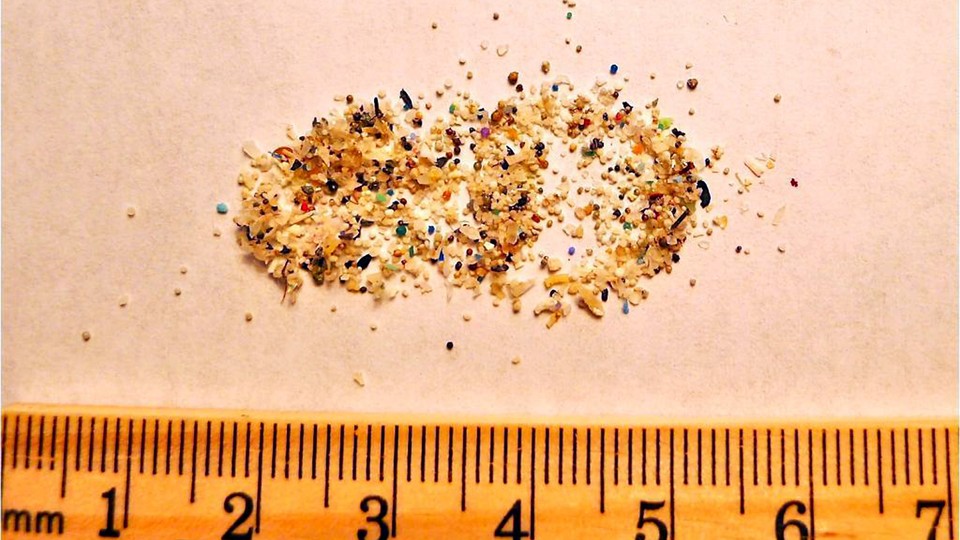 Soap commercials (and all commercials, one could argue) are all about the power of tiny differences, convincing you that some small detail about this product is going to make your face exponentially cleaner than whatever you're currently using. For a while, microbeads were the cool new thing, as evidenced by this face wash commercial where Hayden Panettiere dances around, proclaiming that "Icy blue microbeads exfoliate and clean deep down to pores!"
The microbeads, used in many different soaps, are tiny pieces of plastic that provide grittiness, for extra scrubbing power. And last week, Illinois Governor Pat Quinn signed a bill into law that bans them. Companies will have to stop manufacturing products with microbeads by the end of 2018, and such products can no longer be sold in Illinois starting at the end of 2019.
The controversy around the beads has been building for some time. The problem, opponents say, is that the beads are too micro—they can slip through filtration systems and find their way into waterways, where they sit, gleaming, beckoning fish who think they are tasty treats.
While it's obviously not great, in and of itself, that fish could be eating plastic, what's more worrisome is that the plastics have been shown in tests to absorb pollutants like pesticides and polycyclic aromatic hydrocarbons (created by combusting fuels like wood, diesel, and coal) from the air and water around them.
"Plastic can absorb and concentrate pollutants, and easily transfer them to aquatic organisms," says Dr. Lorena Rios Mendoza, an assistant professor of chemistry at the University of Wisconsin, Superior. "Some of these pollutants are endocrine disruptors," she adds, which means they could affect animals' reproductive cycles. More research is needed on just how the plastic is affecting the fish, and if those effects could potentially travel up the food chain.
Illinois, nestled up to Lake Michigan as it is, has reason to be at the forefront of this movement. Research done by environmental group 5 Gyres, which is dedicated to decreasing plastic pollution, found particularly high levels of microbeads in the Great Lakes—"higher than most oceans worldwide," the press release says. On average, the team found 43,000 particles per square kilometer, or about 107,500 particles per square mile. The highest concentration was found in Lake Erie, where 90 percent of all the plastics found came from. Mendoza, who has been analyzing samples taken by 5 Gyres, says she sees twice the level of pollutants in samples from Lake Erie as in samples from the Atlantic Ocean (while keeping in mind that the ocean is much bigger).
The 5 Gyres Institute shared these results with manufacturers of personal care products who use microbeads, and many of them—Unilever, L'Oreal, Colgate-Palmolive, Johnson & Johnson, The Body Shop, and Procter & Gamble—agreed to phase out the beads from their products. According to a statement from Unilever, the company is on track to be bead-free in the U.S. and Canada by the end of this year, moving instead toward other exfoliants like silica and walnut skin. A statement from Johnson & Johnson says the company will stop using the beads by 2017.
On the regulatory side, Illinois' is the first law to outright ban microbeads, though there's a similar bill on the table in California.
"I'm proud that Illinois is an environmental leader, taking the first step away from plastic microbeads toward natural exfoliants, and I'm optimistic that we've started a nationwide movement to protect not just the Great Lakes, but other bodies of water with high concentrations of microbeads," Illinois State Senator Heather Steans said in a press release.
Even with these developments, with four years between now and Illinois's deadline, Mendoza says there's still plenty of time for damage to be done. "In reality, we don't know how much plastic will go in the lake before then," she says.