Another Solid Reason Not to Do a Mud-Obstacle Run
Endurance races that involve electrical shocks, ice baths, and pools of stagnant farm water are acutely popular. No one tells you about the bowel infections.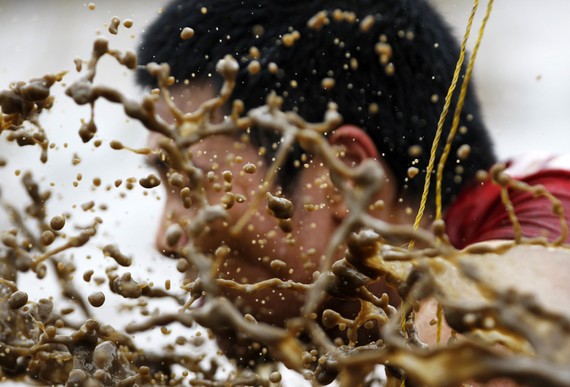 On October 12, 2012, public health officials at Nellis Air Force Base outside Las Vegas, got an unsettling call. Their medical center's emergency department reported that in the last three days, three active-duty military had come in with vomiting and bloody diarrhea. All said they had recently fallen face-first in mud, during a Tough Mudder obstacle-course event on a nearby cattle ranch in the town of Beatty the week prior.
Mud is a standard part of any Tough Mudder, the substance for which the race is named. Actually, I shouldn't say race.
"The Tough Mudder is not a race," participants chant as part of the Tough Mudder Pledge taken in unison at the starting line of each 10-to-12-mile course. They also pledge to "overcome all fears" and not to whine ("kids whine"). Nowhere, though, does their pledge mention enduring infectious diarrhea. But it is a very real risk in this sort of event, the U.S. Centers for Disease Control and Prevention (CDC) now says.
In response to these three cases, Nellis Public Health mobilized local and state officials in an investigation, the results of which were released yesterday by the CDC. The team ultimately identified 22 similar cases tied to that October 2012 Mudder, most likely caused by infection with the fecally transmitted bacterium Campylobacter coli. 
As the CDC reported there was a statistically significant association with "inadvertent swallowing of muddy water while competing" and Campylobacter infection. The investigators found no association with drinking water or eating food provided by event organizers. Participants did report seeing cattle and swine on or near the course on the day of the run.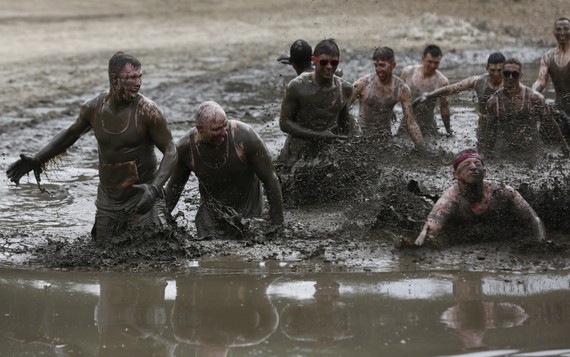 Lieutenant Colonel Chad Claar, the public health flight commander at Nellis Air Force Base who led the research, told The Washington Post he suspects there were many more cases; the 22 they found are only those who got sick enough to seek out medical care.
In the four years since Tough Mudder events began springing up around the world, more than a million people have taken part. In case you're not among the million, or the millions more who've seen some promotional YouTube montage set to Mumford and Sons and interspersed with textual platitudes about truly living, the event is marketed to young professionals listless in the face of the inescapable encroach of grown-up/office life. The real world is isolated and predictable and annoyingly safe. Tough Mudder is about adventure, teamwork, and overcoming all fear. Beyond mud, there are electrical shocks and ice baths. Tough Mudder describes the "Arctic Enema" obstacle thusly:
"Some athletes use ice baths for recovery, but your muscles aren't going to be relaxed after a swim in this frigid dumpster. Climb right into the floating iceberg abyss—don't overthink it. When you're submerged, find the mental and physical strength to swim through the ice, under a wooden plank and pull yourself out on the other end. You'll come out feeling like shrink-wrapped leftovers straight out of the freezer. Emphasis on the shrink." That's a joke about male genitals. Also emphasis on don't overthink it.
"This [Arctic Enema] obstacle arguably takes the most mental grit of them all," Tough Mudder apprises candidates. But not as much mental grit as telling your friends you won't do one of these obstacle races with them because it seems dumb. The popularity and ubiquity of the events gives them an air of controlled safety that actually has definite limits. A Maryland man drowned during a Tough Mudder in West Virginia last spring, no one noticing that he failed to surface for 15 minutes after the "Walk the Plank" obstacle. Nineteen other people were treated at the local hospital after the event for various conditions, from hypothermia to heart attack. Two others died in a Warrior Dash in Kansas City in 2011, an analogous event, part of a macho obstacle-course movement that has spun out well beyond the Tough Mudder.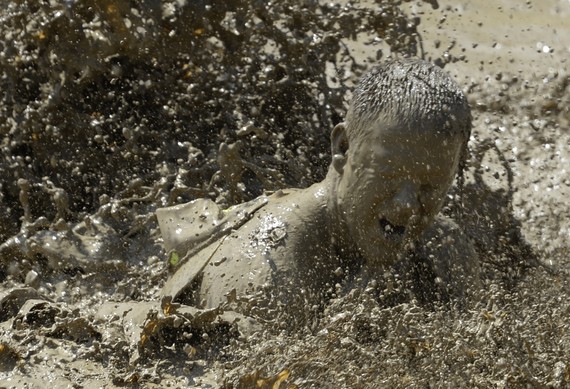 Serious injuries are rare, and participants are typically warned that what they're doing isn't a risk-free endeavor, and they sign extensive liability waivers, so it's all fair. Risk is woven into the appeal. But in light of this outbreak and the fact that these events are often held on farmland, the CDC now suggests that organizers warn participants they "might be exposed to fecally contaminated water or slurry, [and] that potentially serious diarrheal disease can result if ingested, even inadvertently." A lot of dangers are inviting to defy, but that one will be tougher to sell.
"These events typically are held in rural areas and often include man-made slurry fields (a mixture of soil or clay and water) as race 'challenges,'" the CDC offers. "In areas commonly frequented by animals, topsoil used in the creation of slurry fields can be contaminated with feces from domestic fowl, ruminants, or wild animals. Competitors who run or ride through such areas might unintentionally swallow sufficient numbers of organisms to cause clinical disease."
The CDC also says doctors and public health professionals "should be aware that obstacle adventure race events could pose a heightened risk for outbreaks."
Nellis Public Health followed up by doing some educational outreach regarding the risk for disease when competing in such events, emphasizing hand washing and avoidance of ingestion of surface water and mud.
"Participants also need to be encouraged to seek appropriate medical care for post-competition diarrhea," the CDC advises, "especially bloody diarrhea, and to inform medical personnel of their exposure." Apart from that, don't overthink it.