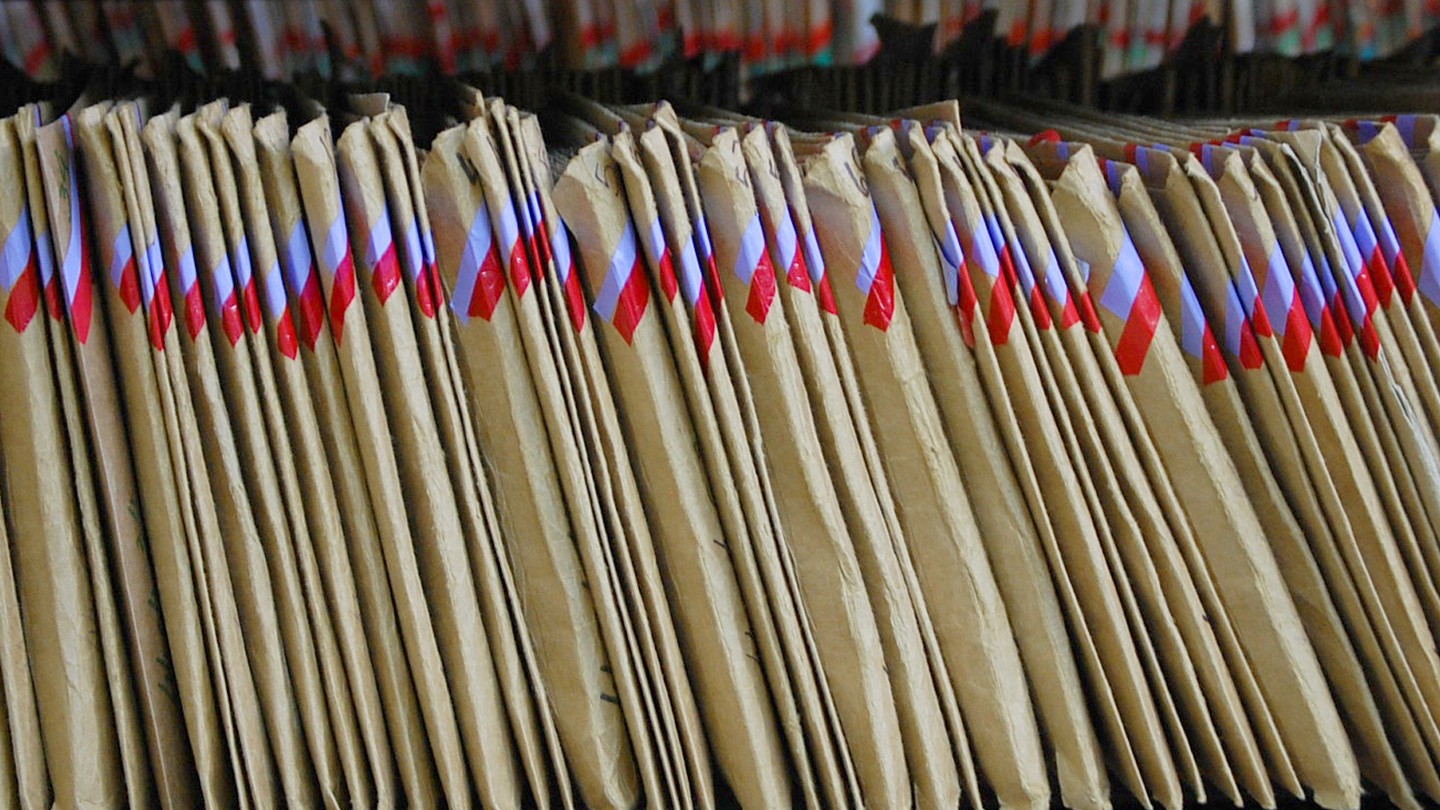 What the U.S. Can Learn From Brazil's Healthcare Mess
Here's what it looks like when a sprawling, diverse nation tries to cover everybody.
On a recent afternoon in Boa Vista, a lower-middle-class neighborhood of Sao Paulo, Brazil, Noranei Oliveira Miranda waited patiently on a small couch for the local community health workers to arrive.
Her aging father, Dirceu, was seated next to her, not as patiently. Trembling and non-verbal, he reared up from the couch and reached in vain for the front door. She held him down with a pillow, her strong arms forming a seatbelt across his torso.
"Sit still, dad!" she cried in Portuguese.
Dirceu was a professional driver until Alzheimer's robbed him of his mental faculties and an HIV infection further depleted him. Now he's delirious and desperate to get back onto the hilly, narrow streets where he made his living as a younger man. His face is riddled with wounds from falls he incurred during past escape attempts. Noranei, the youngest child, has quit her restaurant job to help take care of him.
At last, the health workers arrived, clad in matching sky-blue vests. "Look, it's Daiana and Gabriela!" Noranei told her father.
Dirceu smiled and stopped flailing.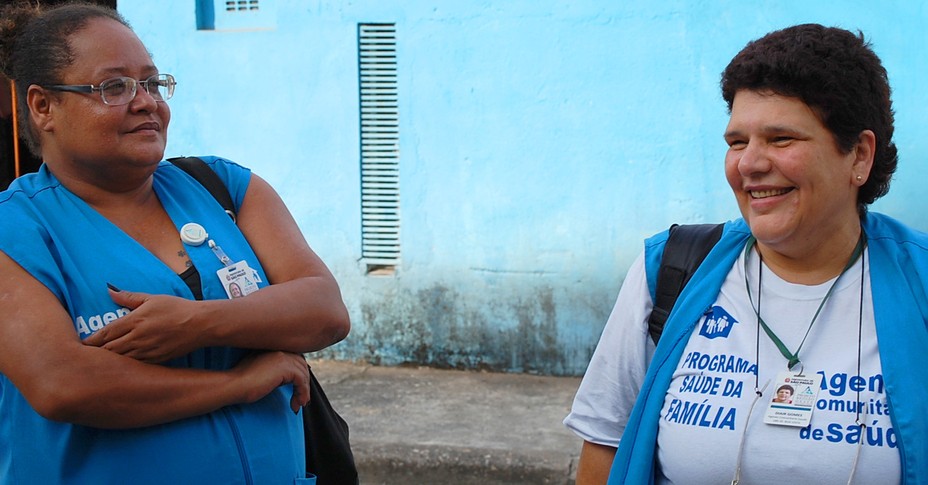 The two health workers are middle-aged women who live in the community. They aren't doctors, nor do they have any medical training. But they spend their days making the rounds through the 180 or so local families that have been assigned to them, asking, essentially, "How's life?" They make sure Dirceu feels okay on his HIV medications. They admonish kids not to drink standing water and diabetics not to eat too many cookies. If one of their charges is having a personal problem—say with domestic abuse or alcohol—they try to help. They're armed with exercise and nutrition tips, but they don't dispense medication.
Overall, they help ensure no one gets lost in Brazil's enormous state-sponsored healthcare system. "I feel good because they help me," said Maria Camargo, a wheelchair-bound 68-year-old woman, when Daiana and Gabriela dropped in for a visit. "No one forgets about me."
Ever since 1988, the Brazilian constitution has promised free public healthcare to every citizen. "'Health is a private right and a duty of the state,'" said Alexandre Chiavegatto Filho, a health policy professor at the University of Sao Paulo, quoting the statute. "People do love that phrase. It would be crazy and impossible for any government to change that."
By a lot of measures, Brazil's Sistema Único de Saúde—or SUS—has led to huge health gains. The country now has an infant mortality rate of about 13 per 1,000 live births, down from about 27 in 2000. Maternal mortality has also been cut in half since 1990. The average Brazilian only lived to about 66 in 1990; today, life expectancy is at a respectable 74.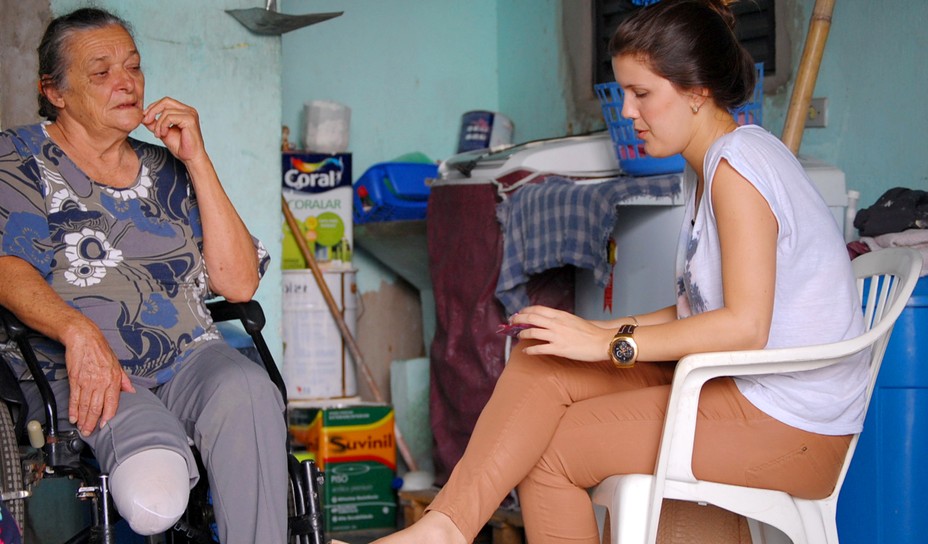 But take a closer look, and the system seems more like "a safety net with holes," as one Brazilian doctor put it to me. There are only about two hospital beds for every 1,000 people. It can take months to get an X-ray in Sao Paulo. A quarter of Brazilians are able to afford private doctors, paying with American-style insurance they get through work. But a sizable chunk of the population is still poor, living in remote jungles and farms or in ghettoized favelas, and relies on the publicly funded SUS. The health outcomes of the two groups are just as strikingly different as their life circumstances. In a 2013 poll, 48 percent of respondents said they thought healthcare was Brazil's biggest problem, ranking the issue well above education, corruption, violence, and unemployment.
In other words, universal healthcare looks very different in Brazil than it does in, say, Scandinavia. Finland, for example, provides free healthcare to all its citizens, but the country is smaller and more homogeneous than the state of Minnesota. Brazil, meanwhile, has 200 million people. And it has roughly the same landmass of the continental U.S., if you shaved off the entire West Coast and some of Florida. Brazil was also one of the last countries in the Western world to abolish slavery, and it has the lasting racial issues to show for it.
In essence, Brazil is not unlike a slightly smaller, warmer America, except with soccer.
Here, then, is what the U.S. can learn from Brazil's healthcare system—and where we should avoid imitating them at all costs.
Americans have been resisting the idea of universal healthcare since at least the 1940s, when President Harry Truman tried to launch a federal program to train doctors and insure every American. His effort disintegrated amid anti-Soviet sentiments. "Would socialized medicine lead to socialization of other phases of American life?" asked one pamphlet put out by the American Medical Association at the time. "Lenin thought so."
By that time, most nations in Northern Europe had been running national healthcare programs for years. Germany was the first: In 1883, Otto von Bismarck sought to shore up his power by granting sick leave and health insurance to workers. Some neighboring countries followed Germany's lead; others, like the U.K., opted for a single-payer system, which is like Medicare for everyone.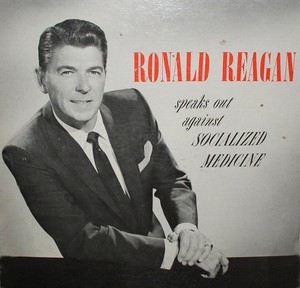 But in America, fears of income redistribution loomed large. On a 1961 LP record, Ronald Reagan called medicine "one of the traditional methods of imposing statism or socialism on a people." To this day, conservatives often use the word "socialism" as a kind of shorthand for the dangers of Obamacare.
Brazil was unbothered by such taboos in the late 1980s, when it transitioned to democracy after a brutal 20-year military dictatorship. Throughout the 60s and 70s, the country's health indicators had lagged far behind those of its neighbors. Disproportionate shares of housing subsidies and social welfare money had gone, perversely, to the wealthy. A patchwork of insurance plans had covered certain unionized and white-collar workers, while a clumsy and cash-strapped health ministry was supposed to help the vast underclass.
The poor had gone not just without healthcare, but also without essentials like water, sewage, and housing. A 1979 New York Times article noted that in the favelas, "disease from vermin is rampant among children."
Democracy movements throughout the late 70s and 80s pressed for social-service reform, and after the military regime collapsed in 1985, social welfare spending increased by a third in just three years. The 1988 Constitution comprised 245 articles that touched nearly every dimension of Brazilian life. Along with provisions abolishing censorship and creating maternity leave, it enshrined healthcare as a basic right.
Today, the SUS is cherished as a protection against steep medical bills. "Brazil has the lowest rate of catastrophic health expenditures (2.2 percent) of nearly any other country in the region," James Macinko, an associate professor of public health at New York University, told me. "That is a higher level of financial protection than Chile, Mexico, and certainly the U.S. have achieved."
Universal healthcare is also, as it turns out, relatively cheap: Brazil spends just 9 percent of GDP on healthcare to the U.S.'s 18 percent.
But the funding for the SUS system is split between the federal, state, and municipal governments, and that's where the trouble begins.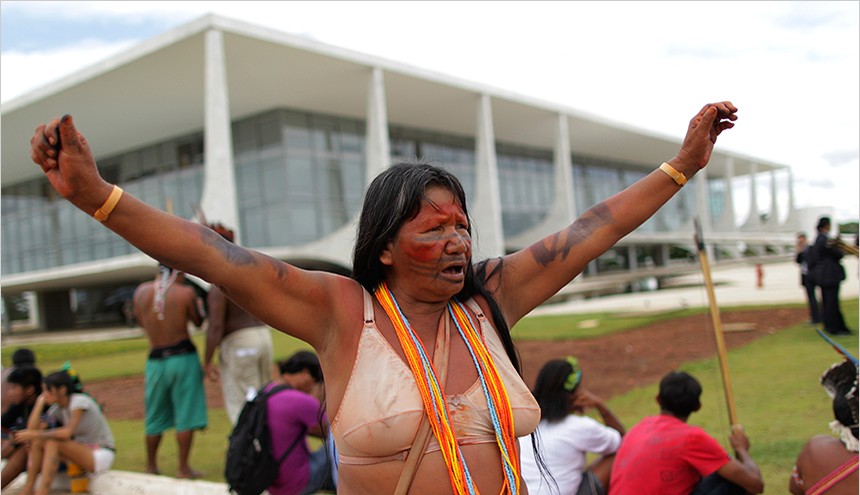 Brazilians in the wealthy south tend to live better, healthier lives than their poorer northern countrymen. The infant mortality rate of the north is twice as high as that of the south. That poor northeastern area of Maranhao has only about 0.58 doctors per 1,000 people, while the richer Rio de Janeiro has 3.44. The richest fifth of Brazil's population is twice as likely to receive prenatal care as the poorest fifth. In 2012, between 62 and 75 percent of people in the south who needed kidney transplants received one, but only 13 to 27 of those living in the rest of Brazil were able to.
"In addition to a lack of adequate laboratories, blood circulation support networks, and intensive care units, there is an ongoing shortage of essential healthcare infrastructure, such as beds and X-ray machines," wrote Eduardo Gomez, a senior lecturer in international development at King's College London, in a recent working paper. "Again, the more affluent southern region fares better … when compared to the north."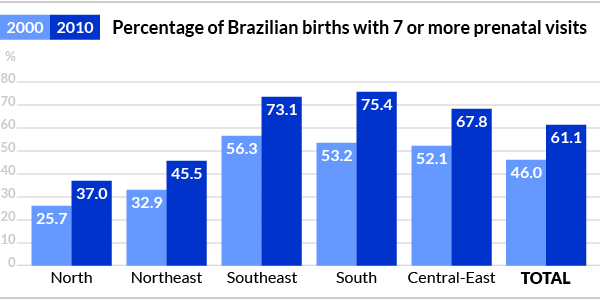 Although high-earners tend to visit private doctors, they flock to the public system to get costly procedures, crowding out poor people who have no choice but to use the SUS. And rich Brazilians take their right to free healthcare seriously. A 2011 Lancet article described how the wealthy often sue for pricey experimental drugs or elective procedures to be provided to them for free. After all, they argue, the constitution demands it. In 2008, Rio Grande do Sul spent 22 percent of its total drug budget to comply with 19,000 such court orders.
"There have been efforts by health managers to 'educate' judges so that they would not issue such court orders," Cesar Victoria, author of the Lancet article, told me. "But it still happens all the time." 
In Brazil, as in the U.S., income inequality impacts health in banal, hidden ways. "If you're wealthy you're fine. If you're poor, you're not," Riordan Roett, director of the Latin American studies program at Johns Hopkins University, told me.
When Recife's sanitation workers recently protested their poor working conditions, free sunscreen was among their demands. At a Recife bodega, a 200-milliliter bottle of SPF 30 costs 35 reais, or $15.60. Brazil's minimum wage is 2.48 reais per hour (about $1.12). "When you put sunscreen on, you need the amount of a cup of espresso and to put all over your skin," said Claudia Magalhaes, a dermatologist in Recife, told me. "You have to repeat it every two hours. Then, if you stay around six hours in the sun, you need around two bottles."
By some measures, Brazil's income inequality is even worse than America's. One segment of the population—the part that conjures up images of Gisele Bundchen and microscopic swimsuits—is modern and rich, employing household help and dining out on $50 steaks.
Then there are the 11.4 million people living in favelas where, according to Rodrigo D'Aurea, a primary-care doctor in Boa Vista, crack is "easier to get than McDonalds." In these communities, drug lords rule the streets, open sewers spread disease, and social services are sparsely provided. On the outskirts of Recife, I met teenagers who were raising newborns in plywood shacks—partly because abortion is illegal in Brazil, but also because having children is one of the few status symbols available to the country's slum-dwelling girls.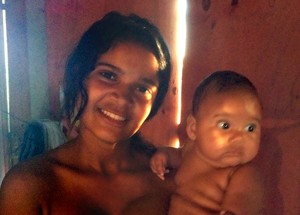 Brazil also has a newish middle class—36 million people who climbed out of extreme poverty in the past few decades. This group is now struggling with American-style non-communicable diseases. "Junk food is the first thing that comes with economic development," Janos Valery Gyuricza, a primary care physician, said. He calls the Boa Vista neighborhood where he works, "a dormitory for mid-low and lower-class workers, who need to travel between an hour and 30 minutes to three hours to come and go to work every day. The lack of open-air spaces for leisure and sports are clear."
Nearly half of Brazilians are overweight, and about 15 percent are obese. At the current rate, Brazil's obesity rate could reach that of America's by 2022. The country has swung so rapidly from malnutrition to obesity that it prompted former Health Minister José Temporão to exclaim in 2010, "We are in a situation of red alert … We are sitting on a ticking time bomb!"
As in the U.S., healthier food is pricier in Brazil, and most people get too little exercise. Gyms are for the ultra-rich, favelas are at times too violent for exercise, and with an unemployment rate of about 5 percent, everyone else is busy hustling to and from work. Over the past half-century, Brazilians have also been moving from farms to urban centers, distancing themselves from their traditional cooking practices.
At a clinic near Recife, a patient named Paulete Alves Do Nasceimento tells me that until recently few in the community had diabetes, but now, "it's everywhere." She said she now has it, too, but she doesn't know why. "Maybe it's because I gained weight," she said. "I gained a lot of weight."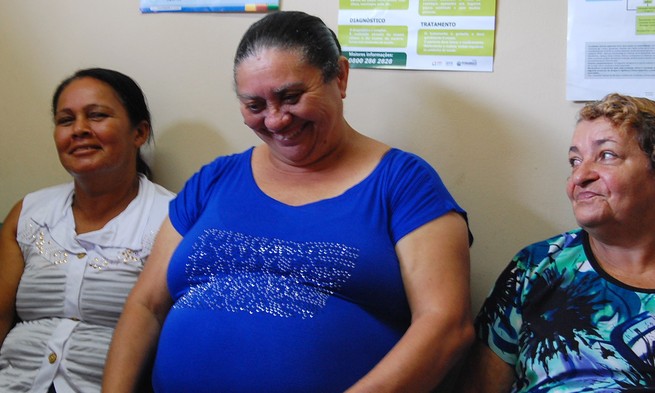 At Brazil's public clinics, children wait on bare benches in the hallways as their mothers check in with rushed doctors. The rooms are hot and stuffy; the walls look like no one ever had time to paint them. Doctors bring their own furniture from home. One clinic I visited had something Americans might find unthinkable: several non-partitioned dental chairs in one room. These clinics get the job done, but to Americans, being treated at one might hold all of the allure of getting one's blood drawn at a low-rent pizza shop.
There are roughly 40,000 of these bare-bones health centers throughout the country. The doctors there work in teams with the community health workers and nurses. The Spartan ethic results in conveniences: Each family's medical records are held in one folder; medication is dispensed right at the clinic. And annoyances: The medication sometimes runs out; electronic records are a distant dream. Noranei explained how her neighborhood had been divvied up into "zones" of different colors to better allocate doctors' appointments. "They said, 'You're from the 'green area,' so you have to go in the morning. But I work, so I can't get there at that time."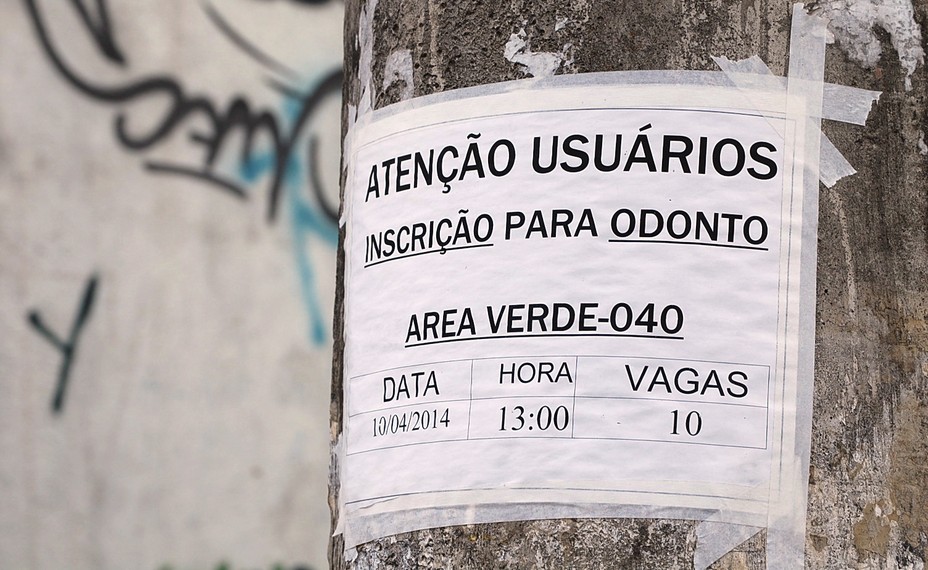 The private system comes with shorter wait times and better facilities, but it has its own problems. "It's a money machine," said Ivana Borges, a Recife woman in her 20s, describing how her private doctor had harangued her into getting a C-section—all while complaining that he couldn't wait to wrap up so he could finish his whisky. One Sao Paulo doctor told me that some physicians exact bribes in exchange for allowing mothers to deliver naturally, since C-sections are more efficient and lucrative.
Wealthy patients may complain about corruption and poor bedside manner, but at least they have specialists at their disposal. In Brazil, as in the United States, doctors tend to come from wealthier areas—and largely, that's where they stay. More than half of the country's neurologists, for example, live along the well-heeled southeast corridor; just one percent live in the north.
Few young doctors want to set up shop in one-horse towns on the fringes of the jungle, where equipment is shoddy, if it's there at all, and job opportunities for spouses are nonexistent. (Think of Joel Fleischman, the Jewish New York doctor banished to Alaska in the 1990s TV series Northern Exposure.)
"Brazil is a fairly elitist society, so if you're a doctor practicing in Sao Paulo, you have no interest in going to the Amazon, or to a poor rural state," Roett said. "The frustration of going to work every day is going to undermine your morale."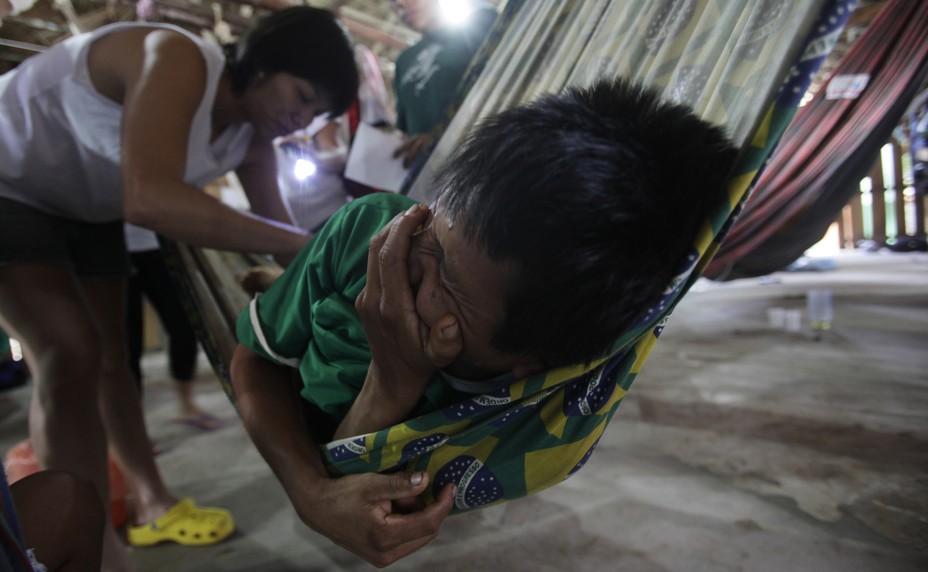 Even in urban areas, entire clinics lack pediatricians or other key providers for years at a time. "You have to take four busses to get to the ER," said Gyuricza, the Boa Vista physician. "Your stomach could explode before you get there." One woman told me about making a specialist appointment and arriving after a long, expensive bus journey to learn that it had been cancelled.
The shortages are part of what sparked last summer's protests in Brazil's major cities. The country is hosting the World Cup this June—a huge source of pride for a soccer-worshipping country. (Imagine an American city hosting the Super Bowl, the World Series, and an international hot-dog eating championship all at once.)
But some aren't thrilled at the expense of it all. "We have beautiful and monumental stadiums," goes one line in a viral protest song called "Desculpa Neymar" (Neymar is a popular Brazilian soccer star). "In the meantime schools and hospitals are about to fail. I saw an abyss between the two Brazils."
Brazilian President Dilma Rousseff responded to the complaints by swearing to bolster healthcare. Over the past year, her government imported 13,000 doctors from abroad, primarily Cuba.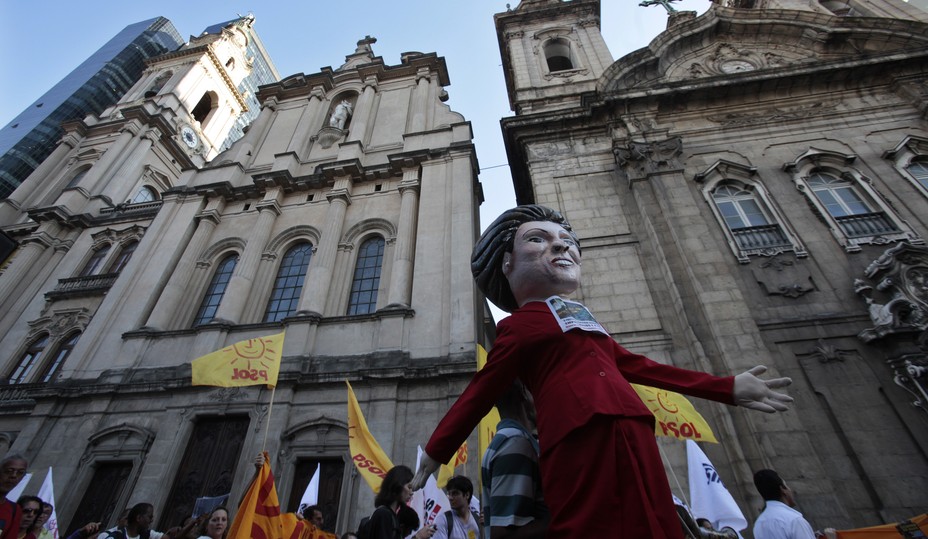 Maria Cristina Neves, a Spanish physician who came to a clinic near Recife three months ago under this "Mais Medicos" (More Doctors) program, said she was struck by the disparities in the system. "In Spain, people believe everyone should have the same health system," Neves said. "That's a concept that has to be started here. And that's a big challenge."
Still, she doesn't live in the same rough suburb where she works, opting instead for an apartment in a chicer part of town. She recalled how a group of local men had cat-called her as she walked out of the clinic, hooting and derisively asking her for a prostate exam. "I'm a 60-year-old woman," she said. "I don't need to be hearing this kind of stuff. You don't have to sacrifice yourself. I am no Mother Teresa."
In some ways, the U.S. is better positioned for universal healthcare than Brazil was in 1988. We're far richer, and we've been a functioning democracy for 238 years. We also have a culture, and a network of laws, that makes it easier to avoid the waste and corruption that plague Brazil's healthcare system. (When the Brazilian government solicited contractors for health and development projects, the call for bids appeared just an hour before the deadline—and the only firms to meet the time limit were headed by relatives of local politicians.)
But American health coverage is still far from universal, even under Obamacare. Vermont and Maryland are experimenting with increasing government controls on healthcare right now, but few states are likely to follow their lead anytime soon. In fact, 19 states are refusing to expand Medicaid under the Affordable Care Act. And at least 30 million people are expected to remain uninsured even after Obamacare is fully implemented because they refuse to buy insurance on the newly created exchanges, can't afford coverage, or are not authorized to live in the U.S. As Matthew Buettgens of the Urban Institute told the Washington Post last year, "The Obamacare law will cut the number of the uninsured in half. This is an important development, but it certainly isn't the definition of universal."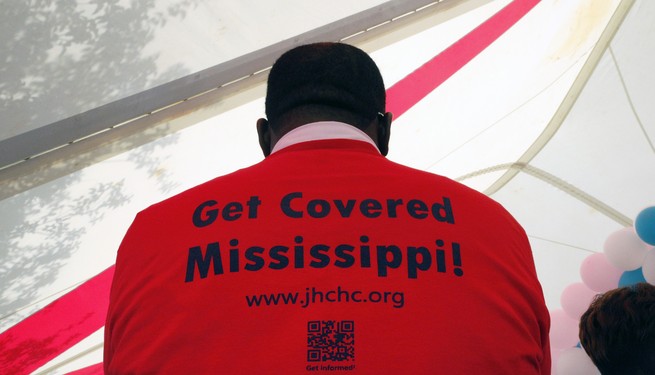 Even so, Obamacare will give millions of Americans better access to doctors, and that's where Brazil provides a true cautionary tale: Expanding access on paper is meaningless without the resources to make it work. According to some groups, the U.S. needs 91,500 more doctors by 2020 in order to treat the newly insured. Already, about 20 percent of Americans live in areas without enough general practitioners. Too few people from rural areas apply to medical school, and when they do, not enough want to move back to set up their practices. Live Oak County, Texas, for example, encompasses 1,000 square miles and is home to 12,000 residents. It has zero primary care physicians.
And it's not just primary care: The Association of American Medical Colleges also projects we'll need 46,000 more specialists within the next decade.
Newly insured Medicaid patients will likely fare even worse: nearly a third of doctors don't accept Medicaid patients because of the program's lower reimbursement rates and administrative hassles. Some experts have suggested that we may soon see a two-tiered healthcare system not unlike Brazil's, in which Medicaid patients wait weeks to see any physician available while richer patients use generous PPO plans to see the best doctors they can find.
At the same time, some of Brazil's health innovations are worth emulating. Its community health worker program now reaches about 60 percent of the population, and it's reduced the number of people showing up at emergency rooms for low-scale maladies. The U.S. has been trying to introduce more lay healthcare liaisons, as well: A recent JAMA study found that a Pennsylvania-based community health worker pilot project decreased hospital readmissions by using workers who made just $15 an hour.
Brazil has also attacked non-communicable diseases with swift social policy. The first signs of an obesity epidemic there were met with a rash of portion-control and school-lunch laws. The country's popular Bolsa Familia program pays poor mothers to get check-ups for themselves and their children. And like many other countries with universal healthcare, Brazil aggressively negotiates drug prices to help keep prescriptions cheap and available. The country was able to sharply reduce AIDS deaths by providing free antiretrovirals after going to war with American drug companies.
It may be many years before all Americans can get decent, affordable healthcare. Our staggering income inequality manifests itself in our well-being: Large segments of the U.S. population lack good housing, education, and working conditions, not to mention access to fresh food. Poor Americans live sicker and die earlier than wealthier ones, suffering at higher rates from conditions like obesity, hypertension, and diabetes. As we grapple with the flaws in our own medical system, our most valuable lessons may come less from the well-oiled healthcare machinery of Northern Europe than the messy, half-fulfilled promises of Brazil.
---
Olga Khazan reported from Brazil as a fellow with the International Reporting Project.