One Simple Trick to Live Longer
A new study presents the best evidence yet that health insurance lengthens our lives.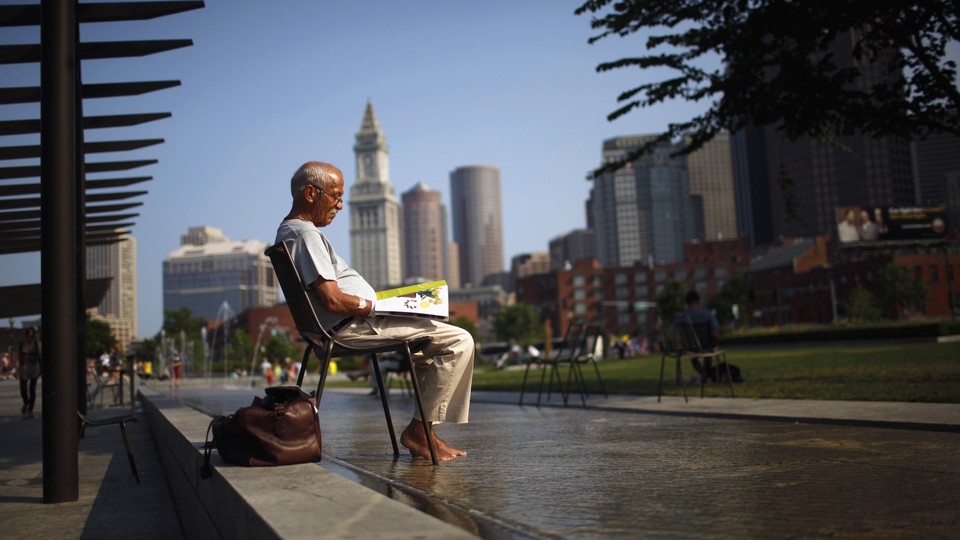 If you traveled back in time to mid-2000s Massachusetts, you'd get to see Obamacare being crafted in miniature, except with former Governor Mitt Romney standing in for President Obama.
"We're spending a billion dollars giving healthcare to people who don't have insurance," Romney said in 2006, the year he signed the law. "And my question was: Could we take that billion dollars and help the poor purchase insurance? Let them pay what they can afford. We'll subsidize what they can't."
The Massachusetts law included a requirement that individuals carry health insurance, subsidies for low-income people, and an expansion of Medicaid, the health insurance program for the poor.
And it succeeded in achieving Romney's goal of slicing the uninsured rate. The percentage of Massachusetts residents without health insurance fell from 7.4 percent in 2004 to 1.9 percent in 2010.
Years later, the Massachusetts law would serve as a model for the Affordable Care Act, making for the wonderfully cacophonous 2012 presidential-debate dig "Obamneycare."
Much ink and many, many snide subtweets have been spilled over the question of whether Obamacare's expansion of health insurance will actually generate health gains. Conservative health wonks have used the idea that "health insurance does not equal healthcare" to denounce the Affordable Care Act's Medicaid expansion.
But a new study of Massachusetts' healthcare reform published in the Annals of Internal Medicine provides hope that the expansion of health coverage under Obamacare will, in fact, help people live longer and healthier lives.
For the study, the authors compared the mortality rate of people aged 20 to 64 in the years leading up to Massachusetts' health reform (2001 to 2005) and after (2007 to 2010). They then compared Massachusetts counties with other, demographically similar counties in the U.S.
The results should embolden advocates of expanded health coverage: "In the first four years after Massachusetts instituted comprehensive health reform in 2006, mortality in the state decreased by 2.9 percent compared with similar populations in states that didn't expand health coverage," Harvard's School of Public Health, whose Benjamin D. Sommers co-authored the study, said in a statement. "They estimated that Massachusetts' health reform law, which provided near-universal coverage, has prevented approximately 320 deaths per year—one life saved for each 830 people gaining insurance."
If the Massachusetts results are mirrored across the country, the same 3 percent decline in mortality would mean roughly 17,000 fewer premature deaths per year.
The study also found that the poor were especially likely to benefit from the overhaul, and the causes of death that the law helped prevent were ones that were most easily preventable and treatable.
"Massachusetts counties with lower median incomes and a higher percentage of uninsured adults before the law was passed—areas likely to have experienced the greatest increase in access to care under reform—gained the largest health benefits," the statement reads. "In addition, the decline in mortality was nearly twice as large for minorities as it was for whites."
In addition to living longer, Massachusetts residents also reported fewer cost-related barriers to care, more outpatient visits, and improvements in self-reported health after the reform was implemented.
This is consistent with a previous study showing better self-reported health in Massachusetts after the expansion of healthcare. And an earlier New England Journal of Medicine study found that other states that expanded Medicaid saw a 6.1 percent reduction in the death rate among adults younger than 65.
One thing to keep in mind is that expanding health coverage isn't a panacea for all of our healthcare woes. A study of Oregon's Medicaid expansion found that enrolling in the program caused people to use emergency rooms more, not less, even for treatable conditions. And while the Oregon residents who gained Medicaid coverage had better rates of diabetes detection, less depression, and less financial strain, they didn't show any significant improvements in cholesterol or hypertension--two major markers of physical health.
The authors of the Massachusetts study also caution that the state's results aren't perfectly generalizable to the rest of the U.S. The state has fewer minorities, a higher average income, lower mortality, and more doctors per capita than most others.
Not all health insurance is created equal—it's still much harder to access doctors with Medicaid than with private insurance. But Obamacare has so far added more than eight million people to private insurance rolls. This study adds evidence to what we already intuitively think is true about health access: It's easier to see a doctor when you have an insurance card in your wallet, and it's easier to live longer if you can see a doctor when you need to.