What the New E-Cig Rules Don't Do
Anti-tobacco groups are hailing the proposal as a major step toward bringing order to the world of "vaping." But TV ads and flavored nicotine cartridges won't be affected.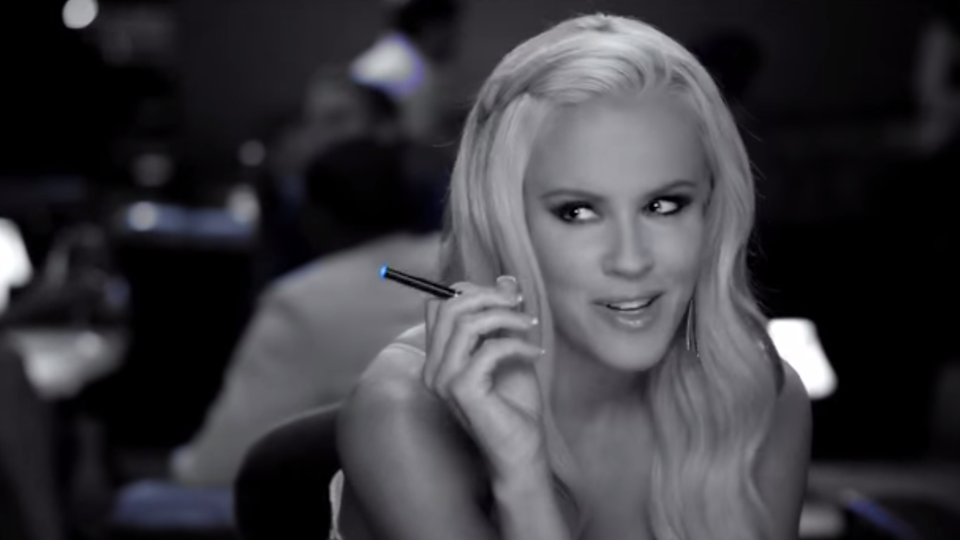 The Food and Drug Administration has proposed the first-ever regulations to tame the "Wild West" of electronic cigarettes, as some tobacco-control groups have called it.
After a 75-day comment period, the new rules are expected to set the age limit for buying e-cigs at 18, ban their sale in vending machines, and introduce labels warning of the potential for addiction to nicotine. E-cig manufacturers would also have to register their products and report their ingredients to the FDA. The proposed measure would also affect pipes, hookahs, and cigars.
For those unfamiliar, e-cigarettes are those things that make it look like their user is sucking on a very cold ball-point pen. They're filled with a water, nicotine, and propylene glycol solution, which gets heated by a battery and inhaled.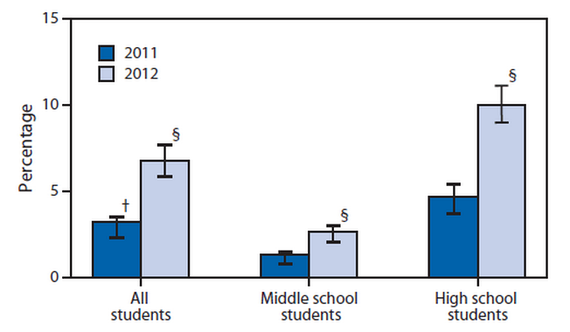 There are now more than 250 varieties of e-cigs, and their manufacturers netted sales of over $2 billion in 2013. The percentage of high school students who have tried e-cigs doubled from 4.7 to 10.0 percent between 2011 and 2012, according to the CDC. Only about 6 percent of adults have tried them.
One reason e-cig sales had time to skyrocket like this—other than their rising stature among hipsters—was that the FDA has only had the power to regulate tobacco products since 2009. They've spent the intervening years battling tobacco companies in court over other rules the agency has attempted to enact.
Meanwhile, anti-smoking groups have been worried that even as the devices have spiked in popularity, we still don't know how safe they are. E-cigs have only been around for six or seven years, not enough time for a longitudinal public health study.
"Seven years is a nanosecond in scientific terms," said Thomas Glynn, director of cancer science at the American Cancer Society. "We don't even know what the long-term effects of inhaling heated propylene glycol are," not to mention the nicotine component.
The FDA has previously studied e-cig samples and detected toxins like diethylene glycol and nitrosamines in some brands. The nicotine in them is addictive and can be harmful to pregnant women and teens. Some smokers think "vaping" can help them quit smoking actual cigarettes, and there's some evidence they work about as well as nicotine patches, but it's far from conclusive.
Importantly, the new regulations won't limit the ability of e-cig manufacturers to sell fruity flavors, like "Cherry Blast" or "Gummy Bear," which critics say hooks kids on the devices.
Young people tend to be drawn to flavored tobacco products more than adults are. In a report released in April, Democratic policymakers expressed alarm that e-cig company Eonsmoke used Facebook polls to ask fans what flavors should be released next.
And companies will still be able to advertise the products on TV, something cigarette manufacturers haven't been able to do for decades. In one TV ad for blu eCigs, for example, notable "science expert" Jenny McCarthy touts their advantages over regular tobacco.
"It doesn't make my hair smell or my teeth turn yellow," she says. "And no going outside in the rain or freezing my butt off just to take a puff."
According to the Wall Street Journal, the ads "have aired on cable networks including ESPN, Comedy Channel and Spike TV and local affiliates of broadcast networks; [e-cig maker] NJOY reached about 10 million viewers during this year's Super Bowl." In 2012, 40 state attorneys general urged the FDA to ban the TV spots, saying they glamorized smoking among young audiences.
The FDA says it can't do away with the flavors and TV ads until it has the scientific evidence to prove e-cigs are harmful—and that evidence will only come with the rules the agency is trying to establish today.
"You can't get to the flavors until you have regulatory authority over them," Mitchell Zeller, director of the Center for Tobacco Products at the FDA, told the New York Times.
According to Glynn and others, though, the FDA's "getting" to that other stuff can't come soon enough.