Sex Workers Are Excited for the World Cup Because They Think it Will Make Them Rich
Women have high hopes for the deep pockets of visiting gringos, but advocacy groups caution that their expectations might be dashed.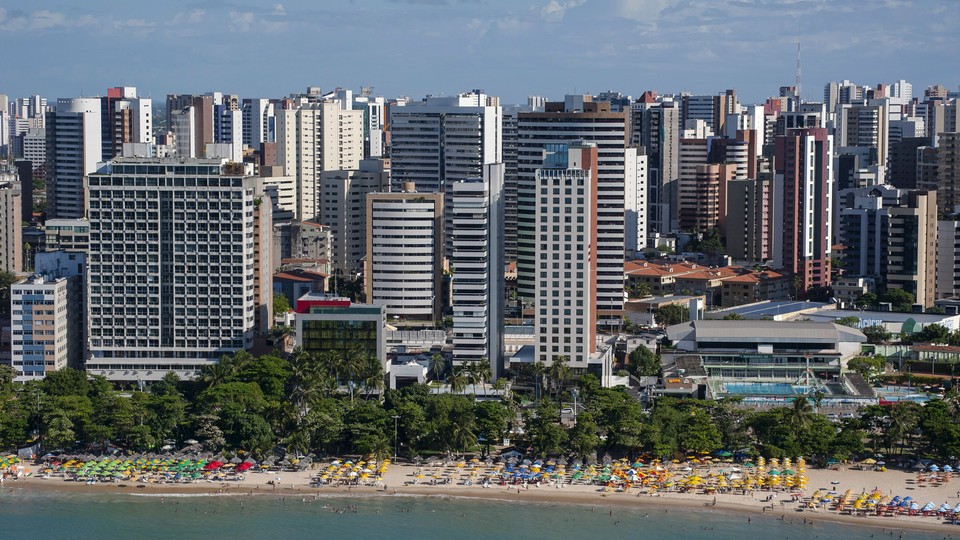 RECIFE, Brazil – Gabriela Jancart came to Recife five years ago from the nearby, rural town of Palmares in search of work to support her mother. Her high-school education might have landed her a job in a shop or hotel, if not for one problem: Jancart is transsexual, and she faces prejudice almost everywhere she goes.
"Some people throw rocks and glass bottles at me," she told me. "Brazil is supposed to be for everyone, but I don't think so."
Unable to find work, she realized she had "two ways to make money: by using my body, or by using my body."
So far, business is good. Jancart sees a steady stream of customers from the nearby port, and she shares a flat in downtown Recife with a fellow sex worker.
But whenever someone mentions the upcoming World Cup, all she can think about are thick wads of bills.
"They will come with money to support us," she said. "We will become better paid."
Roughly 500,000 tourists are expected to descend on Brazil in a few months. The stadium in Recife will host, among others, the USA-Germany match on June 26. Jancart think the gringos—the local term for anyone hailing from north of the equator—will not only have deeper pockets, they'll be more refined.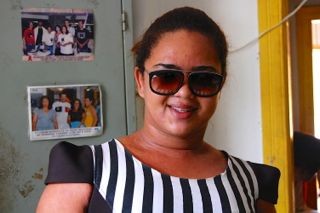 "They won't be so demanding," she said. "Maybe they'll recognize that it's real work we do."
She even knows of a few other "girls" who were swept away by their johns to Europe and elsewhere, and they report back about their comparatively fabulous lives. She's hoping something similar will happen for her. Who knows, maybe she'd even be able to give up prostitution for good.
At the very least, she said, it will be nice to get paid in dollars and euros.
Throughout Brazil, some sex workers seem to have as much riding on the World Cup as the country's most devoted soccer fans do. The town of Belo Horizonte recently began offering English classes geared toward sex workers, so they could "learn how to work out financial deals and also use a specialized vocabulary with sensual words and fetishes."
For her part, Jancart has been stocking up on new shoes, dresses, and makeup she thinks the foreign men will appreciate.
"It's all about the body and if you ask in an attractive way," she said. "And you can't be on the street in lousy clothes."
Jancart's situation is actually one of the less-disturbing prostitution stories in town. Recife's backstreets are also packed with child prostitutes, an issue both the Brazilian government and international NGOs have been working to combat ahead of the tournament. The British charity A Happy Child created a series of videos in which soccer stars warn potential sex tourists that they will face jail time if they solicit minors. It plans to air the ads on British Airway flights to Brazil this summer.
Meanwhile, adult prostitution isn't illegal here; it's just frowned upon. The police tend to look the other way as long as the women don't stir up too much trouble. The Rio public prosecutor's office recently raided popular sex-worker hangouts there, but Jancart said she hasn't experienced any similar crackdowns in Recife.
Maria Clara De Sena, a community educator at GTP+, an organization that works with sex workers, said she's trying to keep illusions of Pretty Woman-style romances in check. A study of the 2010 World Cup in South Africa found that there was no increase in demand for sex workers during the event.
"The money that's coming in, they think it's an opportunity for a better life," De Sena said. "They think foreigners want to find the loves of their lives. But people will come here, spend a bit of money, and leave."
Jancart dismisses the naysayers. Carnival, a much smaller production by comparison, brought in a wave of thrill-seekers just a few months ago. And who doesn't love a Brazilian woman?
Then again, the World Cup visitors likely won't speak Portuguese, and the language barrier will infuse more confusion into an already risky exchange. Jancart said she knows many women who have been hurt or killed when a transaction took a wrong turn. Sometimes customers post-coitally try to short the women, and they only get paid if they fight.
I asked her how she plans to protect herself from diseases and ornery customers. She always uses condoms, she said.
"But for violence, there's no way to predict that. We just have to pray."
---
Olga Khazan is reporting from Brazil as a fellow with the International Reporting Project.