The Site of Several 2016 Olympic Aquatic Events Has 195 Times the Safe Amount of Sewage in the Water
Athletes and civilians alike are worried about contracting diseases in Brazil's feces-laden bay.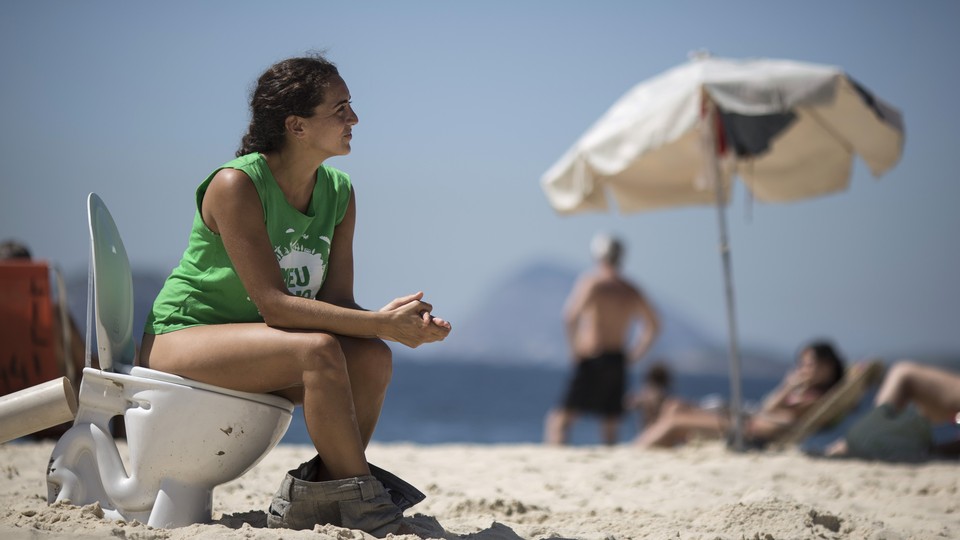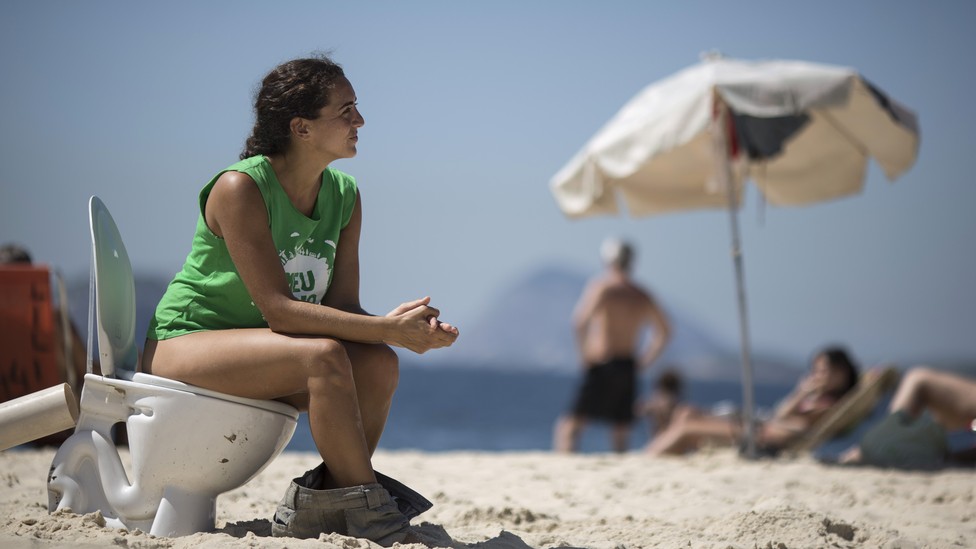 RIO DE JANEIRO – Tall and tan and young and lovely, the girl from Ipanema goes … "Ew, what's that smell?"
At Ipanema beach in January, the organization Meu Rio staged a protest in an attempt to make it known that thousands of gallons of raw sewage are dumped into the ocean off Rio's coast each day.
"For three months we held protests every weekend to turn an invisible problem into a visible one," Leona Deckelbaum, the campaign coordinator with Meu Rio, said in a recent interview. Only about 34 percent of Rio's sewage is treated, and the rest simply washes into the azure waters, giving new meaning to the nautical term poop deck.
Guanabara Bay, the site of several 2016 Olympic sailing events, has 78 times Brazil's legally allowed limit of fecal pollution, and 195 times the U.S. limit. In addition to human waste, the bay is also a receptacle for trash from ships and the bay's 15 adjacent communities, as well as toxic runoff from a former landfill. And its not just Guanabara–the ritzy Leblon and Ipanema beach areas are plagued with similar pollution problems. The state environmental agency, INEA, found that Leblon and Ipanema were unfit for swimming for 40 percent of 2011. Botafogo Beach had so much fecal pollution that it did not pass a single INEA test in 2013, according to the BBC.
"In the waters just off Copacabana beach, the measurement of fecal coliform bacteria spiked to 16 times the Brazilian government's satisfactory level as recently as three weeks ago, bad news for the marathon swimmers and triathletes set to compete there," the AP noted in November.
Olympic teams are getting grossed out and nervous.
The Irish sailing team's performance director James O'Callaghan said sewage was visible in the Guanabara Bay water during his visit last year, and, "As a result we have asked that a doctor come out with us when we travel back later this year ... It is a concern for us. Even if the boats don't capsize you are getting spray because of your speed across the water. If you have a cut we want to know what the chances are of infection," he told the Irish Times.
"I've been sailing all over the world for 20 years now, and this is the most polluted place I've ever been," said Allan Norregaard, a Danish bronze medalist in the 2012 London Olympics. "It's really a shame because it's a beautiful area and city, but the water is so polluted, so dirty and full of garbage."
"We've been told to drink Coke afterwards if we swallow any water," said British sailor Alain Sign.
Swimming in feces can, of course, cause a range of nasty diseases, including hepatitis, worms, diarrhea, tetanus, and leptospirosis, a bacterial infection also known as "rat catcher's yellows." A large 2010 study of Brazilians linked poor sanitation infrastructure to childhood waterborne illnesses.
There's no single cause for this mess: CEDAE, the local water utility, long operated largely free of oversight. And Rio's many favelas, or informal neighborhoods, aren't well-integrated into the city's broader sanitation system.
Deckelbaum, perhaps cynically, thinks the government has calculated that it's not worth the effort to start a plumbing project that costs millions, takes forever to complete, and is by nature intended to be unseen.
CEDAE says it's challenging to handle the water and sewer needs of the sprawling favelas, where houses aren't standardized and neighborhoods are carved into steep hills.
Brazil's government promised to clean Guanabara Bay ahead of the Olympics, but it's clear from photos of the bay taken in March that they're far from that goal: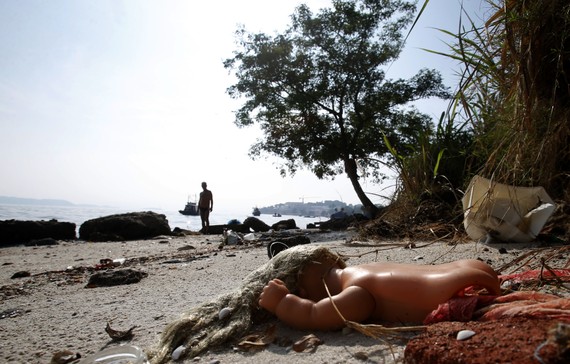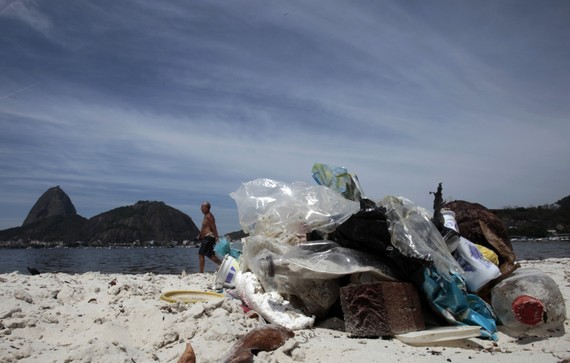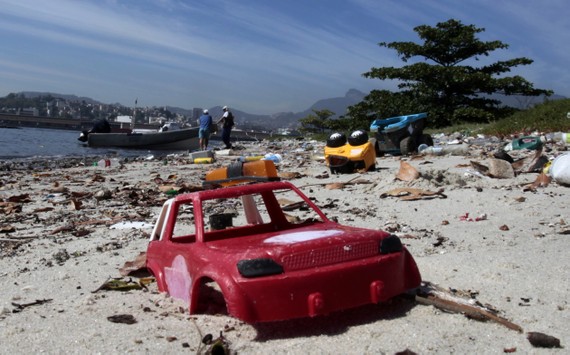 As my colleague Mark Byrnes wrote in Atlantic Cities, "Progress has been slow, so officials are also rolling out garbage boats, chains of plastic buoys, and building 'river treatment units' which … filter incoming trash and waste before being put on garbage trucks and sent to landfill." 
One local ecology professor, who puts Chuck Norris to shame because he apparently wrestles Guanabara Bay's alligator-like caimans into boats by wading into the filthy waters himself, characterized the health risk best to the AP:
"There's no way to work in these waters, where you are literally neck deep in feces in some places, and not be afraid of the health effects," Freitas said, adding that on the one occasion when he was bitten by a caiman, the small wound got severely infected because of the contaminated water. "Show me the Olympic athlete who's going to have the courage to get into waters like these."
The tragic thing about this is that Rio's beaches are jaw-droppingly beautiful. Here's some photographic evidence from the other day: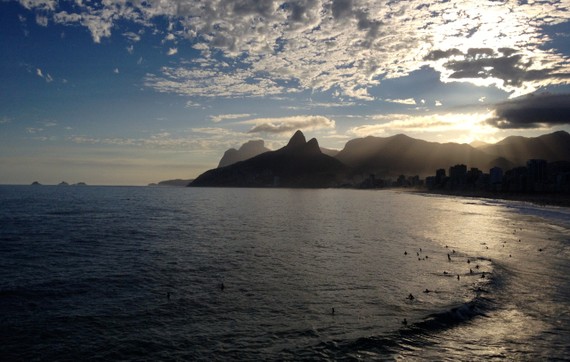 Yes, this sewage problem will be inconvenient for the Olympic athletes, and yes, it might be disgusting for visitors to Guanabara Bay. But the bigger shame is that the chronic neglect of infrastructure here both threatens Cariocas' health and impedes their ability to enjoy the splendor of their surroundings.