Quitting Smoking Costs More If You're Poor
A new CDC report finds that coverage for tobacco cessation treatment is lacking in state Medicaid programs.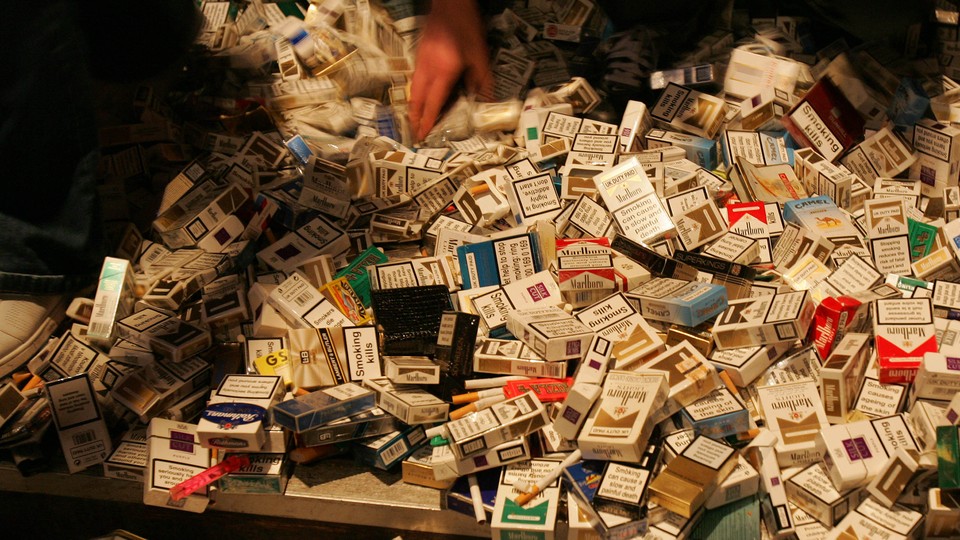 Most Americans get help quitting smoking for free. The poorest Americans don't.
That's because the Affordable Care Act required all private insurance plans to cover tobacco cessation treatment at no charge to the patient. But Medicaid, a state-run public health program for the low-income and disabled, has no such mandate.
And Medicaid beneficiaries are paying for it. A new report from the Centers for Disease Control and Prevention finds that states don't offer many of the Health and Human Services Department's recommended treatments, and the services they do cover come with co-pays, limits on the duration of use, and other barriers to access for Medicaid patients.
While all states cover some kind of tobacco cessation treatment in their Medicaid programs, the report finds, only seven states cover all seven FDA-approved medications and two recommended forms of cessation counseling (individual and group).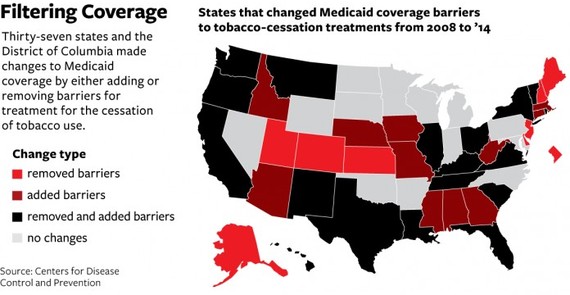 There's a demand for the services, too. Medicaid beneficiaries have higher smoking rates than the general population, CDC data finds, with 30.1 percent of Medicaid enrollees under the age of 65 smoking, compared with 18.1 percent of all U.S. adults.
"Smoking-related disease is a major contributor to increasing Medicaid costs," the report says. "The evidence from previous analyses suggests that states could reduce smoking-related morbidity and health-care costs among Medicaid enrollees by providing Medicaid coverage for all evidence-based cessation treatments, removing all barriers to accessing these treatments, promoting the coverage, and monitoring its use."
For the CDC report, researchers at the American Lung Association tracked coverage in state Medicaid programs between December 31, 2008, and January 31, 2014. They looked at whether there were any barriers to obtaining the services, such as co-pays or limits on the number of treatments.
Although more states increased the number of treatments covered between 2008 and 2014, more states also added barriers to accessing those treatments. That trend can be attributed, in part, to the Affordable Care Act's requirement that state Medicaid programs cover all FDA-approved tobacco cessation medications by January 2014. Not all states used to offer that benefit, so as some added it, they also added it with restrictions.
There's some evidence to suggest both a benefit for population health and state budget savings for mandating full coverage. Massachusetts required coverage of tobacco-cessation treatment for Medicaid beneficiaries in 2006, and saw smoking prevalence among the Medicaid population drop from 38 percent to 28 percent, as well as a nearly 50 percent reduction in hospital admissions for heart attacks and other heart conditions among the population using the benefit, according to a study funded by the CDC in 2010. For every dollar spent on providing the coverage, Massachusetts saved $3.12 in reduced medical spending on heart conditions.
In publishing the report, ALA Director of National Health Policy Jennifer Singleterry said they hope to make state Medicaid programs aware of the coverage gap, and encourage them to fully adopt the benefit.