Youth, Maturity, and Physicality in New Classical Ballet
One dancer has been at the forefront of the field's aesthetic and demographic shifts. Misty Copeland on immaturity at the peak of one's physical abilities.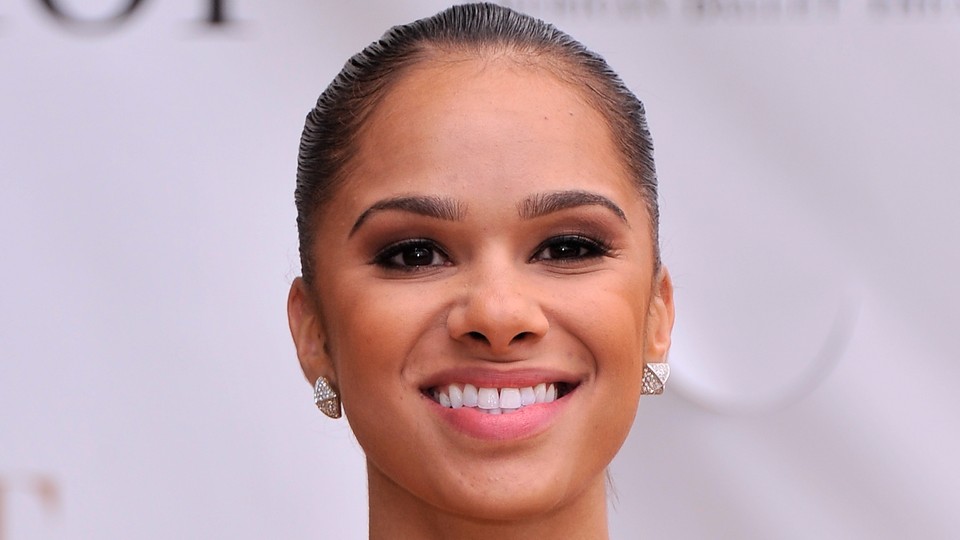 In 2007, Misty Copeland became one of the most recognizable figures in classical ballet when she earned a spot as the first black female soloist in two decades to perform with the American Ballet Theatre. Five years later, she continued to make history as the first African-American woman to assume the title role in Igor Stravinsky's iconic ballet, The Firebird, for the classical ballet company. Not bad for a dancer from a single-parent household who put on her first pair of slippers at the overripe (for ballet) age of 13.
Earlier this month, Copeland released a memoir, Life in Motion: An Unlikely Ballerina, which details her childhood in San Pedro, California as an anxious perfectionist who went from living in a motel with her mother and five siblings to sharing a stage at the Met with the best dancers in the world. Since she did not have the "traditional" background of a ballerina, Copeland says she had to learn how to accept guidance from others on everything from healthy eating habits to living independently as a professional in New York City while still a teenager.
Like many dancers, she experienced puberty late in life, more or less having it induced at 19 years old, and abruptly had to weigh criticism of her mature, seemingly alien body against her rebellious instinct to eat and do whatever she wanted. Later on, since ailments like stress fractures are among the most common pitfalls (ending the careers of up to 43 percent of dancers in the United States, according to a report from The Advance Project), Copeland had to be mindful of her prospects after being sidelined by injury shortly after her debut as the Firebird. Now at a more secure place in her career and still pushing forward, Copeland spoke with me about the physical and psychological demands of being a top-tier ballerina.
---
What is your schedule like now in the midst of the current American Ballet Theatre tour season and your book tour?
Right now ABT is getting ready to tour in Abu Dhabi, so we're in the studio from 10:15 a.m. to 7 p.m., five days a week, Tuesday through Saturday. That's what I do every day, and it's my first job. On my free days, which are Sundays and Mondays, I'm off doing book tour stuff. It's been insane.
In your book, you talk a lot about the physical demands of being a professional dancer, especially after discovering the stress fracture in your lower back some years ago. In particular, you wrote, "An injury can be as psychologically painful as it is physically painful." Can you talk a bit about the experience of being an injured dancer?
Ballet dancers are in such a niche art form. So few people have what it takes to get to this level at elite companies because you really have to have the physical attributes and strength, the capacity to become an artist onstage, and the mental strength as well. There are so many elements involved, but the psychological and emotional are just as much a part of it. I was 29 when my most recent injury happened. As a dancer that's old, so you're thinking, is this going to sidetrack me for two years? Am I going to be able to come back from this in time to go on and become a principal dancer? Could this be the end of my career? You're constantly dealing with all of those things. I've experienced all of that, so I think it's important for us to be surrounded by people who are going to keep us emotionally intact and on the right track.
In terms of staying on track, what is life like in the sort of pre- and post-pubescent worlds of dance? How does that inevitable physical change positively or negatively impact your work?
As a professional, that's the scariest thing to experience—your body changing—because that's your tool. That's your instrument and when it becomes unfamiliar, you don't know how to work with it. So it was extremely difficult to experience puberty and my body changing at such a late age, 19, when I was already a professional. It took me years of listening to other people's words, and accepting advice about how to really treat it like the instrument that it is, to learn.
Where did your resistance to accepting the advice of others come from?
Just being a teenager and not understanding that you can't do this on your own. That was it. You want to make those decisions for yourself and sometimes you just can't. You can find great mentors and later on when you're older, companies provide transitional programs, but as a professional, you're really out there on your own; there's no structured guidance from the company. That's why I try to have a voice and express to our youth how to go about being a professional and diving into this world that's so unfamiliar.
In some ways, this discussion reminds me of the saying, "youth is wasted on the young"—is dancing wasted on the young? Do you think there's a peak moment when dancers are best able to handle these physical and psychological impacts? You have this immense physical ability when you're younger, and yet the maturity to handle this work comes with age.
Right. There's really no way around that. You have to start at a very young age, which is hard because you're expected to become an artist with so little life experience. For me, I feel like I'm just now becoming the artist I want to be. It takes time, but I think that older dancers are the better artists just from having more experience and more life to draw from—but I'm still getting there and still growing.
Do you think that you have a different perspective on limitations like age because you not only started later than most dancers typically do, but as one of the few black dancers at your level, came from a different background?
Absolutely. I think I'm proof that you don't have to have all of the things people think you have to have in order to make it in this world. I think it's possible to mold and shape a body into whatever it is you want to do, and whatever type of dance you want it to do. With the knowledge we have of our bodies, of working out, and of cross-training, I think it's possible to train yourself to do anything.
The conversation about conventions in dance is kind of similar to the concerns people have with casting when it comes to turning books into movies. There is a sense that there is a line in terms of what a dancer—and specifically a ballerina—should look like. How, if at all, has the ballet environment changed with regard to options for older dancers or dancers from different backgrounds since you started?
We're characters on a stage and portraying a role, so I don't feel like there is any ideal image that you should have to have, as with actors and actresses. The point is to have the ability and talent to take on a character and take on something you aren't, and that's what we're doing. In terms of body types in ballet, I think the field is becoming more open than it used to be because of the types of movement and choreography we're doing that are calling us to be more athletic. We have to have muscles in order to support that, so I think that dancers are healthier looking now, and hopefully we're sparking some conversation about diversity in order to make change.
When recalling your first meeting with famed ballerina Raven Wilkinson and other black dancers that came before you or became your contemporaries, you said it was meaningful to meet someone else who spoke "the same very rare language: that of a black classical ballet dancer." Why were these such big moments for you?
It's comforting to meet someone that's a rarity in the classical ballet world. I think as a young adult, you're searching for a connection to people that can relate and understand who you are as a person. I didn't have that in the company initially; I was kind of just thrown in there on my own. So, to meet someone like Raven who could understand all those small nuances that you experience as a minority, and who can still speak that language of ballet and dance, was very meaningful.
There's another African-American dancer in the company, Courtney Levine, who is the first black woman that's been in the company with me. The first 10 years of my career, I was the only black woman in a company of 80 dancers, so to have another black woman in the company and to see how diverse the schools are becoming, I think, are signs of growth and change in the field.
What is the biggest impediment and barrier to getting more dancers into classical ballet?
I think that if [you don't have access to classes] at a young enough age, there's no way to get the training you'll need in order to compete with dancers that come from a background of money. It's about being exposed to classical ballet at a young age, which is what ABT's Project Plié is doing. In conjunction with the Boys & Girls Clubs of America, the program gives young people access to classical ballet at their local clubs, and to teachers that are trained and certified in the American Ballet Theatre curriculum so that they'll have an equal opportunity to become good enough to audition with other dancers.
What are some things you're looking forward to doing in the future? Do you have plans to go beyond ballet?
I feel like I'm already doing them all, and more than I ever fathomed I would. I'm signed with Under Armour and it's incredible to be an artist alongside all these professional athletes; and I have a children's book coming out, Firebird, with Christopher Myer. But right now I'm still trying to have my ballet career. I do my best to do outside things that are fun while remaining true to my art. And I've been fortunate to have incredible opportunities outside of American Ballet Theatre, but right now my focus is completely on committing myself to this art form and dancing in this company.