Map: East Coast Brains Are Healthiest
America's Brain Health Index ranks the states on diet, social well-being, and physical and mental health—four factors that contribute to overall brain health.
2014 America's Brain Index and Beautiful Minds is a partnership between life'sDHA and the National Center for Creative Aging. life'sDHA is a trademark of DSM Nutritional Products. (Beautiful Minds/Chris Barna)
Is your state nourishing your brain? Do you feel that your home is appropriately tending to your neurons, allowing them to flourish and grow? Sometimes my brain feels foggy at the end of the day, can I blame Washington, D.C. for that?
America's Brain Health Index, released Monday, looks at four factors that contribute to brain health—diet, social well-being, physical health, and mental health—and compares each state (plus the District of Columbia) to the national average. The interactive map above shows whether each state is above, below, or just average overall, and you can click to see how your state stacks up in each of the four categories.
The index, part of a national health campaign called Beautiful Minds, was created by DSM Nutritional Products (a company which supplies vitamins and other food additives to various industries) along with Cleveland Clinic chief wellness officer and friend-of-Dr. Oz Dr. Michael Roizen, and Dr. Majid Fotuhi, the founder of NeurExpand Brain Center.
Within those four categories, the report gathered data on specific indicators such as state education rankings, obesity rates, the prevalence of Alzheimer's disease and "serious psychological distress," smoking rates and so on. Much of the data came from the Centers for Disease Control and Prevention, the Alzheimer's Association, and the Bureau of Labor Statistics, among other places. A major source for the "social well-being" category was the Civic Life Index, put out by the Corporation for National and Community Service, which looks at people's rates of voting and volunteerism.
Based on these criteria, the top 10 states/regions for brain health are:
Maryland
Washington
Colorado
Connecticut
Alaska
District of Columbia
Vermont
New York
New Hampshire
Georgia
Notably, seven out of the 10 are on the East Coast.
Breaking it down by category, here are the states that excel at having a healthy diet: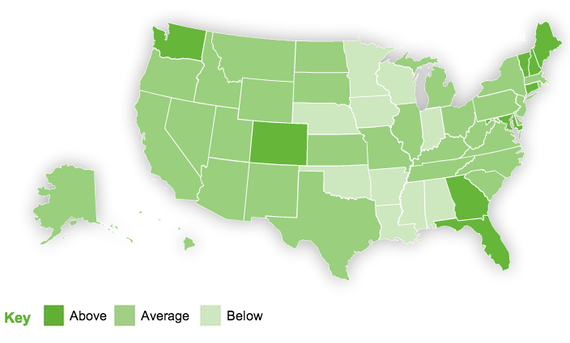 At physical fitness: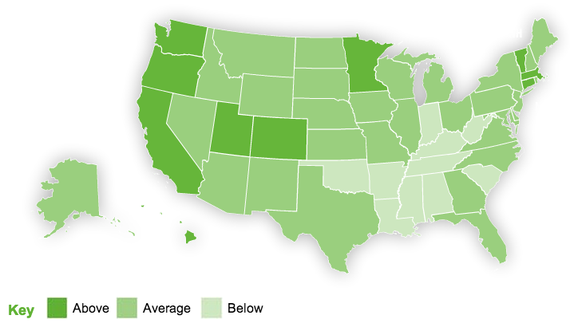 At mental health: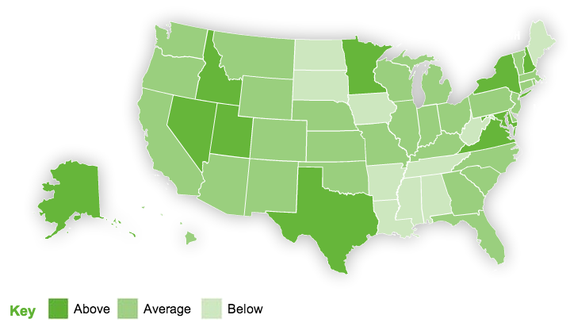 And at social well-being: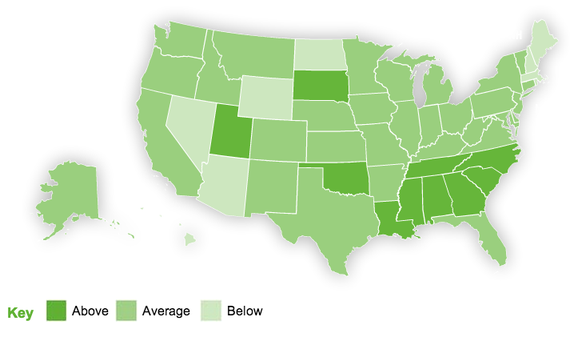 Some other takeaways from these maps: It looks like the South is the place if you want to be involved in your community, and if you're looking to get buff, you should really consider the West Coast. Or Minnesota.