Why CVS Isn't Selling Cigarettes Anymore
Selling tobacco conflicts with its mission as the country's largest retail healthcare provider.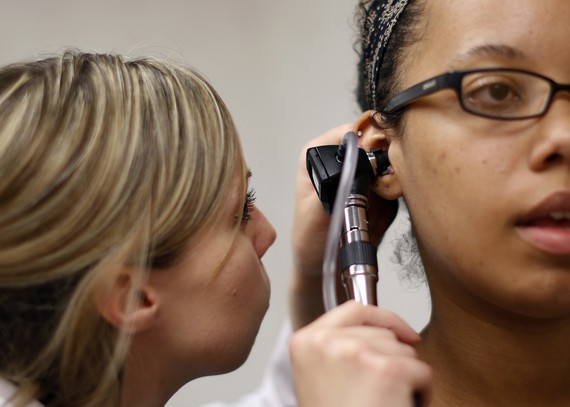 CVS/Caremark announced this morning that it will stop selling tobacco products starting October 1.
The pharmacy chain said selling cancer-causing products was incompatible with its overall mission of improving health, both through its pharmacies and its MinuteClinic walk-in primary care centers. The company will forgo $2 billion in annual tobacco sales by no longer carrying the number-one cause of preventable death.
"We have about 26,000 pharmacists and nurse practitioners helping patients manage chronic problems like high cholesterol, high blood pressure, and heart disease, all of which are linked to smoking," Larry J. Merlo, chief executive of CVS, told the New York Times. "We came to the decision that cigarettes and providing healthcare just don't go together in the same setting."
CVS's 800 MinuteClinics are the country's largest provider of retail health care, and its staff does everything from writing prescriptions to providing vaccinations. The company's decision reveals the tension many retailers who provide medical services are likely to face as primary care increasingly spreads to supermarkets, drop-in centers, and other unconventional locations.
As more Americans gain health insurance through the Affordable Care Act and general practitioners grow increasingly scarce, retail clinics are expected to play a larger role in preventative and primary care. There are roughly 1,600 retail clinics in the U.S., with CVS's MinuteClinics making up the bulk of them.
Last summer, the consulting firm Accenture predicted that the number of retail clinics would grow 20 to 30 percent each year for the next three years, driven in part by partnerships and referrals from hospital emergency rooms and overburdened primary care practices. Rand estimated that up to a quarter of all emergency department visits could instead be handled by a retail or drop-in clinic.
CVS is far from the only player in the retail-clinic space: Walgreens, Target, and Walmart all have their own versions. And as more and more big-box stores become homes for primary care, they may face identity crises because they sell the vice-oriented products that make consumers feel good alongside the services that make them well. Even as CVS stops offering cigarettes within 20 feet of a physician assistant's practice, its competitors might continue to do so. And beyond tobacco, Walmart might encounter PR issues over the fact that it sells, say, Jack Daniels and cirrhosis treatments under one roof, or shot guns and wound care. Some states have even considered legislation that would prevent retail clinics from operating in stores that sell tobacco or alcohol.
Walmart and Walgreens so far haven't said they'd follow CVS's lead. Target stopped selling tobacco in 1996.
"There are still a tremendous number of our customers who smoke," former Walmart CEO Lee Scott said in 2008. "We've got a market to serve, and second we've got shareholders to think about."
For its part, CVS said it already has a plan to make up for the revenue lost from cigarette sales by ramping up a smoking cessation program—and marketing it to employers and insurers.