The Girl Who Died From Drinking Too Much Soda
A catastrophic story illuminates an entirely preventable epidemic of child abuse.
Alexa Linboom was five years old when she arrived at the hospital in Johnson City, Tennessee. It was New Year's Day, 2012. She was blue and paralyzed, rigid in a posture indicative of severe brain damage.
Linboom's father and stepmother allegedly forced her, District Attorney Berkley Bell told CNN this week, to drink a copious amount of grape soda as punishment.
"I don't know exactly how much liquid she [subsequently] drank," Bell said, "but there was [sic] 4.5 12-ounce drinks, plus water in between." The autopsy report says it was 2.4 liters of soda and water over one-to-two hours, after which, according to Bell, "The child was screaming out in pain, ... went into a paralyzed state, and became unconscious." She died in the hospital two days later.
The punishment was allegedly for stealing a grape soda from her stepmother.
Tennessee's Hawkins County Sheriff's Office said last week that her death was determined to be homicide by way of acute fluid intoxication. On Friday her parents were charged with first-degree murder, two counts of aggravated child neglect, and aggravated child abuse.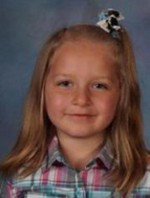 When a person drinks too much soda or water, their blood becomes so diluted that it pushes water into the body's organs to try to get rid of it. That includes the brain, which fills with water and swells. Unlike other parts of the body, our brains don't have room to swell. They push up against our skulls until we lose consciousness. In Alexa's case, it also pushed down through the opening at the bottom of her skull, pinching off the blood supply to her brain.
Alexa's stepmother Mary Vaughn and father Randall Vaughn are being held on $500,000 bond apiece. Their trial was set for October. Five other children in the house have been put in foster care.
"They treated this child so cruelly that it caused the child to die," Bell said. "I don't know if their intent was to kill the child, but their intent certainly was to harm the child."
Doctors also found small bruises all over Alexa's body.
Because of the nature of her death, Alexa's story has been widely publicized. She's one of more than 1,500 kids who will die in the U.S. this year from abuse or neglect. Most of them will be three years old or younger, and around 78 percent will be killed by their parents.
Estimated U.S. Child Fatalities Per Day Due to Maltreatment
The Department of Health and Human Services reports between four and five fatalities per day. That number is likely significantly underestimated. Every story of child abuse should probably be told, if only so we are continually reminded of the magnitude of this entirely preventable epidemic.
Since her story broke, the idea of dying from drinking too much soda seems to have made Alexa's case particularly newsworthy. It could have been water alone, though.
In 2005, Cassandra Killpack, a four-year-old in Utah
died
after being forced to drink a gallon of water. Her mother was convicted of child abuse homicide.
"[Cassandra] was struggling for breath. Her arms were tied behind her," as Utah County deputy attorney Sherry Ragan
described
the scene. "She was gritting her teeth as her parents tried to force more water down her."
Killpack's parents testified that they were using a "water discipline method" that had been approved by therapists at a local clinic. Large-scale forced consumption, even with something
as benign-seeming as water
, is a lethal form of discipline.
The United States has
the worst child abuse record in the industrialized world
. Four times more Americans are killed by their parents 
than as soldiers in Iraq and Afghanistan
. Federal systems like Child Protective Services step in when abuse is discovered, but most deaths come in households where authorities wouldn't yet have had reason to intervene. Breaking cycles of abuse, speaking up at the first sign, falls to everyone. Every story like this one calls out a nation's unique failure to protect its children.