The Extended Family of My Two Open Adoptions
Most adoptions in the U.S. today are open; I'm taking the opportunity to create a big, loving—if complicated—family.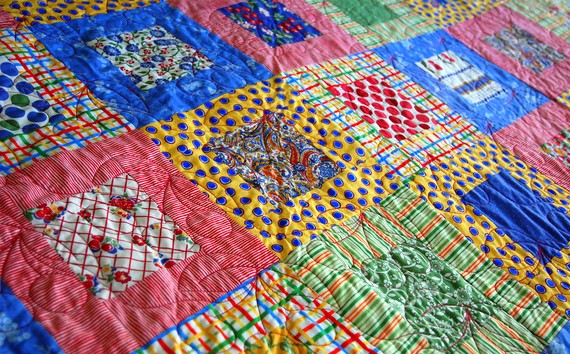 I follow Donna out to the car where she shows me the festival of pink fabrics she's planning to use to make a quilt for my seven-year-old daughter, Eve.
I touch the colors and coo. Donna is not Eve's godmother or even a family friend. She's her biological great-aunt. As Donna and I talk quilts, Eve is inside the house, getting ready to hold her birth mother's new baby, born just a week ago. Laney is almost 30, and more settled than she was when she gave birth to Eve. She has chosen to raise the new baby herself. As I walk in, Laney's tight, rust-colored curls fall on Eve's face as she places the infant in Eve's arms. My energetic little girl becomes calm.
This is so far from where my husband Marty and I were eight years ago—with one miscarriage, three failed inseminations, vial after vial of expensive fertility drugs, endless Chinese herbs, countless acupuncture needles, an exploratory surgery, and three failed in vitro fertilization procedures. I even visited a shaman. All that flailing effort and disappointment, and yet we were still so devoted to the concept of having a baby with our own bodies, with our own coils of DNA. We thought we could will a baby into being if we just kept trying.
I remember the day that I let all that go, finally, and allowed myself to truly consider adoption. I was alone, walking through my living room in the afternoon. I'm not prone to dramatics, but when the acceptance hit, it felt like a sailboat boom swung around in a high wind and smacked me in the chest.
It was quite a leap to make after so many years of fierce effort. We had to give up any genetic connection to the child we would raise. Our hope of passing on my curly hair or Marty's blue eyes? Forget it. I also had to give up all control of the prenatal period. Someone else would carry our child, eat and drink and think whatever they wanted, and might or might not give the baby to us when the pregnancy was over. No law can make them, and I wouldn't want it to. I just had to hope and trust that they would decide that baby would be mine.
I had to let go of the illusion of control. Over anything.
But in the end, all of this sounded better to me than never having a family at all. The scales tipped, and I said yes.
*  *  *
That was late 2005. I said yes, specifically, to open adoption. Because I knew that's how I would want it handled if I were adopted—with my birth family fully knowable to me.
Nowadays, 95 percent of adoptions are "open" to some degree. Even as recently as 1997, only 16 percent of the general public approved of birth mothers sending cards or letters to adoptive families. Even though the current trend is toward openness, incorporating birth family members into the life of our child did not sound like an easy or comfortable thing. But when an adoption social worker told me that the family could be whatever the adoptive parents and the birth parents decide to create together, I calmed down.
We were lucky. We didn't go through an agency and pay the fees associated with that. Marty's cousin Susie, who's an obstetrician, knew what we were going through, and told us that from time to time, a patient came in pregnant and asking about how adoption works and where to go. If we wanted, cousin Susie would tell the next nice-seeming pregnant woman about us, and we could try to arrange a private adoption.
Susie warned us, though, that sometimes years went by between potential birth-mom sightings. We hunkered down and got ready for the long wait.
Two months later I got an email from Susie that said only "Call me."
The pregnant woman was named Laney, and she was 14 weeks along. She lived in Charleston, two states and 10 hours south of us. The baby inside her was a girl. Just what we'd hoped for.
Three months later, after much emailing and a few phone calls, Marty and I walked into the restaurant where Laney worked. There she stood, next to a self-serve case of single-serving yogurts, looking so pregnant I thought she would burst on the spot.
I embraced the petite, curly-headed blond woman who held the tiny person we hoped would be our baby, and in that crystalizing instant, everything felt right. What could have been a terribly awkward and anxiety-producing time just wasn't. Laney was young—22—but sure of herself, and somehow already sure of us. We were already sure of her, too.
That weekend Laney happily answered our questions. She adored her hometown, and rarely left it, and she wanted to be a chef someday. She loved babies, but now just wasn't the time. Laney still lived with her mom, and as soon as she told the baby's birth father she was pregnant, he had made himself scarce.
We answered all her questions, too. Told her what our childhoods were like, how we met, how we married the weekend after September 11, and, of course, the details of our five years of infertility.
It was natural and at the same time surreal. We were relaxing and communing with someone who had, frankly, more of an emotional claim on the human being inside her than we did.
"Don't worry," Laney said, as we sat on the patio of a Mexican place, demolishing baskets of chips. "I'm not going to change my mind."
We nodded and smiled, but we didn't take her at her word. Not really. Birth moms change their mind all the time, we'd heard. They just can't help it. And we weren't the ones in control.
That Sunday, we sat with Laney and her mom Paty in a big, bright old house that had been converted to a restaurant. They brought photo albums of Laney as a baby, excited to show us the big-eared, freckly little girl she'd been, playing in the sands on Sullivan's Island.
When we got home, I finally let myself buy a baby outfit.
*  *  *
On July 25, 2006, we spent the entire day and most of the evening in the waiting room of the labor and delivery unit with Laney's mom, Laney's cousin, her aunt, her other cousin, her other aunt, her step-mom, her grandmother, her dad, and her three closest friends. Everyone there seemed to have accepted us as the parents of the new person who would soon arrive.
At 10:22 p.m., Evangeline Virginia emerged into the world with a fever, jaundice, and the cord wrapped around her neck and shoulders. When she finally made it into Laney's arms for the first time, Laney held fast to her. She looked up at us, apologized and said she just couldn't. Not yet.
This felt like the whole thing beginning to unravel, and I myself came unraveled in the car on the way home from the hospital in the wee hours of the night.
But Laney must have made her final peace with the situation in those wee hours. The next morning, she called us, sounding cheery. "There's a rocking chair here in the room for you," she said. "Come see her. Come see your baby."
And there it was. Our baby. As much as we want to believe a baby can be raised by a village, ultimately there are one or two parents who raise a child, and Laney had chosen us to parent Eve.
The morning after Eve was born, we rejoined Laney's entire family and many friends lingering near her bedside. Laney handed us the beautiful, big-eyed soul that was Eve, in that instant making us a little nuclear family, but also creating a community that radiated outward from the baby in large concentric circles. We cradled our daughter for a time, then handed her to Laney's cousin Casey. Then she was passed to Aunt Donna. Then Laney's dad, Bruce. Then his wife, Lori. Then Uncle Doug. Then Mama K. Then to Paty. It felt like the way things were supposed to be.
Once we made it home to Virginia with our new baby, I kept Laney and Paty updated via emails heavy with GIFs.
When Eve turned 1, Laney and Paty ventured north for the birthday bash in our back yard. I asked Laney to join me in standing next to Eve when the crowd sang happy birthday.
"Thank you for this," Laney said, under the din.
"Thank you for the baby," I said.
*  *  *
In 2009, when Eve was about to turn 3, Laney sent me a friend request on Facebook.
For a few minutes I was taken aback. "Open adoption is one thing, but do you want her to have access to Eve all the time like that?" said one friend. I was, after all, on Facebook all the time posting pictures of Eve, and reporting the funny things she said.
When asked that access question so directly, though, I realized that, unorthodox as it seemed, being connected in that way didn't sound like a bad thing to me.
So I hit "accept."
From there, the friend requests rolled in. People I hadn't seen since Eve's birth—Donna, Lori, Bruce, Casey, Doug—all wanted to connect. I said yes, yes, yes and yes.
Relationships blossomed fast. Right away, I became fascinated with the life Laney's dad Bruce was leading. He travels the world on a National Oceanic and Atmospheric Administration ship 10 months a year handling the ship's operations while scientists study the weather. Bruce makes and posts hilarious videos about life on the ship. He also makes art. He's illustrated children's books and carves sea turtles from Tagua nuts. Following him is like tuning into a funny National Geographic travelogue. Sometimes he'll park himself under a live webcam at a bar in some exotic locale and wave to you while he has a beer.
Before too long, Bruce was sketching drawings of Eve and we were framing them. Then there was Laney's cousin Allison, who I could now follow on Facebook as she sold her work at art shows then went off to grad school. Laney's cousin Casey and I began interacting a lot, and I followed along when she started a job with Charleston County Park & Recreation Commission, got a serious boyfriend, started a novel and got into film making. I saw Paty become the first-ever female manager of the grounds at the College of Charleston. And I got to know Uncle Doug, a sentimental guy who never misses a chance to thank me for being willing to be open like this. When Doug was diagnosed with throat cancer, I followed his treatment progress and got nervous and hopeful just like everyone else in the clan. When Mama K, the matriarch of the family, became ill, I got my updates on her health via the family's pages and private messages. When she passed away, Casey called me right away. Then Laney and I spoke for a long while.
In explaining our big, wide story to some of his shipmates not too long ago, Bruce put it like this: "Marty and Suz—we've pretty much adopted them."
*  *  *
On an otherwise regular summer day just after Eve turned 3, cousin Susie emailed again.
"Is your family complete?" was all she wrote.
I knew what that meant. After all we'd been through to arrive at Eve, we hadn't dared to envision another baby. But here one was. At first the email made me skittish and scared. Within two hours, though, I was in. Marty soon followed.
This time the potential birth mom was 28 and separated. With two children. This baby, if placed for adoption, would have two full birth siblings.
We did it all again. Emails back and forth with the birth mom, whose name was Traci. Just words, then pictures. Then phone calls. We started to get to know her. She told us she was carrying a boy.
In September, when she was seven months along, we went down to Wilmington, N.C., and spent a weekend with Traci, her mom Amy Jo, her son Gerald, 8, and her daughter Athena, 5. And just like things had gone with Laney and her mom that first weekend in Charleston, this felt comfortable, calm, and meant to be, too. Right away, Traci began referring to the baby in her belly as ours.
"Miss Suz, it's very nice to meet you," little Gerald said when we first met. "May I play with Eve?" He was a sweet-natured Southern gentleman already at age 8.
At Traci's house all three kids wrestled and laughed and played like they'd always known each other. Traci went through photo albums and gave me pictures of her wedding day, and a posed eight-by-ten studio shot of the family.
Under a cross that hung on the wall, Athena and Eve dug into a pedicure set, painting far beyond their nails in the way little girls do. And on our last night there, the kids settled in for a movie under pink sheets, getting popcorn all over the bed.
"I'm so happy you're going to be my sister," Athena told Eve.
"Yeah, me too," Gerald added.
A month later, Traci painted a jack-o-lantern on her protruding belly and sent the picture to us. "Your son says happy Halloween!" she wrote. To help Gerald and Athena cope with the loss that was coming, she told them that the baby was God's gift to our family delivered through her body, since we couldn't have kids.
On the afternoon of Dec. 7, 2009, Marty and I stood quietly by Traci's head while she pushed and pushed in a dimly lit, cold delivery room. Rex, we named him, after the King of Carnival in New Orleans, where Marty and I had gotten engaged. I cut the cord, and stood by while the staff gave him his first bath. Then I dressed the tiny new man and brought him to Traci.
"He has my fingers," she said, unfurling his little fists. She didn't cry. Neither did I.
In a few days, after one last visit with Traci and her family in their home, we left Wilmington with a passel of stuffed animals for Rex from his birth siblings, along with a note from Gerald that wished him well in his life with us in Virginia.
*  *  *
And now here we are. Rex—a blond-haired, blue-eyed dancing charisma machine—is four. Eve—a wise, super-athletic, math-loving sprite—will turn eight this summer. Both of them seem like very old souls to me.
"Mom," Eve asked when she was about 4, "How do babies get out of their mom's—or birth mom's—bellies?" I knew then that we were on the right path in explaining this whole thing to the kids, slowly but surely.
When we decided last minute to go see Laney's brand-new baby, Fischer, last summer, I messaged Lori—Laney's stepmom—to ask if the kids and I could stay with her while in Charleston. My thought just after sending the message: "Wait, we have family there. I should have asked them first." That's when it really hit me: Laney's family, and Traci's family, are now our family too.
In previous generations, when closed adoptions dominated the landscape, this whole universe of people would have been completely unknown to us. Instead, it's 2014,  and I'm hiding Reese's Cups in the bedroom of my child's birth mom's teenage half-brother as a way to say, "Thanks for surrendering your bed to us for a few nights, Kyle."
This slightly odd life we're living hasn't been without conflict. There was the time we brought baby Eve back to Charleston for a mandatory court hearing, and when we visited Laney and Paty, they held the baby for seven straight hours. I didn't consciously realize how much this bothered me until it was time to go back to our hotel and I found myself a jangled mess. It took me months to find what I thought were the right words to say to Laney. Once I did say them, as gently as I could, I felt Laney pull back. When she visited for Eve's first birthday six months later, she barely touched Eve. That was heartbreaking to watch, and I regretted having said anything. Over time, though, we found our way back to a good spot in the middle.
Having two birth families in the picture has caused some tension, too. Once, Traci, seeing that we spent more time in Charleston with Laney's family than in Traci's hometown, messaged and told me that upset her. I explained that we did that because we also have family in Charleston who we needed and wanted to see, and there are just so many of Laney's kin to connect with. But this made me aware of a sensitivity that exists, and I'm glad I know now.
In the summer of 2012, we decided we'd go to see both kids' birth families for a week every other year, and we got in the car and headed down to the Carolinas.
The birth fathers? They are not in the picture. And we don't know whether they'll ever be. For the kids' sake, I hope so. Some day. We've seen pictures, and I spoke to Eve's birth father on the phone for a few short minutes once before Eve was born, but we've never met them. Thanks to Traci, I'm Facebook friends with Rex's birth father's mom, Peggy, as well as Rex's birth father's sister. Sometimes when I post a picture or video of Rex, Peggy writes me marveling at how much Rex looks, sounds, and acts like his birth father. At least there is that connection.
And so things move on in our strange and edifying family structure, getting ever deeper, more solid, more nuanced. For Eve and for Rex. For everyone, really. Because we all want this.
Last fall, Traci and her kids ventured up our way to see her dad, and we all met up at a pumpkin patch in the mountains. Bruce and I are talking about doing a children's book together about open adoption, with me writing and him illustrating. Donna is at work on quilts for both Eve and Rex. And pretty soon here, we'll begin planning next summer's birth family trip. Maybe this time, we'll get a big beach house and everyone can come stay in it.
Birth family members often thank me for my willingness to be this open with them, and I turn around and thank them right back, because none of this would be possible if any of us had closed minds or closed hearts.