Seth Rogen on Dementia at 55
The comedian's story of his mother-in-law, who was diagnosed with early-onset Alzheimer's, has resonated on a massive scale in the past 48 hours.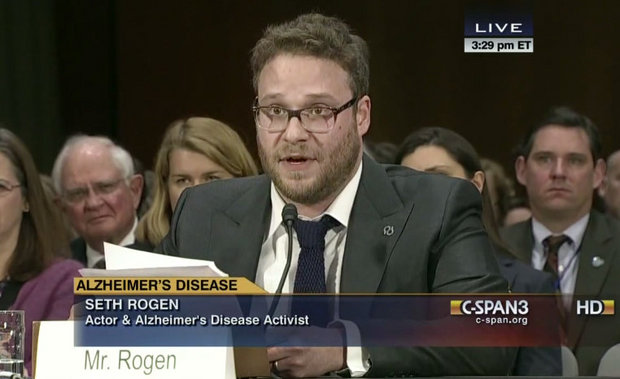 On Wednesday, Seth Rogen gave impassioned testimony before a U.S. Senate subcommittee. The comedian and his wife Lauren Miller recently started a charity dedicated to Alzheimer's education and research advocacy, Hilarity for Charity. Video of the ever-unassuming Rogen's plea to support Alzheimer's research resonated widely across the Internet, already having been viewed more than 3 million times on YouTube.
It's not just that Rogen is a funny guy and that Alzheimer's affects more than 5 million Americans, but also that a third of people fear dementia more than they do death. At odds with the massive public response to Rogen's message, of the 18 members of the subcommittee, only two—Senators Tom Harkin and Jerry Moran—attended the hearing. "Not sure why only two senators were at the hearing," Rogen tweeted. "Very symbolic of how the Government views Alzheimer's. Seems to be a low priority."

Rogen's speech was excellent and important, but I did come away from it a little worried that people are thinking Alzheimer's research is ignored. This one line stuck out to me especially. "Unlike any of the other top ten causes of death in America," he said, "there is no way to prevent, cure, or even slow the progression of Alzheimer's disease."
True there were a lot of empty seats at that hearing, but last year the U.S. government did launch the multi-billion-dollar BRAIN Initiative, a goal of which is for the National Institutes of Health to map the human brain and better understand Alzheimer's. And if my recent experience learning about the gluten-free and low-carb crazes led me to little of significance in the realm of neurological disease prevention, there was at least this August 2013 research in the New England Journal of Medicine:
We found that higher glucose levels were associated with an increased risk of dementia, in populations without and with diabetes. ... These data suggest that higher levels of glucose may have deleterious effects on the aging brain. Our findings underscore the potential consequences of temporal trends in obesity and diabetes and suggest the need for interventions that reduce glucose levels.

... We found a monotonically increasing association between the glucose level and the risk of dementia among people without diabetes, which suggests that any incremental increase in glucose levels is associated with an increased risk of dementia. We found the same relationship between glycemia and risk of dementia among people with diabetes at the higher end of the range of glucose levels. We also found an inverse association between glucose level and risk of dementia among people with diabetes who had relatively low levels of glucose, although this association appeared to be driven by glucose levels in three participants with atypical courses of type 2 diabetes. Our findings were consistent across many sensitivity analyses, reinforcing our confidence in their reliability.

Higher glucose levels may contribute to an increased risk of dementia through several potential mechanisms, including acute and chronic hyperglycemia and insulin resistance. ...

In conclusion, our data provided evidence that higher glucose levels are associated with an increased risk of dementia.
If you want to jump from Rogen's speech to the research that is happening, I think this is an interesting place to start. It's premature to say that eating well will prevent dementia, but controlling your blood sugar with a reasonable diet and exercise is always a good idea, and a way to feel like you might be doing something to protect your mind. I expect we'll hear more about that association, among others. The more noise made by Rogen and everyone about continued investment in research, the more we'll learn.