How Women Get More Than Men Do From Obamacare
Women are more likely to have mental health diagnoses, more likely to be unable to afford healthcare, and more likely to experience healthcare-related "marriage lock."
By now, Obamacare's crafters have tried to appease everyone, flinging perks and accommodations at countless different sub-beneficiaries. In the wake of a recent report showing that about 2 million additional people may stay out of the workforce because of Obamacare, for example, the law was heralded/derided as a win for the lazies. And yesterday, when the White House announced it would give mid-sized businesses an extra year to offer coverage to their employees, some saw it as a concession to smaller employers. People will also now be able to switch their exchange-bought plans, as the administration quietly announced last weekend, to make things easier for the individual market's dissatisfied freelancers and artists.
And those infamous "brosurance" ads allege that the law will free up beer money for the uninsured frat boys.
Young men will probably pay more for coverage than they did previously, though. And if we look at a breakdown of the actual conditions that the Affordable Care Act will cover, it looks like the law will disproportionately help, yes, the ladies.
Some of the benefits are well-known: Private insurance is now required to cover birth control free of charge. And health insurers can no longer discriminate against people with pre-existing conditions by charging them extra. Such "conditions," in extreme cases in the past, have included pregnancy and being the victim of spousal abuse.
But there are other, hidden ways women benefit from Obamacare:
1. Women are more likely to skimp on healthcare
Because women earn less than men, and women are more likely to live in poverty than men, they are also more likely to say that they or a family member had to postpone various types of medical treatment because of financial issues.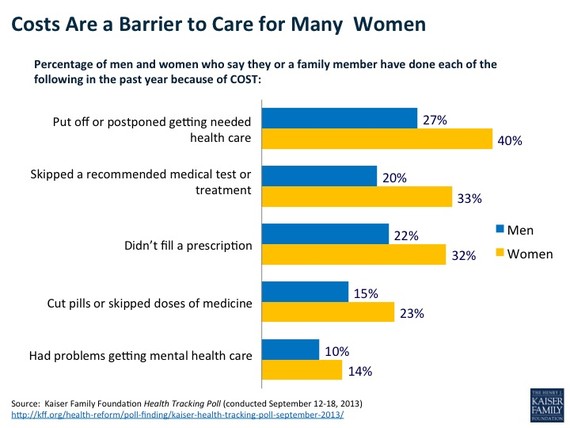 The ACA's subsidies might help women in particular because they also tend to go to doctors more: They live longer, have reproductive needs, and often manage the health of their children and aging parents in addition to their own, according to Alina Salganicoff, the director of women's health at the Kaiser Family Foundation.
2. Women are more likely to have the mental health issues that Obamacare covers. Other than substance abuse, nearly every type of common mental health problem is more prevalent in women than in men: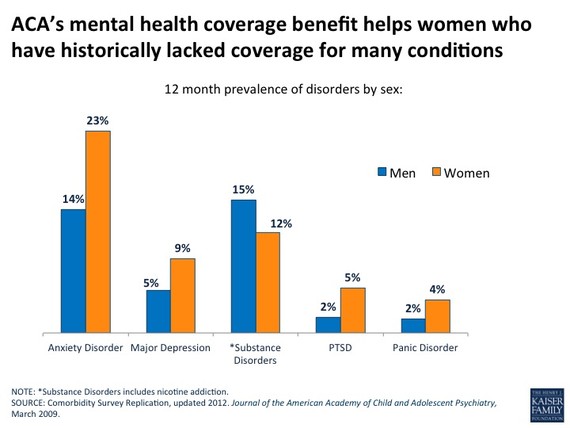 Obamacare requires insurance plans to cover mental health screenings without co-pays, which may help patients catch these conditions early. And in the past, only 18 percent of health insurance plans on the individual market covered mental health, but now they are now all required to do so.
3. Pregnant women will be able to stay insured after they give birth
Before the Obamacare era, in many states Medicaid only insured adult women while they were pregnant, so mothers were often kicked off Medicaid two months after giving birth. But now, Medicaid, in the states that are expanding it, will be income-based: Everyone who earns less than 138 percent of the poverty line will qualify. That means more continuous care for low-income women, except in the 20-some states where Medicaid expansion isn't going forward.
4. Less job- and marriage-lock
Health insurance is, bizarrely, one of the few goods that's cheaper if you work full-time. Historically, employers have picked up at least part of the cost of a full-time worker's health insurance cost, while freelancers, part-time workers, and the unemployed were largely on their own. The recent report from the CBO estimates that because they will have other options, like health-insurance subsidies or Medicaid, roughly 2 million full-time workers will drop out of the labor force because they will no longer rely on their jobs for health insurance.
This upcoming reduction in work can be seen as either a positive or negative for the economy as a whole, as my colleague Jordan Weissmann has written, but for the workers who have been champing at the bit to leave jobs they hate, it's probably good news.
Past research has also indicated that women are slightly more likely than men to experience "job lock"—the idea that they stay in a job longer than they'd like, simply to collect health benefits. (Though other studies have found that health insurance rates have little impact on job lock in general.)
The same principle applies to marriage. Historically, women who relied on their partners for health insurance and were not employed were far less likely to divorce than those who had their own jobs and insurance. There seems to have been not only job lock, but husband lock. Which brings us to another Obamacare pet-faction: the aspiring divorcees.