How Mammograms Improve Survival but Not Mortality
A new study on the value of mammograms in preventing death—or lack thereof—will inspire extremely important discussion. One key distinction in terms is "survival rate."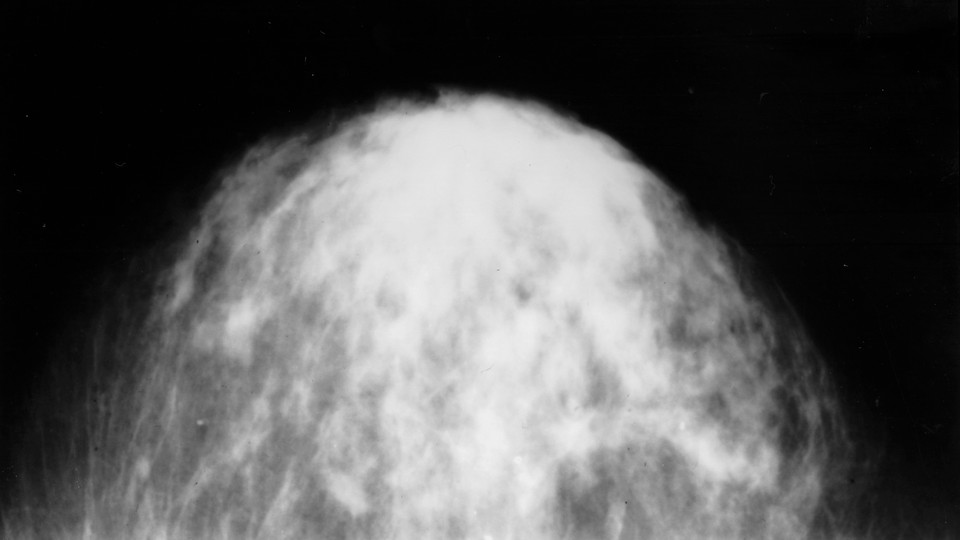 About 16 million breast x-rays (mammograms) are done every year in the U.S. in attempt to stem the 41,000 annual lives lost to breast cancer. A large, long-term study came out late yesterday in a major medical journal, BMJ, that says mammography may be a waste of time and money.
The actual study says that screening for cancer with mammography in women ages 40 to 59 "does not reduce mortality from breast cancer" in places where treatment is available.
The University of Toronto study split a group of 89,835 women in two. Half of them got mammograms, and half did not. After 25 years, the rate of death from breast cancer was the same in both groups. Some of the women who underwent mammograms ended up with unnecessary treatment.
The research is well done and will influence a global conversation. Dr. Richard Wender, chief of cancer control for the American Cancer Society, said an expert panel will factor this research into new guidelines to be released within the year. Until then, current recommendations stand.
In aggregate, previous studies have found that regular screening for breast cancer with mammography does improve mortality rates. Wender told The New York Times, "Data from clinical trials of mammography showed it reduces the death [mortality] rate from breast cancer by at least 15 percent for women in their 40s and by at least 20 percent for older women."
Not all of those studies were as rigorous as the current one, and some took place before modern chemotherapy like tamoxifen changed the course of breast cancer treatment.
This study also says, in what might seem like a contradiction, that the survival rate was higher among women who received mammograms compared to those who did not: 70.6 percent as opposed to 62.8. Does that mean mammograms are worthwhile?
The difference between mortality rate and survival rate is very important, here and in many public health discussions. Dr. Aaron Carroll at Indiana University explains it well in this video. He moves around the screen a lot, but you get used to it.
The authors of the BMJ study explain why they found that mammography increases survival rate: "Although the difference in survival after a diagnosis of breast cancer was significant ... this is due to lead time, length time bias, and over-diagnosis."
Mammography may help us find cancers earlier, so people live longer with the diagnosis. That is an increased survival rate. Despite improving survival rate, mammograms don't, the Toronto study says, save lives.