Further Health Demands of CVS
Cigarettes are a good start, but things likely to destroy us are still on shelves.
Last week CVS announced that it will stop selling cigarettes by October 1, 2014.
A lot of people said, "Oh wow, that's really great." Should they have been saying, "Big whoop?"
If you're looking to castigate CVS for half measures, here are some ideas. From The New York Times: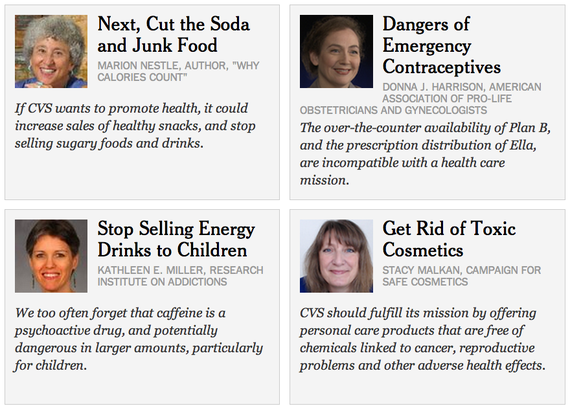 There is very little on the CVS menu that does not qualify as junk food. They usually do have yogurt and nuts. Obesity kills more people than cigarettes, so the store should really limit their food sales to yogurt and nuts.
Obesity is, of course, not simply the domain of a junk-food diet. Inactivity is another preventable risk factor. If CVS truly cares about the health of Americans, they will begin to sell simple exercise equipment such as jump ropes, yoga mats, basic treadmills, and standing desks.
What, though, about the people who want to buy a basic treadmill from CVS, but don't have the funds? Or the space to keep a treadmill in their apartment? That is why CVS must establish a "workout zone" within each store, potentially the entirety of the store, wherein customers can utilize an array of strength-training and aerobic machines. There should be showers and a pool wherever space permits. Customers can pay a monthly fee for access.
Another thing about the yogurt sales. Among people who choose to buy the yogurt, I would like to see a simple background check for lactose intolerance. CVS probably already knows, based on our purchase histories, who among us has digestive issues. The last thing CVS should be doing is poisoning their lactose intolerant customers with yogurt.
Apparently some cosmetics contain some toxic chemicals, and of course those must go, but what about the psychological damage of perpetuating societal myths of beauty? The American dream involves a level playing field. Unless CVS wants us to believe that it hates the American dream, all cosmetics must go.
I am counting on CVS not to leave us halfway here. Public health experts say that young Americans today are poised to be the first generation ever to die younger than their parents. If CVS does not step up to lead us as a nation, who will?