Bob Costas Eyewatch: The Return of the King
After a week beset by ocular infection, NBC's multimillion-dollar sportscaster is slated to return on Monday. Costas' victory over conjunctivitis heralds a return of the spirit of sportsmanship and national pride typified by these Olympic games.
Update, February 16: Bob Costas will return to his rightful place on the throne of NBC-prime-time Olympic anchorship Monday evening, the network just announced. Matt Lauer will stand in for Costas one final time, tonight.
The unexpected journey of this eye infection seems to be drawing to a close. What began as fodder for jokes about a red eye sunk to concern for a fallen anchor and then a sort of resigned acceptance of Costas' absence.
Will viewers accept post-infection Costas back into their homes? It's normal to develop feelings of affection for Matt Lauer, mustache or no, when exposed to him nightly. Meredith Vieira's effortless salubriousness also seemed a natural fit in the anchor chair. But over two decades Bob Costas has earned his spot and proven himself the one and only rightful king.
NBC's ratings during the Olympics have been fine, but they are not as high as they were during the Vancouver games. Though four years ago there was the added appeal of a live broadcast, the network would surely like to see the return of Costas improve the current viewership numbers. There may be some residual redness in his corneas, but his presence stands to bring many more people to the television each night and away from it with a pleasant, satisfied feeling. That will further unify a national conversation around the games, at water coolers and on bar stools and on playgrounds, building camaraderie and community, inspiring a young generation and restoring morale in an old one, and we will have Costas to thank.
This infection was not just of Costas' eyes; it spread into the fabric of a nation's spirit. His burden was all of ours, and as it lifts so we all do rise.
---
Update, February 14: "It's an honor to fill in for [Costas],'' Meredith Vieira said on Today this morning. "You think about the Olympics, and you think the athletes, and then Bob Costas."
Then you think Matt Lauer, and then you think Meredith Vieira.
Matt Lauer said this morning that he is exhausted and sleep deprived after three nights covering for Costas. NBC casts the announcement of Vieira as history-making, in that she will be the first woman to ever anchor NBC's prime time Olympic coverage on her own. Hannah Storm, Mary Carillo, Gayle Gardner, and Jane Pauley have anchored daytime and late-night spots.
Having broken his historic streak of 157 consecutive Olympic broadcasts, Costas is establishing a new streak for nights missed due to eye infection: four.
---
Update, February 13: A dark turn, NBC announced that Costas will be taking a knee for a third night. The fanfare surrounding the announcements is growing progressively quieter, as if interest in his condition is waning. Joke to sympathy ratios are plummeting. Ophthalmologists who have weighed in on the prognosis say that a one to two week course of disease is not unusual.
Costas told Ryan Seacrest in a radio interview this morning that his sensitivity to light has become incapacitating. But, Costas said, "I'm hoping that I'm back by the weekend, and I certainly think I'll be able to do the second half of the games."
---
Update, February 12: Costas has called Matt Lauer "out of the bullpen" again tonight. Costas, a sportscaster in the throes of ocular illness, seems unable to conjure any metaphors that do not involve sports. He otherwise appears well and said on Today from Sochi that he does not feel too bad. Costas will spend another night off air recovering from his conjunctivitis tonight.
"It's an eye infection, and my eyes are so blurry and watery and become so light-sensitive that even in dim light they're constantly tearing up," Costas said on air, by phone from an undisclosed location. "I can't possibly be in the studio."
Lauer joked to Costas about his unclean state, saying that he arrived early to sanitize the studio so as not to contract Costas' eye infection. Costas countered with an offer to Lauer that in return for sitting in for him, Costas would "step in on the next 10 'Steals and Deals' and 'Ambush Makeovers.''' Those are recurring segments on Today. Costas was essentially mocking Lauer for having to endure their banality by joking that he was so indebted to Lauer that he might temporarily deign to do the same. Good times.
The Internet and late-night television have become overrun with Costas-eye jokes and meme attempts, especially Photoshops. I have come to regret my own (below). Well, not entirely. I believe I speak for every American in saying that if he feels up to it, we would wholeheartedly support Costas hosting tomorrow from a very low-light setting with a tear bucket and eye gear of whatever opacity NBC deems marketable.
---
Original post, February 11: Even-tempered concern gripped a nation today. A voice silenced, Bob Costas takes a night off from Olympic commentary with an eye infection. This ends a streak of 157 Olympic broadcasts for the anchor. Matt Lauer will pinch hit, to use a sporting metaphor, for Costas tonight.
Costas told The New York Times today that he had not been so beset ("sidelined") by sickness as to miss work since January 1990.
Images of Costas' eyes ignited something of a firestorm of eye jokes on Twitter over the last 36 hours, interspersed with genuine concern that he may have a serious condition.
Florida is now recognizing the "Bob Costas' eyes told me to do it" defense.

— pourmecoffee (@pourmecoffee) February 11, 2014
It feels like I walked in on Bob Costas crying and he's trying to compensate by talking about sports.

— Alex Baze (@bazecraze) February 11, 2014
As someone who survived orbital cellulitis, I am genuinely concerned about Bob Costas's eye.

— John Green (@realjohngreen) February 11, 2014
Based on the appearance of the eyes and the progression of the evil that has befallen them, advancing in space and time from one eye to the other, I say as a physician that his diagnosis is most likely a benign viral conjunctivitis. Some people call this pinkeye. It is not appropriate to call it "devil eyes." Empathy is appreciated but concern undue.
Supporting the pinkeye narrative, Costas told the Times today that he had to gingerly wash his eyes upon waking in the morning "to open them to a slit."
Waking with your eyes caked in mucus, the momentary sensation of blindness that fades into grappling for the bathroom and a sinking reconciliation of sickness is a sequence familiar to many of us; but not to Costas. "You hear it called pinkeye or conjunctivitis, but, as a practical matter, I haven't had it before." That makes two streaks broken today for Costas.
If his drainage is clear, that would support the diagnosis of a viral pinkeye. A greenish discharge might raise concern that the cause is a bacterium. I attempted to reach out to the man who washes Bob Costas' eyes for comment on the color of the drainage. It turned out there was no such man. Costas has been washing his own eyes. This is the state of things in Sochi.
Either way, Costas is taking antibiotics, so he is covered for a bacterial infection. A typical five day course is almost past, so I expect and hope for a prompt recovery and return to duty.
"If it were just a matter of discomfort, I'd be there," Costas said, implying that it was a matter of his appearance being unsuited for television. Implying that as a nation who has taken 22 years of unbroken Olympic coverage from the man, we cannot accept him because his eyes are red.
Would you accept him, America, if he did this?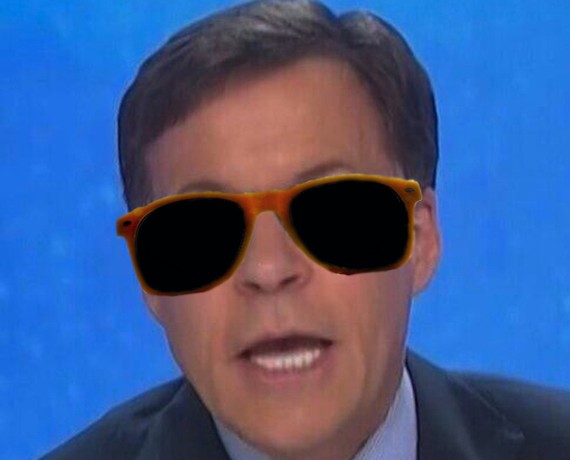 We wish Costas well and will update this post as the story unfolds.