The 16 and Pregnant Paradox: Warning or Endorsement?
Two new studies on teen-mom programming suggest the shows reduce teen births but glorify early parenthood.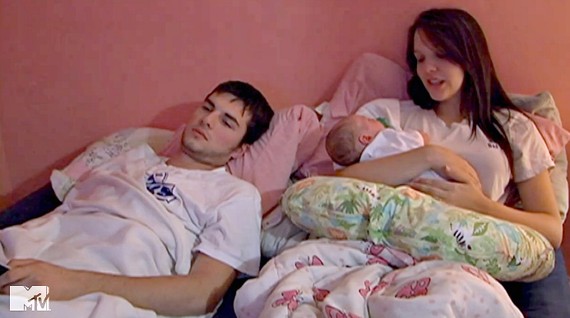 There comes a point in nearly every episode of 16 and Pregnant, the MTV reality show, in which the main character's sweet anticipation about her upcoming birth gives way to teary discontent that her teenaged boyfriend is not spending as much time on baby preparations, work, or Lamaze classes as he is on "hanging with his boys."
"With Josh starting to second-guess our marriage plans now that I'm pregnant, I'm starting to wish we had been more careful," one of the young women, Ebony Jackson-Rendon, says on the show.
In one typical episode, 17-year-old Amber Portwood needles her boyfriend, Gary, to stop buying video games with their dwindling cash.
An exasperated Gary eventually retorts, "Gary time! I need some Gary time!"
Portwood later served jail time for domestic violence and drugs.
It appears that such meltdowns scared the show's viewers into stocking up on condoms and birth control pills. A new study from the National Bureau of Economic Research argues that the program has reduced the teen birthrate by 5.7 percent in the 18 months after it was first introduced, accounting for about a third of the overall decline in the birthrate during that time.
The New York Times writes:
[NBER researchers] Ms. Kearney and Mr. Levine examined birth records and Nielsen television ratings, finding that the rate of teenage pregnancy declined faster in areas where teenagers were watching more MTV programming — not only the "16 and Pregnant" series — than in areas where they did not. The study focuses on the period after "16 and Pregnant" was introduced in 2009 and accounts for the fact that teenagers who tuned in to the show might have been at higher risk of having a child to begin with.
Kearney and Levine found that Internet searches and tweets about birth control and abortion spiked when new episodes aired. As an important caveat, though, the authors can't prove that individual teens changed their minds about unprotected sex after watching the show.
Still, they praised the show's beneficial overall effect.
"The fact that MTV knows how to make shows that teens like to watch, which speak to them in ways that resonate, presumably is critical to the show's impact," they wrote. "Apparently, this approach has the potential to yield large results with important social consequences."
But not all of the show's fans see the downsides of early parenthood quite so clearly.
The show and its follow-ups, Teen Mom and Teen Mom 2, do an honest job of depicting the gritty side of teen pregnancy, zooming in on the family squabbles, derailed dreams, and called-off engagements. But they also have a tendency to glorify their stars, paying them $60,000 and rocketing them to celebrity-magazine fame.
A different study, to be published in a forthcoming issue of the journal Mass Communication and Society and written up by Pacific Standard today, provides a more dismal look at the programs' impact on teens. Indiana University researchers Nicole Martins and Robin Jensen found that shows such as 16 and Pregnant and Teen Mom lead their audiences to believe teen parents have, "an enviable quality of life, a high income and involved fathers."
For the study, the researchers asked 185 high schoolers about their perceptions of reality television and teen pregnancy. Exposure to the shows impacted boys and girls equally.
"Heavy viewers of teen mom reality programs were more likely to think that teen moms have a lot of time to themselves, can easily find child care so that they can go to work or school and can complete high school than were lighter viewers of such shows," Martins and Jensen wrote.
They were also more likely to believe that teen parents "have affordable access to healthcare, finished college, and lived on their own." In reality, they point out, nearly half of all teen mothers fail to earn a high school diploma and earn an average of $6,500 annually over their first 15 years of parenthood.
To this, I can only say: Guys, are we watching the same show? Does a pimply 15-year-old who comes home from his job at a combination KFC-Taco Bell and gives the baby a couple of half-hearted bounces before shuffling off to a Playstation-induced haze really count as an "involved father"?
By way of explanation, Martins and Jensen say that 16 and Pregnant, the initial show that documents the girls' pregnancies and births, seemed to perform a better public service than the follow-up series, Teen Mom, which follows the lives of the young mothers. While the 16 and Pregnant characters are shown nervously tabulating the cost of formula, many of the Teen Moms garner a celebrity status that teenagers find appealing, no matter the circumstances.
"Maybe that's what's drawing viewers' attention: The fact that one of the teen moms, Farrah Abraham, repeatedly is on the cover of Us Weekly for all the plastic surgery that she's had. Well, a teen mom living in this country can't afford that; most unmarried teen mothers are on welfare," Martins said on the Indiana University website.
I suppose if they truly want to make a difference, television executives should resist the temptation to follow up on an extraordinarily successful franchise about the horrors of teen pregnancy with a similarly popular series that looks more like The Hills, except with diaper bags.