Map: Where It's Hardest to Get an Abortion
More restrictions on abortion were enacted in the past three years than in the previous decade combined. Here are the states where it happened.
The anti-abortion March for Life trudged through the frozen streets of D.C. on Wednesday, as they have every January 22 for the past 40 years to protest the Roe v. Wade Supreme Court case.
Roe granted sweeping, nationwide reproductive rights: Before it, most states prohibited abortion entirely. But in recent years, the pro-life side has been making inroads. Together, states enacted 205 abortion restrictions since 2011, more than they passed in the entire previous decade.
Here's the chart describing this trend from the Guttmacher Institute: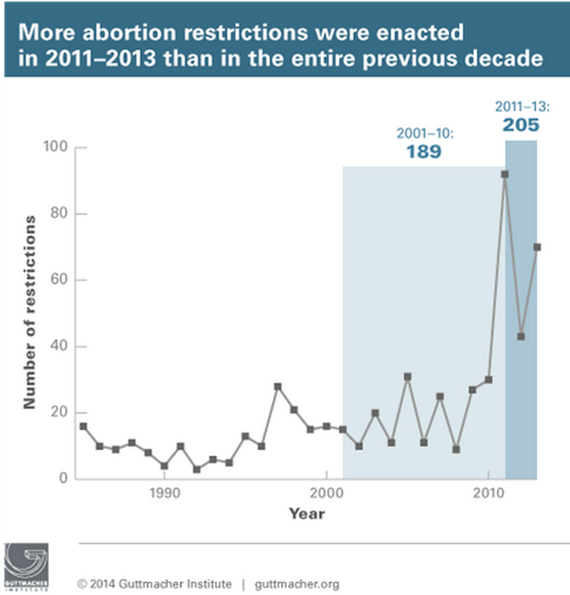 These restrictions include provider-oriented measures like those passed in Texas last summer, which required physicians who provide abortions to have admitting privileges at a nearby hospital or for abortion clinics to meet the standards of surgical centers. Others outlaw late-term (partial birth) abortions, or require that abortion providers conduct an ultrasound of the fetus and then describe its features to the patient.
Last year, the nonprofit news site Remapping Debate put together a great interactive infographic detailing each state's limitations. You can use that version to find information on each state's specific laws. Here I've tallied up each state's number of restrictions and mapped them, with the darker states indicating more limits on when, where, and how abortions can take place.
Two caveats: First, some of the data is slightly outdated — Texas passed its big abortion bill last summer, for example, so its score would likely be even higher today. Second, some might feel that certain abortion laws are more onerous than others. If so, Remapping Debate has a second chart that allows users to weight the restrictions based on the reader's perception of their severity.
While patients who live in more restrictive areas could conceivably drive to more permissive neighboring states, it's clear from the map that huge, contiguous swathes of the South and Midwest have similarly strict rules. Rules that could, in the end, dissuade or even prevent women from terminating their pregnancies.