How to Spot a Narcissist Online
Studies have shown narcissists post more self-promoting content on social media, but it's not always so easy to tell if someone's doing it for the attention.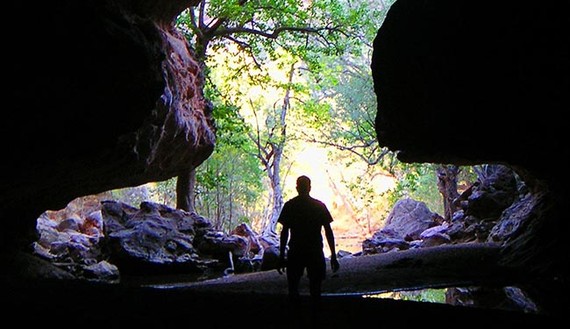 It's not hard to see why the Internet would be a good cave for a narcissist to burrow into. Generally speaking, they prefer shallow relationships (preferably one-way, with the arrow pointing toward themselves), and need outside sources to maintain their inflated but delicate egos. So, a shallow cave that you can get into, but not out of. The Internet offers both a vast potential audience, and the possibility for anonymity, and if not anonymity, then a carefully curated veneer of self that you can attach your name to.
In 1987, the psychologists Hazel Markus and Paula Nurius claimed that a person has two selves: the "now self" and the "possible self." The Internet allows a person to become her "possible self," or at least present a version of herself that is closer to it.
When it comes to studies of online narcissism, and there have been many, social media dominates the discussion. One 2010 study notes that the emergence of the possible self "is most pronounced in anonymous online worlds, where accountability is lacking and the 'true' self can come out of hiding." But non-anonymous social networks like Facebook, which this study was analyzing, "provide an ideal environment for the expression of the 'hoped-for possible self,' a subgroup of the possible-self. This state emphasizes realistic socially desirable identities an individual would like to establish given the right circumstances."
The study, which found that people higher in narcissism were more active on Facebook, points out that you tend to encounter "identity statements" on social networks more than you would in real life. When you're introduced to someone in person, it's unlikely that they'll bust out with a pithy sound bite that attempts to sum up all that they are and all they hope to be, but people do that in their Twitter bio or Facebook "About Me" section all the time.
Science has linked narcissism with high levels of activity on Facebook, Twitter, and Myspace (back in the day). But it's important to narrow in farther and distinguish what kinds of activity the narcissists are engaging in, since hours of scrolling through your news feed, though time-wasting, isn't exactly self-centered. And people post online for different reasons. For example, Twitter has been shown to sometimes fulfill a need to connect with others. The trouble with determining what's normal and what's narcissism is that both sets of people generally engage in the same online behaviors, they just have different motives for doing so.
A recent study published in Computers in Human Behavior dug into the how and why of narcissists' social media use, looking at both college students and an older adult population. The researchers measured how often people tweeted or updated their Facebook status, but also why, asking them how much they agreed with statements like "It is important that my followers admire me," and "It is important that my profile makes others want to be my friend."
Overall, Twitter use was more correlated with narcissism, but lead researcher Shaun W. Davenport, chair of management and entrepreneurship at High Point University, points out that there was a key difference between generations. Older narcissists were more likely to take to Facebook, whereas younger narcissists were more active on Twitter.
"Facebook has really been around the whole time Generation Y was growing up and they see it more as a tool for communication," Davenport says. "They use it like other generations use the telephone… For older adults who didn't grow up using Facebook, it takes more intentional motives [to use it], like narcissism."
Whereas on Facebook, the friend relationship is reciprocal, you don't have to follow someone on Twitter who follows you (though it is often polite to do so, if you are the sort of person who thinks of Twitter more as an elegant tea room than, I don't know, someplace without rules or scruples, like the Wild West or a suburban Chuck E. Cheese). Rather than friend-requesting people to get them to pay attention to you, the primary method to attract Twitter followers is just… tweeting, which partially explains the correlation between number of tweets and narcissism.
Of course, there's something to be said for quality over quantity—just look at @OneTweetTony and his 2,000+ followers. And you'd think that, even if you gather a lot of followers to you through sheer volume of content spewed, eventually some would tire of your face's constant presence in their feed and leave you. W. Keith Campbell, head of the University of Georgia's psychology department and author of The Narcissism Epidemic: Living in the Age of Entitlement, says that people don't actually make the effort to unfriend or unfollow someone that often, though.
"What you find in real life with narcissists is that they're very good at gaining friends and becoming leaders, but eventually people see through them and stop liking them," he says. "Online, people are very good at gaining relationships, but they don't fall off naturally. If you're incredibly annoying, they just ignore you, and even then it might be worth it for entertainment value. There's a reason why, on reality TV, you find high levels of narcissism. It's entertaining."
Also like reality TV stars, narcissists like their own images. They show a preference for posting photos on Facebook, but Campbell clarifies that it's the type of photos that matter—narcissists tend to choose more attractive, attention-seeking photos. In another 2011 study, narcissistic adolescents rated their own profile pictures as "more physically attractive, more fashionable, more glamorous, and more cool than their less narcissistic peers did."
Though social media is an obvious and much-discussed bastion of narcissism, online role-playing games, the most famous being World of Warcraft, have been shown to hold some attraction as well. A study of 1,471 Korean online gamers showed narcissists to be more likely to be addicted to the games than non-narcissists. The concrete goals and rewards the games offer allow the players to gather prestige: "As you play, your character advances by gaining experience points, 'leveling-up' from one level to the next while collecting valuables and weapons and becoming wealthier and stronger," the study reads. "In this social setting, excellent players receive the recognition and attention of others, and gain power and status."
And if that power comes through violence, so much the better. Narcissism has been linked to aggression, another reason for the games' appeal. Offline, narcissists are often bullies, though attempts to link narcissism to cyberbullying have resulted in a resounding "maybe."
"Narcissists typically have very high self esteem but it's very fragile self esteem, so when someone attacks them, that self-esteem takes a dramatic nosedive," Davenport says. "They need more wins to combat those losses…so the wins they have in that [virtual] world can boost their self-esteem."
People can tell when you are attempting to boost your self-esteem through your online presence. A 2008 study had participants rate Facebook pages (which had already been painstakingly coded by researchers) for 37 different personality traits. The Facebook page's owners had previously taken the Narcissistic Personality Inventory, and when it was there, the raters picked up on it.
Campbell, one of the researchers on that study, tempers now: "You can detect it, but it's not perfect," he says. "It's sort of like shaving in your car window, you can do it, but it's not perfect."
Part of the reason why may be that, as we see more self-promoting behavior online, whether it's coming from narcissists or not, it becomes more accepted, and thus, widespread.
Though, according to Davenport, the accusation that Generation Y, or—my least favorite term—Millennials, is the most narcissistic generation yet has been backed up by data, he wonders if it's less a generational problem than just a general shift in our society.
"Some of it is that you see the behavior more on Facebook and Twitter, and some of it is that our society is becoming more accepting of narcissistic behavior," Davenport says. "I do wonder if at some point the pendulum will swing back a little bit. Because you're starting to see more published about 'Is Gen Y more narcissistic?', 'What does this mean for the workplace?', etc. All those questions are starting to become common conversation."
When asked if our society is moving in a more narcissistic direction, Campbell replied: "President Obama took a selfie at Nelson Mandela's funeral. Selfie was the word of the year in 2013. So yeah, this stuff becomes far more accepted."
Narcissists' preferred online haunts have changed, are changing, will change, and researchers are trying to keep up. What's clear is that narcissists will go where they can get an audience. There may be generational delays in the adoption of certain tools, they may become harder to spot as we all become more obsessed with ourselves, who knows. But as the road of technological progress goes ever on and on, narcissists will follow it.
"If there's an opportunity to look good, get attention, to appear attractive and to gather followers, it's going to draw narcissists," Campbell says, "whether it's politics, media or social media."