Why Do Healthy Non-Smokers Get Lung Cancer?
The latest research on why "anyone with lungs is at risk," and what's being done about it
For Emily Bennett Taylor, it started with a nagging cough. Her doctor first diagnosed her with bronchitis. And later, asthma.
But after months of treatment, her cough persisted and she began to feel pain in her lungs. An x-ray finally revealed that Taylor, at 28 years old, had a large and rapidly-growing tumor in her right lung.
She had adenocarcinoma, a form of non-small cell lung cancer, the most common type of lung cancer found in young, non-smoking women. By the time it was diagnosed, it had advanced to Stage IV, meaning the disease had spread beyond her lung.
"I was very confused. I almost could not believe that someone my age, who was healthy and went hiking and played volleyball, could get lung cancer," Taylor says.
Ingrid Nunez was also diagnosed with Stage IV adenocarcinoma. She was 19 years old. "At first we thought it was Hodgkin's Lymphoma [a form of blood cancer] because at least that's a little more common in people my age," she said.
The average age of someone diagnosed with lung cancer is about 70. Only 2 to 3 percent of the 228,190 people diagnosed with lung cancer in 2013 are younger than 40.
Nunez says the only sign that something was wrong was a small bump on her left collarbone. "It had never bothered me and I felt fine," she says. "I thought it was nothing."
No one was prepared for the biopsy result, which showed that the bump was actually a symptom of lung cancer that had spread to her abdomen, liver, lung, and pelvis.
"I was like, 'Wait what, but I've never smoked,'" said Nunez. "It's just so random."
Though lung cancer diagnoses in the young are rare and data on that age group is limited, "it seems to be emerging as its own sub-type of lung cancer—one for which new powerful treatments are needed to make it a livable disease," said Dr. Geoff Oxnard, a lung cancer specialist at Dana-Farber Cancer Institute in Boston.
In 2013, 159,480 men and women in the U.S. will die from the disease–more than those who die from breast, colon, and prostate cancer combined.
Though smoking is, by far, the greatest risk factor in developing lung cancer, an estimated 10 to 15 percent of lung cancer patients in the U.S. have never smoked. Most of these patients are women and, like Taylor and Nunez, are diagnosed at a younger age than the typical lung cancer patient.
"Young lung cancer patients we see are also more likely to be Stage IV at diagnosis. By the time their disease is discovered they are already pretty sick," Oxnard said.
Seventy-five percent of patients with lung cancer have advanced disease and a five-year survival rate of only 5 percent.
"In older patients, the disease is often diagnosed incidentally through a scan or x-ray performed for some other reason," Oxnard explains. "But in the young, who are otherwise healthy and not as integrated into the medical system, symptoms, if there are any, are often ignored or mistaken for something else."
Traditionally, lung cancer has been classified into two major types: small cell and non-small cell. Today, however, lung cancer is understood to be comprised of several distinct sub-types, each characterized by mutated genes and abnormal proteins that can increasingly be kept in check by targeted therapies.
A targeted therapy is a treatment specifically designed for a specific mutation or other abnormality. In addition to being more effective than traditional chemotherapy drugs and radiation therapy at slowing a cancer's growth and spread, targeted therapies often have fewer side effects and minimize damage to normal, healthy cells.
For example, young people and non-smokers with lung cancer commonly have mutations in a gene called EGFR. Patients who test positive for that mutation respond better to the targeted therapy Tarceva than standard chemotherapy. Young people and non-smokers with lung cancer also frequently have mutations in the ALK and ROS1 genes, which respond well to a new targeted drug called Xalkori.
Oxnard says than half of all young lung cancer patients have a mutation in their tumors for which a drug exists to block the mutation's actions. This was not the case for either Taylor or Nunez, both of whom were successfully treated—for now—with a standard course of chemotherapy to stay the disease.
"Just bad luck, I guess," Nunez says.
But surely it is more than that. Some researchers suspect a hereditary base to the disease's development, as is the case in some patients with breast or colon cancer. Others suspect the cause lies in a genetic susceptibility combined with other factors, including hormonal changes or exposure to cancer-causing substances, such as radon or second-hand smoke.
Still, "the answer is that we really don't know why people with seemingly no risk factors get lung cancer," Oxnard said. "In the young, we are even more confused when someone that hasn't smoked and hasn't even been alive long enough to be exposed to anything toxic gets lung cancer."
The Addario Lung Cancer Medical Institute (ALCMI), a partner organization of the  San Francisco-based Bonnie J. Addario Lung Cancer Foundation (ALCF), is taking the lead on answering these questions. Later this year, ALCMI will launch the Genomics of Young Lung Cancer Study to determine whether lung cancer in young patients harbors a unique spectrum of genetic mutations that could be a potential target for treatment. It is the first multi-center, international study to prospectively analyze the genomes of young lung cancer patients.
"We want to find out what what's different in young patients with lung cancer," said Bonnie Addario, a lung cancer survivor and founder of both ALCMI and ALCF.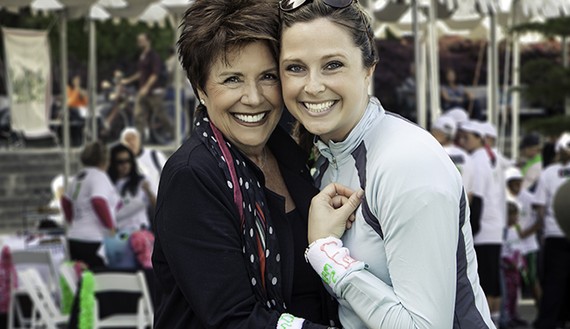 "We already know that lung cancers in non-smokers often have certain gene changes that are different from those in tumors from smokers and, in some cases, these changes can be used to guide treatment," said Oxnard, who is the co-principal investigator of the study. "Similarly, young lung cancer may have its own biology."
The three-year study will enroll 60 patients who were diagnosed with lung cancer before the age of 40. It will open first at the Dana-Farber Cancer Institute (DFCI) in Boston and the University of Southern California (USC) and expand to other centers in the U.S. and Europe early next year.
Oxnard's lab at DFCI will perform whole-exome sequencing—a technique that focuses on only the protein-coding portion of the genome—on study participants' blood and tumor samples.
The goal, he says, is to "confirm genetic alterations previously tied to lung cancer and potentially uncover other mutations we have not yet seen that deserve a particular treatment strategy."
In the long-term, this insight, he adds, will help us better understand "why lung cancer happens to young people and potential inheritable and environmental risk factors."
Learning about what is driving the disease on a genomic level, will also "give us clues to how we should be treating patients differently," said Dr. Barbara Gitlitz, Director of the Lung, Head and Neck Program at USC's Norris Comprehensive Cancer Center and the other co-principal investigator of the study.
As part of the study, participants' tumor samples will also be sequenced by Foundation Medicine for abnormalities in more than 300 cancer-related genes.
"All patients may not test positive for a mutation but we suspect many will have mutations that could be targeted by drugs that are already available or in clinical testing," said Addario.
In an effort to "help patients in real-time," Addario noted, any mutations found will be reported immediately back to the participant's oncologist. ALCMI's Scientific Leadership Board will also provide guidance on suggested treatments and clinical trials for each patient based on results from the Foundation Medicine's screens.
Taylor and Nunez both say they will be first in line to enroll in the study. They say they are eager to learn more about their cancer.
"The truth is that anyone with lungs is at risk," Taylor says. "I'd love to know why. Why me?"