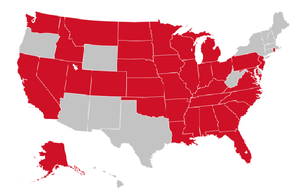 In many states, HIV-positive people can still be (and are) arrested and prosecuted for consensual sex, biting, spitting, or scratching. In the last two years, Kate Nocera notes, the Center for HIV Law and Policy has documented more than 80 such cases.
Today Delaware Senator Chris Coons is introducing the Repeal Existing Policies that Encourage and Allow Legal (REPEAL) HIV Discrimination Act. It calls for reviews of state laws that discriminate against people with HIV. In 29 states it is a felony to expose someone to HIV, even when transmission does not occur. Some of the laws include things like spitting or scratching, through which transmission is not realistically possible. ProPublica recently reviewed records from 19 states and found 541 cases in the last ten years in which people were convicted of criminal charges for not disclosing that they were HIV-positive.
"It's simply not fair," Coons said, "that someone having been diagnosed with a chronic, treatable medical condition should automatically be subjected to a different set of criminal laws."