Selfies at Funerals, Leaders-of-the-Free-World Edition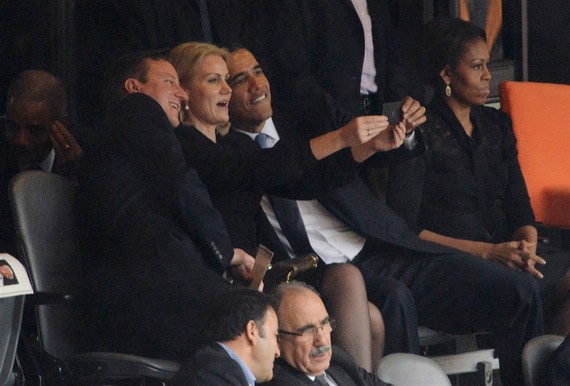 Two prime ministers and a president appear to have taken a photo of themselves this morning at the memorial service for Nelson Mandela in Johannesburg. First Lady Michelle Obama is Rihanna-level unmoved. This image quickly became the most important thing on the Internet. What does it mean? Is a selfie in a group not a selfie at all, but a groupie? (The Oxford English Dictionary named selfie Word of the Year and defines it as "a photograph that one has taken of oneself, typically one taken with a smartphone or webcam and uploaded to a social media website.") These people don't work for the dictionary, though; the dictionary works for them.
Would it be less shocking if they had used a tripod and shutter delay, or one of those telescoping phone holders you can buy at Skymall to "avoid embarrassment from asking a stranger to take pictures?" Are all photographs of people a manifestation of aggressive narcissism, inappropriate in any context, much less a memorial service for one of history's most revered leaders? Personally I'd like to see more photos of meals and snow.
Previously: Selfies at Funerals