How Hospitals Pass Their Obamacare Penalties on to Patients
An obscure classification allows hospitals to keep readmission rates down while patients unknowingly rack up higher costs.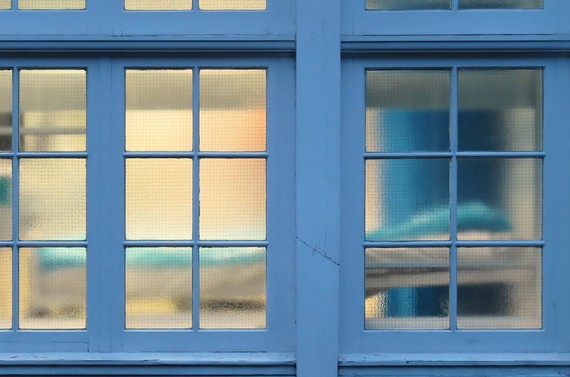 Let's say you were to fall off the ladder while putting up your trademark, Clark Griswold-style Christmas lights. You're rushed to the emergency room, evaluated, and stabilized. Then the hospital has several options: They can send you home or admit you as an inpatient for further treatment. But increasingly, hospitals are shuffling older patients to a third alternative, a category called "observation status" under which patients are monitored (and often treated) by doctors, but never formally "admitted" in the eyes of either the hospital or the insurer.
As it turns out, this classification is great for hospitals, but it can be far more expensive for patients.
Between 2001 and 2009, Medicare claims for observation status rose 100 percent, according to a recent report from the public policy arm of the AARP, and the rise was greatest for longer observation stays of 48 hours or more.
So why the uptick?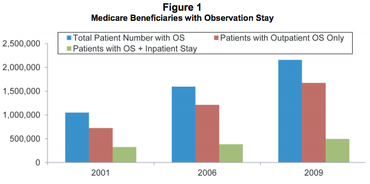 Patients under observation often have the same ailments that admitted inpatients do, but hospitals see observation as more efficient than inpatient care, since it frees up doctors and nurses to tend to sicker patients. The AARP also observed a 16 percent decline in the number of inpatient stays, especially one-day stays, during the same nine-year time period, suggesting that hospitals have been substituting inpatient stays for observation.
But on top of that, insurance regulators have been cracking down on short inpatient stays. Starting in 2005, auditors have been reviewing such claims to ensure their "medical necessity," the AARP researchers write, which may have spooked hospitals into using the less-scrutinized observation status.
Perhaps most importantly for hospitals, though, the Affordable Care Act required Medicare to start penalizing hospitals that frequently readmit the same patients, and in 2012 some 70 percent of hospitals took a financial hit for their high readmission rates. Observation status doesn't count as admission, so using it helps hospitals avoid the penalty.
Here's the problem for the patients: Medicare beneficiaries seen as inpatients are only charged their inpatient deductible, which was $1,184 in 2013, for hospital stays, but those under observation status can be on the hook for thousands of dollars more because they're billed separately for every procedure and drug.
What's more, a patient's follow-up treatment in a nursing home, which doctors frequently recommend after an ER visit, isn't covered by Medicare unless the person has first been a hospital inpatient for three days, and observation status doesn't count.
For example, the New York Times reported on the case of 83-year-old Miriam Nyman, who unbeknownst to her was under observation status all four nights of her hospital stay after a severe fall. As a result, Nyman was stuck with a $35,000 tab for her follow-up nursing home care.
To make matters worse, in most states hospitals are not required to tell patients when they're under observation status, even though their experience can be identical to that of an inpatient. "The only way to know for sure is to ask," as Kaiser Health News points out.
Other than vigilance by Medicare beneficiaries, the AARP recommends that Medicare eliminate its three-day requirement for nursing home coverage after a hospital visit, or at least to make observation status visits qualify as part of the three days. It also suggests that the patient's financial liability for observation status be capped just like inpatient care is—which makes sense, since the two services are often indistinguishable in every way but cost.