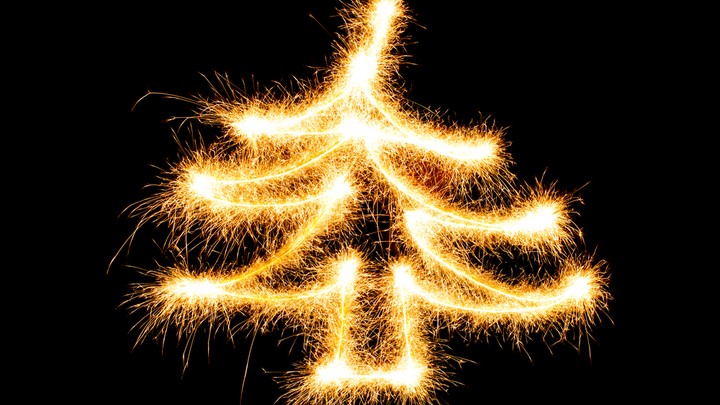 It was the day after Christmas, 1994, and the Garber family had gathered around its table for a post-holiday dinner. The atmosphere: still festive. The turkey: still juicy. The tree: still in full regalia. All was still merry and bright, in other words, as we sat down to our day-after leftovers.
Until, that is, someone smelled the smoke. At first, we thought, the oven had been left on. Or maybe a neighbor had lit a fire? But then the scent started to take on a sour tinge. Like burning plastic? Or maybe—eek—lighter fluid? And then someone saw the smoke. It was wafting in toward the table. We weren't smelling something from outside. It all was coming from inside the house.
The Christmas of 1994, in other words, was the Christmas the Garber family became a statistic: Our tree had caught fire. We are still not sure how. But it was probably, the U.S. Consumer Product Safety Commission would say, because we had let our tree go under-watered. Or over-lighted. Or, even more possibly, overdone with reflective ornaments. Perhaps, on the other hand, we had simply situated it too close to a heat source.
Regardless: Do not be like the Garbers! Heed the warnings of the CPSC, for your own safety, or at least that of your home! Each year, the Commission publishes, Cassandra-like, a nearly identical list of recommendations meant to help Americans avoid holiday-decor-related misfortunes like flaming foliage and falling ladders.
Each year, apparently, these recommendations go ignored.
In 2012, the Commission notes, "there were 15,000 injuries involving holiday decorating seen in emergency departments nationwide during November and December." (In 2011, the Commission reported on 2010's number: "More than 13,000 people were treated in emergency departments nationwide due to injuries involving holiday decorations."
In 2008 and 2009, the number was 12,000.
Indeed, the CPSC's most recent holiday-injury stat represents "the fourth consecutive year these estimates have increased," the Commission notes. "In each year since 2009, there have been an estimated 12,000 or more emergency department visits."
Perhaps this rise has to do with simple population growth. But perhaps it has to do, as well, with the fact that people become fooled into thinking that they—like young invincibles, like Rudolph—are impervious to the perils of decor-related injury. Perhaps people simply laugh off the Commission's warnings.
To which the CPSC sternly replies: "Falling from a ladder and stepping on broken ornaments may be funny in holiday movies but in real life, these and similar mishaps result in visits to the emergency room, or calls to fire departments, for thousands of consumers each year."
With that in mind, here—one more time—is an abbreviated list of the Consumer Product Safety Commission's recommended precautions for Holiday Season safety. Do not ignore them. Do not let yourself become a sad statistic.
Ladders

1. Heed the warning labels on ladders. Read CPSC's OnSafety blog, "Ladder Safety 101," for tips to prevent ladder falls this season.

Trees and Decorations

1. Buying a live tree? Check for freshness. A fresh tree is green, its needles are hard to pull from branches, and the needles do not break when bent between your fingers.

2. Setting up a tree at home? Place it away from heat sources, such as fireplaces, vents, and radiators. Because heated rooms rapidly dry out live trees, be sure to monitor water levels daily, and keep the tree stand filled with water.

3. Buying an artificial tree? Look for the label: "Fire Resistant." Although this label does not mean that the tree will not catch fire, the label does indicate that the tree is more resistant to catching fire.

Candles

1. Keep burning candles within sight. Extinguish all candles before you go to bed, leave the room, or leave the house.

2. Keep candles on a stable, heat-resistant surface. Lighted candles should be placed away from items that can catch fire, such as trees, other evergreens, decorations, curtains and furniture.

Lights

1. Use lights that have been tested. Lights for both indoor and outdoor use must meet strict requirements that testing laboratories are able to verify.

2. Check each set of lights. Examine new and old lights for broken or cracked sockets, frayed or bare wires, or loose connections. Throw out damaged sets, and do not use electric lights on a metallic tree.

Fireplaces

1. Use care with "fire salts." Fire salts produce colored flames when thrown onto wood fires. Fire salts contain heavy metals that can cause intense gastrointestinal irritation and vomiting, if swallowed.

2. Do not burn wrapping papers in the fireplace. A flash fire may result from burning wrapping papers because wrappings can ignite suddenly and burn intensely.
Straightforward, good sense. Especially the stuff, take it from me, about the trees. As one consumer advocate summed it up: "Decking the halls? Check yourself, before you wreck yourself."
We want to hear what you think about this article. Submit a letter to the editor or write to letters@theatlantic.com.
Megan Garber
is a staff writer at
The Atlantic
, where she covers culture.