A Map for U.S. Travelers Who Want to Avoid Infections
A majority of states have taken fewer than half of the necessary steps to prevent the spread of things like HIV, flu, and measles.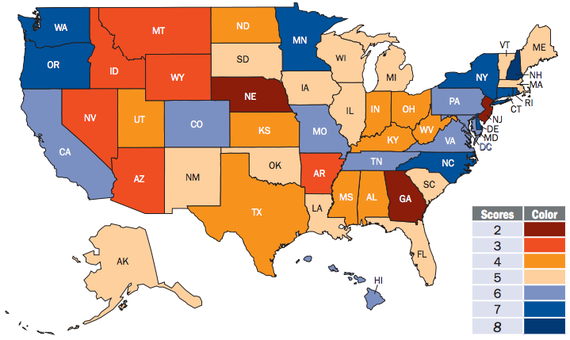 Despite the progress we've made in vaccines, drugs, and sanitation, infectious diseases—a category that includes everything from the run-of-the-mill flu to antibiotic-resistant "superbugs"—still kill some 170,00 Americans each year.
But most states—33, to be exact—have taken fewer than half of the recommended steps to prevent the spread of diseases such as whooping cough, HIV, and hospital infections, according to a new report the Trust for America's Health, a nonprofit that works to prevent outbreaks, and the Robert Wood Johnson Foundation, a public health philanthropy.
The factors the report authors judged the states on include vaccinating for diseases like flu, measles, HPV, and whooping cough; controlling hospital-acquired infections; screening people for HIV; preparing for climate change and disease outbreaks; and adequately funding their public health departments. States scored one point for each measure they met.
"Three states tied for the lowest score, achieving two out of 10 possible indicators—Georgia, Nebraska and New Jersey. New Hampshire had the highest score, with 8 out of 10," they found.
The groups also unearthed some surprising facts about just how much public health efforts and outcomes vary by state. Let's just say a lot of people in Nevada might be getting the flu this year.
About one in five people with HIV don't know they have it, yet a third of states don't cover HIV screening tests under their Medicaid programs.
Fewer than half of states require human papillomavirus (HPV) vaccinations, education for parents about the vaccine, or funding for vaccinations. 
Only two states (Connecticut and Delaware), along with Washington, D.C., have vaccinated at least 90 percent of preschoolers against the whooping cough.
The report authors caution that the scores don't necessarily reflect the vigilance of the state's government or health department, since there are also resource availability and demographic issues involved. But despite the rising threat of superbugs and antibiotic resistance, almost all states have cut back on public health services since 2008. They write that "91 percent of all state and territorial health agencies experienced job losses through a combination of layoffs and attrition," in recent years.
The authors suggest states take measures like increasing capacity and planning in their public health departments and pushing vaccinations and screenings more aggressively. In the meantime, perhaps bring a value-sized jug of hand sanitizer on your next trip to New Jersey.