The End of AIDS Will Be in Love
Working with my international AIDS foundation, I have witnessed discrimination, injustice, and indignation as the major barriers to treatment and cure.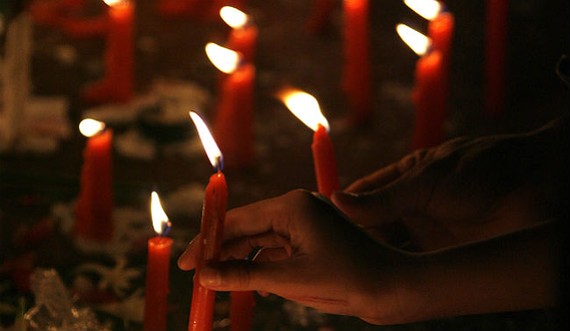 I'm far from the first person to preach the importance of compassion, indeed the need for compassion, when it comes to combating AIDS. Long before I ever got into this work, many brilliant, dedicated professionals from all around the world were orchestrating a compassionate response to the epidemic. I'm simply, and humbly, following in their footsteps. And while I would never suggest that I'm an AIDS expert, I have seen quite a lot through the work of my foundation.
Over the years, I've had the opportunity to meet some of the greatest heroes in the global fight against AIDS. They include my many extraordinary colleagues around the world who are in the trenches, day after day. I've been lucky enough to travel the world and visit dozens of projects that the Elton John AIDS Foundation (EJAF) has funded. I've seen the difference these heroes are making. Compassion is a nice sentiment, but it's so much more than that. I've seen with my own eyes what's possible when compassion is put into practice.
I love the American South, where I've spent much of my life. I am always blown away by how beautiful that part of the country is. There's something especially magical about Southwest Louisiana. Cypress trees that frame the haunting bayou. Flooded rice paddies and lonely prairies without a house or a living soul for miles. It's one of the most rural places in America. And as with much of rural America, there is a quiet but deadly AIDS crisis that has been simmering for decades. Nearly 1,000 people in this one small corner of Louisiana are HIV-positive. They are among the poorest, most marginalized people in the nation. And they are mostly African-American.
The  HIV/AIDS  epidemic  is  raging  in  the  African-American  community nationally,  and  especially  in  the South. As I've said, almost half of all HIV diagnoses are among African-Americans. Shockingly, AIDS is a leading killer of African-American women ages 25 to 44, accounting for roughly 11 percent of all deaths in this demographic. That's why EJAF has invested heavily in projects around the United States that target African-Americans as well as other communities that are still disproportionately impacted by AIDS.
Now, it's one thing to be in a major city with basic facilities. It's quite another to be sick and alone in the middle of nowhere. Frankly, I wonder if most Americans know how bad it is for some people in the rural South. Take Loretta. She was 33-years-old and a single mother when she found out that she was HIV-positive. Her ex-husband had been incarcerated. She was already chronically depressed; with her HIV diagnosis, she was terrified of what would happen to her. Who would care for her three sons?
Loretta is like a lot of women in Southwest Louisiana. Young, African-American, from a poor family. Many don't get the education they need, and many drop out of school, get married young, or have children while they're still teenagers. These women are at high risk for contracting HIV.
As recently as 2008, emergency rooms in Southwest Louisiana were clogging up with people admitted with late-stage AIDS. The scenes of emaciated people who had wasted away from the disease looked more like something you would expect to see in sub-Saharan Africa, not America. In an age when antiretrovirals are widely available in the richest country in the world, people were needlessly dying. They still are. It's no wonder that Loretta was paralyzed with fear by her diagnosis.
In response to the crisis in Southwest Louisiana, Terry Estes, the executive director of the Southwest Louisiana AIDS Council (SLAC), and Dr. Carlos Choucino, the medical director of the Comprehensive Care Clinic in Lake Charles, Louisiana, decided they needed to develop better ways to reach people living with HIV/AIDS. They learned from research that "navigator" models, where people are guided to get access to comprehensive services, are very successful with AIDS patients. So, in 2008, SLAC and the Comprehensive Care Clinic partnered to identify patients throughout the region who needed access to care, especially in nearby rural areas.
Loretta was referred to SLAC and immediately connected with Angela Hursey, the organization's health system navigator. Angela is an amazing woman, one of the many heroes doing battle on the front lines of the AIDS epidemic. She personally connects with every client who walks through the door, and she becomes a fierce advocate for his or her health and welfare. She believes in her clients, and in turn helps her clients to believe in themselves.
It's this sort of individual attention that makes all the difference. People living with AIDS often feel like statistics—and it's no wonder, because that is how they're treated most of the time. But at SLAC, Angela insists on treating her clients like human beings, with individual needs, concerns, challenges, and circumstances. This sounds simple and obvious, yet it's all too rare in health-care settings. I can relate to the need for individual attention and care, because that was what really helped me to get clean and to stay sober. Being treated with dignity, with compassion, like a real person with individual struggles, is what empowered me to turn my life around.
Whenever someone like Loretta walks into SLAC, Angela's first order of business is to get the person immediate access to care. She will literally take her clients to the hospital screening office so they can figure out what kind of financial assistance they might be able to get. She'll walk them to the lab to get tested. She'll go with them to their first doctor's appointment. She'll do whatever it takes to get them to take control of their health. If they stop going to their appointments or taking their medication, she'll pick them back up and walk them through the process all over again. After her clients are stable, she'll hand them over to a medical case manager to keep track of their progress.
It's still the case that in communities across America people with AIDS are sometimes treated like dirt. If they're gay, it can be even worse. They're so afraid of the judgment of their communities, even their families, that they won't get tested. Despite how far we've come, people in America today still experience abuse. That's why some HIV-positive people travel hours from their homes to get help from SLAC. The organization works hard to make clients whose families have ostracized them feel safe.
Thanks to SLAC and its dedicated caseworkers like Angela, Loretta started managing her disease. She went back to school to finish her GED. Today, she volunteers with SLAC, facilitating a women's support group. She even has her own office space, where she mentors other people who are struggling to come to terms with HIV/AIDS. Loretta is taking her experience, her story, and sharing it with others. She is using it to help them get through this incredibly difficult experience. She's a living reminder that we cannot simply treat the disease; we must treat the person.
When confronted with an enormous crisis like AIDS, it's easy to feel helpless. And in the face of huge numbers—millions of people infected, billions of dollars spent—it's easy to feel, as an individual, or even as an organization, that we can't make a difference. But SLAC is an example of how a relatively small amount of money can go a really long way when compassion is at the center of our efforts.
This is true for all marginalized populations, everywhere. Take the formerly incarcerated, for instance. They are among the most marginalized populations in the United States. And the formerly incarcerated who are HIV-positive are even further marginalized.
In New York, after an HIV-positive prisoner finishes his sentence, he's whisked away from an upstate detention facility and dropped off at the Port Authority bus station in Manhattan. He's usually given no more than $50, three days of medication, and a list of social service organizations that might be able to help.
Imagine: You are standing all alone by the bus or the subway. You haven't been outside the walls of prison, let alone in the middle of Midtown, in years. You have nowhere to go, maybe no one to call. And the clock has started ticking—you have seventy-two hours until your medication runs out.
For Carl, after twenty-four years in prison, that experience made him feel like he was Rip van Winkle, waking up to a whole new world. Everybody around him was talking into a mobile phone. He had used a token the last time he rode the subway; what on earth was a MetroCard?
The world had changed, and so had Carl. He was infected with HIV in prison, and he left with AIDS.
Carl was luckier than many; someone he "ran with" picked him up from the Port Authority. They spent the next three days driving around to every single organization on the list he was given when he was released from prison. At all of these places, places that were supposed to help him, he heard the same thing: "Where's your Medicaid card? "
Carl had been released without any documentation of his HIV status, and since he didn't have Medicaid, there were few places he could go to be tested. He waited hours at a city agency to apply for public assistance in order to get the funds he needed to buy medication, but there was a 45-day waiting period to determine if he was eligible for benefits.
Carl's story is all too common. The United States imprisons a higher percentage of its population than any other nation in the world: more than 2.3 million people, or 1 in every 104 adults. Almost a quarter of the world's prisoners are in America. And as of December 2008, about 1.5 percent of all prisoners in the nation were HIV-positive. When these HIV-positive prisoners reenter society, very few are connected with services to give them stability and support while they figure out how to handle their health and their new lives.
That was the case for Carl. He was overwhelmed, exhausted, and almost totally defeated when he showed up late in the afternoon at Bailey House, a halfway house in East Harlem for people living with HIV/AIDS. By the time he walked through the front door, he was out of medication and he was a ball of anxiety. That's when Carl met Chris Olin, a caseworker for Project FIRST at Bailey House—another real-life hero. Chris is one of those exceptional people. You know, those people who just immediately put you at ease. Chris said to Carl, "I've got this for you."
It can be paralyzing to be in the throes of your own crisis. I remember that feeling when I walked into rehab, like I had no control over anything that was happening to me, like I didn't know where to begin. When I was told not to worry, when I was told that people were going to help me, it was like an enormous weight lifted off my chest. Suddenly I had a chance to get better, because I wasn't alone anymore.
I imagine that's how Carl felt when he met Chris. It was the first moment in a long time, maybe ever, that Carl had been treated with such dignity. That his anxiety, the trauma in his life, had been acknowledged. That somebody had his back and said, "I'm with you." That's when everything changed for Carl.
Project FIRST stands for Formerly Incarcerated Rental Support and Training, and it's a program run by Bailey House to support HIV-positive ex-offenders who are homeless or in danger of becoming homeless. It helps people like Carl with whatever they need to get back on their feet, to stay healthy, and to stay out of trouble. Within the first few weeks, Project FIRST connects their clients with a rental assistance program run by the City of New York. Because of the flexible funding that EJAF and others provide, Bailey House is able to cover necessities such as security deposits and first month's rent, so that clients can get into safe housing immediately. After all, if you don't have anywhere to lay your head at night, how are you going to get the rest of your life together?
My foundation has been supporting this project at Bailey House since 2007, and we couldn't be happier with how far they've come. Since Project FIRST got off the ground in 2003, they have successfully placed more than 200 people in permanent housing, and they have also connected them to the care they need to ensure their health and well-being. Many are still in the same apartments.
To me, Project FIRST is a tremendously efficient weapon against the AIDS crisis in New York City. We know that ex-offenders leave prison with disproportionately high rates of HIV. We know that they often don't have a way to get the medical care they need, let alone a place to live. We know that their lack of job opportunities makes it all the more likely that they could slip back into risky sex, drug abuse, and other behavior that would put them in danger of spreading the disease or land them back in detention. Common sense says, let's address all of these problems quickly—let's not be afraid to help the very people who need the most help. Let's not let stigma get in the way.
One of the things I love most about Project FIRST is that the program does more than fight AIDS; it helps people in the most basic ways. Caseworkers like Chris walk clients through the system and show them how to do everyday things such as open a bank account and figure out where they can go grocery shopping. They help clients get back into the community, find a doctor, take their medications regularly, get vocational training, and start taking care of themselves. For instance, Chris connected Carl with a clinic where he could go for medical tests, treatment, and medications, and Chris also got the necessary documentation of Carl's AIDS status and income level to qualify him for housing assistance.
People who go through Bailey House's program have much better health outcomes. And they are far less likely to end up back in the penal system. Typically, more than 40 percent of U.S. prisoners wind up returning to state prison within the first three years of being released. Fewer than 10 percent of Bailey House beneficiaries are reincarcerated.
A few months after meeting Chris, Carl walked back into Bailey House looking like he had just come off a golf course. The angry, anxious, and desperate ex-offender was now a dapper, healthy, employed man, wearing Bermuda shorts and a polo shirt, supporting himself, managing his HIV, and in a relationship with a woman he met at Bailey House. Today, Carl is mentoring fellow ex-offenders and doing peer outreach to get others living with HIV into care. He also testifies in front of the New York State Parole Board about the value of programs such as Bailey House's. It's no wonder that he's willing to do so much for the organization. As Carl has said many times, "Chris and Bailey House saved my life."
The Elton John AIDS Foundation has funded hundreds of projects. Each one operates a bit differently. Each does different work for different populations. But every project we fund has one thing in common: It is committed to a compassionate response and to fighting the stigma that spreads HIV/AIDS. The organizations target their work to the most marginalized populations, those who most need the services but are least likely to get them. They advocate against policies that promote discrimination. They shine a light on the taboo subjects that nobody wants to talk about but that have everything to do with this horrible disease. Most of all they treat each person they see in a holistic way.
That term, "holistic," is thrown around a lot in medical circles. You hear doctors talking about caring for the whole patient, seeing to all of his or her medical needs at once. With HIV/AIDS, as with most diseases, it's more than just the way the body itself works. So many people with the virus are also poor and vulnerable. They often need shelter, food, mental health services, employment opportunities, and people to care for and support them. They need critical help at critical moments to ensure their disease doesn't come to define, or end, their lives.
It's crucial to treat every single person—regardless of background or circumstance or HIV status—as a whole person, as an individual with dreams to fulfill and goals to achieve. When we treat people as worthy of love, their worth is realized for all the world to see. Ultimately, this is the most powerful weapon we have against stigma, and indeed against AIDS.
Whether you are the richest man alive or you have absolutely nothing, you deserve to be treated with dignity and compassion. That is the insight that inspires the work of my foundation. And that, I have come to believe, is how we will end AIDS.
---