In Between the FDA and Pharma, People Wait for Treatments
It's easy to be skeptical of drug companies. But those of us with polycystic kidney disease, a potentially fatal genetic disorder, stringent FDA regulation seems to be taking away hope.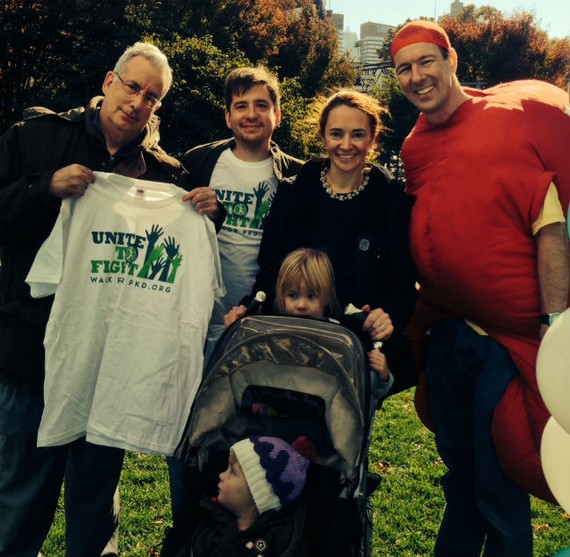 Polycsytic kidney disease causes cysts to grow, continually, throughout my kidneys. It will eventually clog them, and they'll stop working. PKD affects 600,000 Americans and costs taxpayers more than $2 billion per year. It also occupies an estimated 5,000 spaces on the kidney transplant waiting list. In late August, the U.S. Food and Drug Administration announced that it would not approve tolvaptan—the only PKD treatment that has been shown to work.
The decision deeply upset many Americans with PKD. But another, very small group of people—those who sought to prevent tolvaptan's approval—must have felt some kind of satisfaction.
***
I inherited the gene for PKD from my dad, who dreaded it for most of his brief life. PKD had killed his own father at 44, and then his aunt in her early fifties. PKD killed my cousin Mike at 35, leaving two very young children to grow up without him. Then it killed Mike's own dad, Poppy, nine years after a kidney transplant had extended Poppy's life.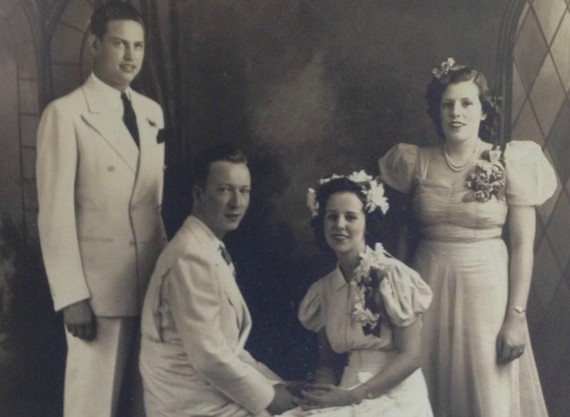 ---
When I was diagnosed with PKD in 1986 as a freshman at Harvard, I thought my life was half over. I walked back to my dorm room from the doctor's office numb. Staring out the window at tourists and fellow students, I imagined them all living on for many enjoyable decades without me.
A genetics counselor at Mass General suggested I might not want to have children. With no treatment on the horizon, I thought he might be right.
In 2004, I was thrilled to learn about a promising experimental drug that needed human volunteers. A normal kidney is the size of a fist. Many PKD kidneys grow to the size of footballs. I didn't want to depend on cyst-riddled 40-pound footballs to filter my blood. So I got locked up for nine days in the Orlando Clinical Research Center with twenty other PKD patients. We padded around in scrubs and slippers, took the pills twice a day, and collected our urine in jugs.
The alternative? Wait for our cysts to get bigger each year until they overwhelmed our kidneys, forcing a choice: the enervation of dialysis, the transplantation and subsequent medication to maintain a third kidney if we could find one (average wait: three to five years), or death.
Otsuka America Pharmaceutical told us that in gratitude for our sacrifice, it would give our little group this promising medication open-label when we got home. We got the real drug, not a placebo.
Photos of tolvaptan's effect on the kidneys of mice suggested I could have children after all. After three years on the drug, I married happily. Our toddler daughters each have a 50 percent chance of developing PKD, but approval felt so likely that my wife and I found the risk acceptable.
Last November, Otsuka showed that in a three-year double-blind study, tolvaptan had slowed both the increase in total kidney volume and the decline in kidney function in PKD patients. My family and I cried for joy.
In Silver Spring, Maryland, on August 5, along with four other PKD volunteers, two PKD Foundation staffers, and letters from 159 who could not be there, I asked the Cardiovascular and Renal Drugs Advisory Committee to please approve tolvaptan.
Instead, some members of the panel claimed that the observed decrease in the growth of kidney volume—it slowed by an average of 51 percent—was "not significant." They seemed not to understand that such a slowdown would buy us many years of healthy life.
As SunTrust Mortgage CEO and PKD Foundation board member Jerome Lienhard told me, "Even five extra years before needing a transplant would have made an enormous difference to my wife and kids, and to my career."
A small number of patients experienced potentially important elevations of liver enzymes (4.9 percent, compared to 1.2 percent of those who took a placebo), but the panel focused for hours on the simultaneous elevations in both liver-enzyme levels and bilirubin that occurred in just three patients out of the 860 who took the drug. In all three, the elevations occurred within 18 months. After those patients stopped taking tolvaptan, their levels returned to normal. No one suffered permanent damage, whereas untreated PKD causes a great deal of permanent damage. Otsuka offered to test every new recipient's blood every month for the first 18 months. That failed to reassure the panel. The panel also worried about a number of people who, having dropped out of the study for various reasons (the medication makes you pee much more than a normal person does), also declined to keep traveling long distances for follow-up MRIs (South Africa to Germany, in one case; most subjects had to travel long distances and take time off from work if they wanted to stay in the study).
"I certainly understand why the FDA was concerned about the three participants who had elevated transaminase and bilirubin levels during the study," said Dr. Terry Watnick, a nephrologist who specializes in PKD and chairs the PKD Foundation's Scientific Advisory Committee. "However, the liver specialists on the FDA advisory panel were satisfied with Otsuka's risk-mitigation strategy. Although I am disappointed with the decision, I am hopeful that with added information the result will be more positive."
Each time I tell fellow non-physicians in the PKD community about the liver-enzyme issue, someone will offer a variant of, "But every drug commercial on TV warns about possible liver damage. Why can't the FDA let us have this one, when we know it works—and when we have nothing else?"
It's a good question—one the FDA says it can't answer.
"Federal law and FDA regulations do not allow the FDA to discuss unapproved products," Stephanie Yao at the FDA Office of Media Affairs told me via email, "as this information is considered confidential."
The nation's top PKD experts have been working hard to overcome the objections. "The PKD Foundation has sponsored an initiative called the PKD Outcomes Consortium to determine the role of total kidney volume on loss of kidney function in ADPKD [Autosomal Dominant PKD—the most common form of PKD, and the form on which tolvaptan was tested]," said Dr. Ronald Perrone, professor of medicine at Tufts University School of Medicine and the director of the PKD Center at Tufts Medical Center. "Data from more than 2,300 subjects, some with more than 20 years of follow-up, have been aggregated to mathematically model disease progression to fully understand the role of TKV in ADPKD. The Consortium works closely with the FDA and other organizations including the Critical Path Institute, the Clinical Data Interchange Standards Consortium, NIH and multiple academic and industry partners and is in the final stages of a formal FDA Biomarker Qualification of TKV as a biomarker to predict the course of ADPKD."
Denigrations of "Big Pharma" are now commonplace. Some panelists clearly saw themselves as the only honest brokers standing between an allegedly rapacious drug company and the suckers—PKD patients like me. Perhaps I would see things that way, too, if I were not counting on one particular drug company to extend the lives of my loved ones, my many friends in the PKD community, and myself.
The FDA is a vital organization. It protects all Americans from unscrupulous companies. Our hope is that it will balance that important mission with the pressing need to finally make an effective treatment available to the estimated 600,000 Americans who suffer from PKD.