How States Actively Prevent People From Learning About Healthcare Plans
In Georgia, Missouri, Ohio, and Tennessee, for example, health navigators are not allowed to give advice about the benefits of enrolling in Obamacare.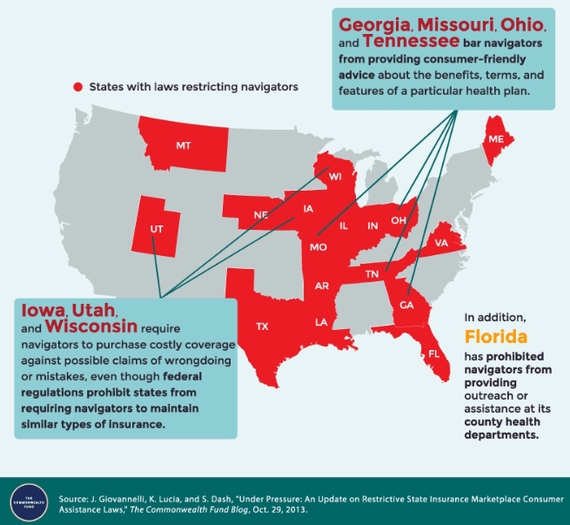 To help the 16 million uninsured Americans learn about their options and sign up for coverage, the Affordable Care Act established grants to be doled out to people called "navigators," who can be anyone from individuals to trade associations to consumer groups.
In Kentucky, for example, navigators called "Kynectors" hang out at clinics and community sign-up events, fielding questions about, say, plans that are best for someone with multiple sclerosis, or how to deal with a moral aversion to Medicaid (when you qualify for Medicaid).
This kind of in-person help seems to be one of the few functional options left, since the launch of the federal website Healthcare.gov has been a disaster, and even attempting to calculate the subsidies one might qualify for can be a harrowing task, as my colleague Garance Franke-Ruta reported.
John McDonough, a professor at the Harvard School of Public Health who helped in the implementation Massachusetts' 2006 health-reform law, on which Obamacare was partly based, said that the state's own experience showed the importance of in-person assistance. McDonough told me that while there was a slow trickle of sign-ups through the state's website (granted, it was seven years ago), far more new enrollees were helped along by healthcare providers and social workers.
"Most people signed up through hospitals and community health centers when they showed up for care in person," he said. "They were assisted by hospital personnel. The voluntary individual enrollments went much pokier."
McDonough worked on a help line that was flooded with calls from bewildered applicants who he helped shepherd through enrollment.
"There are people with literacy challenges, people who are intimidated by the process," he said. "That's why the navigators [for Obamacare] are considered to be so important."
States that resisted Obamacare in the first place seem to be, unsurprisingly, the same ones that are wary of the navigators. Florida banned navigators from working in county health departments. Texas Governor Rick Perry wanted navigators to be fingerprinted, pay a state licensing fee, and take an extra 40 hours of coursework on top of what federal law required.
The federal government awarded $67 million to more than 100 organizations to hire the navigators, but two groups, one in Ohio and one in West Virginia, turned down their federal grants last month, a move the Ohio group attributed specifically to that state's restrictions on navigators. Ohio had no navigators available on the day the exchanges opened, October 1, because the state mandated that they get approval from the Ohio Department of Insurance before starting work.
Here's a rundown of the various restrictions states have put on these helpers, from a recent series of articles by researchers from Georgetown University's Health Policy Institute, featured on the Commonwealth Fund site this week:
Preventing navigators from advising people on the benefits and terms of different plans:
Twelve states restrict the advice navigators can offer consumers. Four—Georgia, Missouri, Ohio, and Tennessee—go so far as to bar them from giving advice about the benefits, terms, and features of a particular health plan, despite the fact that federal rules require navigators to clarify distinctions among plans and assist people in making informed decisions about what coverage to choose.
So if, say, you live in Missouri and want to see a specific doctor or take a certain drug, a navigator might be prevented from telling you which plan will cover it.
Requiring navigators to buy professional liability insurance:
Three states—Iowa, Utah, and Wisconsin—insist that navigators secure a surety bond or other insurance against claims of wrongdoing or mistake, even though federal regulations prohibit states from requiring navigators to maintain errors and omissions coverage. A fourth state, Illinois, has authorized its insurance department to impose a similar requirement.
Expanding the limitations to non-navigator community groups:
Georgia and Illinois, for example, restrictions on providing advice about health plan particulars apply not just to navigators, but also to other individuals and community groups that help with outreach or enrollment. The broad scope of Tennessee's regulations has led to multiple lawsuits and an agreement by the state to enforce its rules more narrowly (though they still apply to non-navigator assisters).
Obviously, anyone charged with disseminating health-insurance information needs to be trained and vetted (and navigators are supposed to be, under the federal requirements.) But arguing that navigators "pose a serious threat to privacy" because they help clarify the costs and benefits of various health plans seems like a stretch.